The IASB's disclosure initiative project has passed many people by. It dates back to 2011, when the board needed something to do after the US refused to adopt IFRS. Typically, the board's work to make disclosure less voluminous and more relevant has coalesced around three competing objectives: cutting the clutter; pushing a particular agenda such as 'human' or 'environmental' capital; and information demanded at short notice by regulators.
But despite this endeavour, it is hard to call the initiative an unmitigated success when company reports have grown in size as a plethora of potentially mutually exclusive disclosure requirements and objectives vie for prominence.
The Institute of Chartered Accountants of Scotland (ICAS) and the New Zealand Institute of Chartered Accountants (NZICA) thought they had the answer in 2011 with an approach that they claimed could slash the size of an annual report by 30%. They proposed a review of the IFRS conceptual framework followed by a number of quick fixes.
They wanted to add something first, however – a disclosure principle if a standard lacked one. They also wanted to slash requirements that 'encouraged' disclosures while replacing certain reconciliations with a summary of material changes. But their most radical solution was their simplest: acknowledge the existence of the internet and link to information there. The two boards presented the proposals to the IASB in 2013 and urged the rule-maker to issue them for discussion.
It did not. Which was a pity, because the ICAS/NZICA paper was the epitome of plain thinking. As an example, take their approach to paragraph 31 of International Accounting Standards 1. It states that "an entity need not provide a specific disclosure required by an IFRS if the information is not material".
The paper argued: "[N]otes provide additional information. The fact that an item is material does not mean that additional information relating to that item must also be material. Each piece of potential information has to be judged against the surrounding circumstances. More information will be needed for items of particular significance to the reporting entity."
Instead, following its 2011 consultation, which raised the issue of disclosure overload, the IASB added what it called a short-term initiative on disclosure to its work programme in December 2012.
It reasoned that "the disclosure process is affected by the enforcement environment" while preparers reported that they "adopt a checklist approach because it is more costly to apply judgement". A survey of constituents and a forum of regulators, auditors, investors and preparers followed in January 2013.
The snappily titled Feedback Statement Discussion Forum – Financial Reporting Disclosure followed in May 2013 and proposed action in three main areas: amend IAS 1 "to address perceived impediments to preparers exercising their judgement"; develop educational guidance on materiality; and conduct research into the "broader challenges" associated with disclosure.
Nonetheless, the IASB was clear where fault lies: "[M]aterial improvements will require behavioural change to ensure that financial statements are regarded as tools of communication rather than compliance. That means addressing the root causes of why preparers may err on the side of caution and 'kitchen-sink' their disclosures."
The research component is key to what followed. The plan was to conduct that effort in parallel with the conceptual framework project – possibly with a view to replacing IAS 1 Presentation of Financial Statements, IAS 7 Statement of Cash Flows and IAS 8 Accounting Policies, Changes in Accounting Estimates and Errors – basically a new disclosure framework for IFRS.
The IASB burst into life.
First came amendments to IAS 1 in 2014. Next came materiality. The concept is defined in the Conceptual Framework but the board ruled out changes. Instead, it assumed preparers had a poor understanding of materiality and struggled to apply it.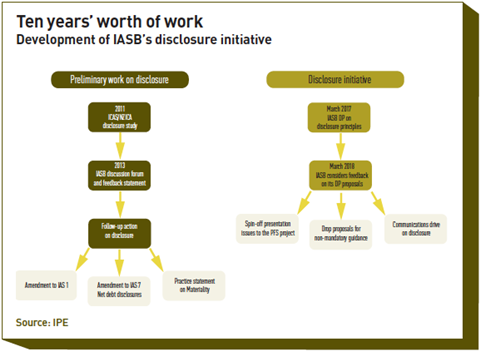 A non-mandatory practice statement entitled Making Materiality Judgements emerged in 2017. The move followed the 2016 release of amendments to IAS 7 – the so-called net debt disclosures, which users had demanded to force companies to disclose changes in liabilities arising from, broadly, financing activities.
But, overarching all of this is what is known as the IASB's disclosure initiative. This workstream sets out to identify ways to improve the communication of financial information. It builds on the thinking that preparers are reluctant to apply judgement about disclosures – or that they struggle to do so. Potentially, it could result in amendments to IAS 1.
In March 2017, the IASB issued yet another paper entitled Disclosure Initiative — Principles of Disclosure with the board considering feedback. IASB signalled its support for all of the staff recommendations to move forward. This means it will consider presentation issues – including the role of the financial statements and the notes – as part of its Primary Financial Statements project. It will also drop proposals for non-mandatory guidance.
Alongside research into the location of financial information and the disclosure of policies, it also plans to communicate how the components of its work on Better Communication in Financial Reporting interact.
But Richard Farr, from Lincoln Pensions, is unimpressed. "What we have is a disgrace. The stakes are so high that we need proper accountability to protect members' interests. To have a true and fair view you cannot have one number in pensions, you need seven. The seven dwarfs. If you add up all the accounting deficits, you don't get the true figure.
"I would welcome a 30% drop in disclosures because if you cut the clutter, it makes the accounts easier to read. Less is more if it brings with it more transparency. We need to up the game on pensions. The existing notes are good, but they are missing a lot of information."
Farr's solution is to cut the clutter and put the focus on what matters. The first thing to disclose, he says, is the s75 deficit, which is available to the company and its actuaries. "It shows the cost to remove the problem from the company's books.
"The second thing I want to see is the technical provisions deficit. That is a known cash outflow. Some firms disclose it, but most don't. It should be obligatory.
"The third figure is the best estimate for the scheme's investments achieving their target. It matters because if they achieve that, the outcome of the liabilities could even be zero. Don't you want to know that?"
On top of that, Farr wants schemes to disclose what it would take for them to become self-sufficient: what would a deficit have to come down to in order to minimise employer contributions. To achieve this figure, he argues, a scheme might need to raise debt or equity, meaning that the disclosure would highlight the risk the business is running.
He also says that if sponsors discount by a swap rate, it would illustrate how they have to go to eliminate capital market risk.
A decade on, and it is still possible to wonder: could better pensions disclosures and the ICAS/NZICA approach to materiality cut the clutter?