The International Accounting Standards Board (IASB) risks failing to have its new insurance contracts accounting rules in place before the next wave of turmoil hits financial markets, the board's chairman warned last week.
Hans Hoogervorst's comments came as the board heard that its official advisory body on the new insurance accounting standard, IFRS 17 Insurance Contracts, had received 81 submissions raising queries on the new rules.
Hoogervorst said: "There has been an explosion of corporate debt, and there has been an explosion of low-quality – but still investment-grade – BBB debt. In the search for yield there is a lot of debt being sold of non-investment grade.
"A year ago the International Monetary Fund warned that even insurance companies in their search for yield were more and more investing in non-investment grade debt.
"And then to think that they will not even be applying IFRS 9 is just intolerable. So, any risk of disrupting implementation risking delay of the standard [is] very hard to accept."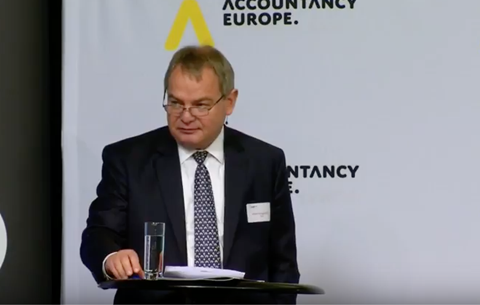 The IASB issued the new accounting standard in May 2017. Since then, the board has heard from stakeholders about issues arising out of its implementation of the new standard – in some cases asking for amendments.
IASB project manager Andrea Pryde said that staff planned to ask the board whether any of those concerns warranted changes to the IFRS.
However, board member Nick Anderson said "there was a real prospect of generalist investors returning to the sector", and warned that the "prospect of further changes and delay will only be met with dismay by investors" who had waited long enough.
According to paragraph 11 of agenda paper 2, the board would only agree to make an amendment if it would not impair the quality of information in the accounts, reduce comparability or increase complexity.
UK questioned over potential EFRAG conflict
Meanwhile, former MEP Sharon Bowles has opened up a new front in her battle against conflicts of interest by quizzing the UK government on the steps it takes to ensure that its representatives work in the public interest rather than for any private or proprietary interest.
Bowles, who now sits in the upper house of the UK parliament, has queried whether the UK's representative on the European Financial Reporting Advisory Group (EFRAG), Jed Wrigley, "manages the money of (1) public investors invested in funds managed by Fidelity International, or (2) the private shareholders of Fidelity".
Wrigley has worked for Fidelity since 1993, and currently works for Eight Roads, the US investment giant's proprietary investing division. According to his biography on EFRAG's website, he is responsible for portfolio governance and oversight.
Neither Fidelity nor its US operation has responded to a request for comment.
PIRC flagged concerns over bakery chain in 2015
IPE has obtained copies of advisory notices issued by corporate governance adviser Pensions & Investment Research Consultants (PIRC) detailing concerns it raised over troubled bakery chain Patisserie Valerie dating back several years.
The company suspended trading in its shares last month after fraudulent accounting irregularities emerged in early October. The company's finance director was subsequently arrested. At a shareholder meeting this morning the company managed to secure funding to keep it operational, according to reports.
The PIRC documents show that the advisory group repeatedly encouraged shareholders to vote against the company's annual report. In a PIRC alert from 5 February 2015, it warned: "[Patisserie Valerie] does not provide a remuneration committee report nor does it provide one for the audit committee. Board and committee meetings' attendance is not disclosed."
PIRC repeated its warning in January this year about the company's remuneration report.
FRC urges overhaul of annual reports
The UK's Financial Reporting Council (FRC) this week launched a "major project to challenge existing thinking about corporate reporting", aimed at making companies' annual reports more relevant for shareholders and other stakeholders.
The accounting watchdog said the project would consist of a review of financial reporting and what it called "different types of corporate communications" in order to assess whether they met the needs of investors.
The FRC said it would set up a 15-member committee to advise on the project and has invited interested parties to come forward.