The tenth anniversary of the global financial crisis is an apposite time to examine how it changed the world for investors and to identify some of the key investment implications for the next decade. In the case of alternative investments, one of the most important themes is improving opportunities within private markets. These have grown in importance in the economy and in portfolios in comparison with the traditional, public markets.
The universe of US publicly owned companies has been shrinking since the turn of the millennium. Public markets have also been getting less liquid. Post-crisis regulation, in the form of Basel III and the Dodd-Frank Act, has made it much more capital-intensive for investment bank broker dealers to 'warehouse' securities on their balance sheets.
Brokers, alongside alternative liquidity providers such as high-frequency and algorithmic traders, have turned to providing more 'risk-based' market-making. But this can turn out to be illusory liquidity that disappears during bouts of risk aversion, just when it is needed the most.
The opposite trends are evident in private assets. These are still most certainly long-term assets but the secondary market in private-asset fund interests has grown and deepened rapidly since the financial crisis, bringing a completely new level of liquidity to investors. Meanwhile, as the number of public companies has declined, an increasing number of companies have been going private or staying in private hands indefinitely. Public share buybacks have also been at unprecedented levels since the financial crisis.
Globally, private investments still account for just 2.5% of the world's market capitalisation. Nonetheless, the number of private companies exceeds that of public companies, and these are among the world's fastest-growing businesses. In addition, there is a high probability that these companies are the important industries and markets of tomorrow.
"The way savings flow into investments is going back to the 19th century, but with 21st century technology and legal structures"
As private markets represent a greater proportion of economic activity, investors will miss out on the full return opportunity if they do not participate in them. In fact, private equity is rapidly becoming an essential exposure to capture the true long-term equity risk premium. Private equity tends to outperform, on average, because private equity investors have deeper access to information, more direct and transparent governance control and greater flexibility around their entry and exit points in investments.
Private debt and equity are increasingly important for financing a broad range of companies of varying sizes across an array of sectors. Investors used to focus on leveraged buyouts of low-growth, asset-intensive businesses at depressed valuations. Today, the opportunity set includes high-growth technology companies that used to go public at an early stage in their life cycles. Examples such as Uber and Lyft show that some of these are now being financed privately up to multi-billions of dollars, with billions in revenue.
While public markets grow smaller and less liquid, the private markets are becoming larger, more mainstream, more diverse and more liquid. Secondary-market transactions have steadily increased since the crisis. Institutional limited partners have been joined by general partners in taking advantage of the secondary market, enabling investors to adjust asset allocation and refresh portfolios should they wish to, even as others alongside them elect to hold on to assets. This is a useful development for funds as they can hold on to companies for longer periods.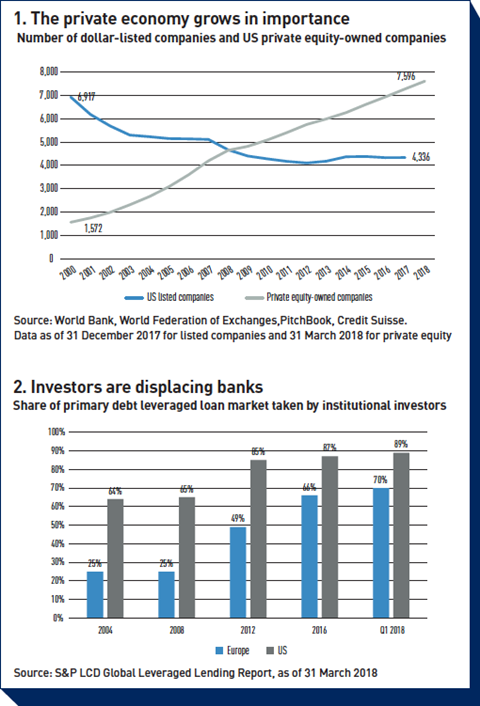 Reassurance that liquidity can be made available to those who need it is lengthening private-asset owners' investment horizons. Indeed, this is one reason investors are holding a greater variety of companies further into their growth cycles.
The flow of capital to businesses and individuals is privatising and fragmenting in important ways. The dominance of the banking system in credit flows is giving way to capital markets, private debt funds, crowdfunding and lending-platform technologies, as the same post-crisis regulation that has cut investment banks' securities warehouses raises the capital-intensiveness of making loans. In some ways, the way savings flow into investments is going back to the 19th century, but with 21st century technology and legal structures.
There are rising opportunities for institutional investors to: transfer risks from bank balance sheets; step in where banks are withdrawing from lending markets; and take advantage of higher volatility and market liquidity gaps as broker dealers hold smaller securities inventories.
Those opportunities are growing and varied. Institutional direct mortgage lending is increasing as high-quality borrowers, such as many of the self-employed, fail to meet new underwriting standards for bank loans. Private-equity managers are increasingly turning to private debt funds because, in addition to greater privacy, flexibility and timeliness, these debt funds now offer more certainty than banks.
When a deal does need bank financing, providers of mezzanine and preferred stock financing, as well as co-investment structures, can help to build the lower layer of the capital structure. That is often needed to get the leverage low enough for banks to be able to lend under post-financial crisis rules.
Anthony Tutrone is global head of alternatives at Neuberger Berman