The robotics and automation theme has been gaining a lot of attention recently for good reasons. There is an industrial revolution emerging across all industries as they realise that the new tools and applications being developed will be highly disruptive to existing business models. These new technologies cover everything from autonomous cars and delivery drones to surgical tools.
McKinsey estimates that in 2025 the global robotics and automation market will be worth about $7trn-14trn (€6trn-12trn) globally, equivalent to 9-16% of the world's annual output. This suggests a top-line growth rate clearly ahead of the equity markets in general, while the theme currently represents only about 1% of the MSCI World index. What is more, the theme would be expected to outperform in most market conditions because the main demand-side drivers such as rising wages, urbanisation, ageing populations and the need to constantly increase efficiency are impervious to the cycle.
The technology used in robotics is evolving rapidly, with new versions marking step changes in performance and functionality. The increasing computing power, falling prices of components and the forecasted demographic slow-down are important forces behind the current emergence of robotics. The theme transcends traditional sector splits, with companies that have a high degree of robotics and automation exposure operating in the med-tech, automotive, semi-conductor and software industries, to name a few.
There are opportunities to invest across the entire eco-system, with many of the best names working with what are relatively niche but ultimately critical components used in robotics rather than the manufacturers of the end-robots. The theme is vast and growing fast. However, there are several sub-themes that present particularly interesting investment opportunities.
One such example is collaborative robots, often referred to as 'co-bots', which are a relatively new breed of robots able to work alongside workers, thanks to the fusion of mechanical robotics and artificial intelligence (AI). They tend to be cheaper, more flexible and easier to program than traditional industrial robots.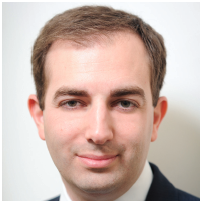 The only disadvantage of these robots is that they are slower than their industrial big brothers. There is a good rationale for this, however: their main selling point is that they are designed to break down the human-robot barrier often seen on industrial production lines. This is achieved by sensors on the robots that can detect humans in their vicinity or immediately stop if a foreign object is detected in their path. As such, they can operate without safety cages next to human co-workers, saving on both space and integration burdens.
These robots typically cost from $10,000 to $25,000, which is at least $100,000 cheaper than the cost of an industrial unit. At this price range the payback period is often less than six months. While traditional industrial robots require a programmer to spend 50-250 hours to program them, anyone can teach a co-bot a task within 20 minutes.
"There are opportunities to invest across the entire eco-system… However, there are several sub-themes that present particularly interesting investment opportunities"
Unburdened by the cost and complexity of industrial robots, the introduction of co-bots has meant that SMEs can finally bring robotics automation into their operations. This is currently the big market for co-bots as companies look for ways to add cheap and flexible capacity. The market leader in the sector, Teradyne's Universal Robotics division, has seen co-bot sales grow at a rate of 50% in 2015, 62% in 2016 and 72% in 2017. However, new applications are emerging and co-bots are moving to tasks outside the factory. Co-bots are popping up in burger restaurants to work as grill chefs or in bars to pour cocktails and it is in this retail-orientated market where most of their vast untapped potential lies.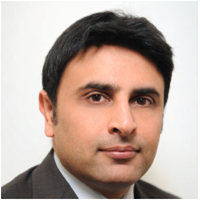 Enabling software is key to unlocking the true potential of robotics in the long term. This all-encompassing sub-theme will ultimately lead to 'singularity', or the point at which AI will surpass the intellect of a human. Some have speculated that this may take many decades if not centuries, while others, such as Masayoshi Son, the CEO of Japan's Softbank, estimates this point may be reached within 30 years thanks to 'machine learning', or the ability of machines to learn with data without being explicitly programmed.
In the long run, those companies that develop the best AI will potentially be worth trillions of dollars. In the meantime, software is being used to increase efficiency and move to predictive analytics. Applications of this include:
• Robotic process application (RPA) – a way to automate repetitive computer-orientated back and middle-office tasks in organisations, often where a human operator is required to act as a 'bridge' between two or more legacy systems
• Product life cycle management (PLM) – the process of managing the entire life cycle of a product from inception, through engineering, design and manufacture to service and distribution of products. The use of PLM leads to more efficient manufacturing and resource management, as well as the ability to generate predictive analytics. Dassault Systemes a market leader in PLM, has seen new licence revenues grow at an average rate of 14% a year between 2013 and 2017 as new industries begin to adopt the software.
• Machine vision – a critical technology that is needed to allow robots to 'see', allowing them to become fully autonomous. The technology has many industrial applications, such as quality control and parts recognition, which enables robots to grip different objects. Cognex, a US leader in this field, has seen its share price rise over 400% in the past five years.
• Machine learning – the ability of machines to learn from big data, without being explicitly programmed. This technology holds great potential and has already achieved impressive results for autonomous driving, predictive analysis and facial recognition, to name a few.
In general, software automation companies offer an attractive set of traits that include high recurring revenue bases, strong profit margins, high barriers to entry and robust cash flow generation, all of which can be protected by software patents.
Robots are emerging as a disruptive technology with an increasing impact on many industries. For the past 14 years, the annual rate of return of pure-play, listed robotics companies has been well above global equity markets but few institutional investors are positioned in this theme because of its low representation in equity indices. It is time for forward-looking investors to embrace the fourth industrial revolution.
Jonathan Cohen is managing partner and Heenal Patel is senior equity analyst at RoboCap