Volatility has returned to US equity markets, unnerving European institutional investors with significant exposure to American assets in their portfolios. It is a symptom of the late stages of a classic economic cycle as a decade-long economic expansion loses momentum. The main equity indices have begun to splutter, corporate debt is at an all-time high, while central bank liquidity is going into reverse, and bond markets are hopeful for a moderating of Federal Reserve policy.
In the wake of the 2007-2008 global financial crisis, subsequent credit crunch and ensuing recession, governments and central banks the world over implemented policies to restore economic growth. Large capital shortfalls in the banking system needed to be built up and zero or negative nominal and real interest rates sustained to maintain a low cost of capital.
Injecting trillions of dollars into the global economy inevitably had an impact as debt burdens were refinanced, growth recovered sporadically, and large output gaps have been eventually closed.
This unprecedented monetary stimulus has combined with bouts of fiscal stimulus along the way from Japan, the US and China particularly, to produce an extended period of economic growth, albeit hitting some speed bumps along the way.
The euro-zone crisis was one such obstacle where some economies were unable to afford to bail out the private sector debt burdens and a lack of currency flexibility led to various debt restructurings and bail-outs. Inevitably, the European Central Bank also had to engage in quantitative easing to help enable debt restructuring and facilitate the economic repair process.
Perhaps nowhere was the economic growth recovery as pronounced as in the US, where equity markets in particular enjoyed an historic bull run between their lowest point in early 2009 and peak early last year. The Dow and the S&P500 both surged over five-fold in just under 10 years, while the Nasdaq grew over six-fold.
However, every party must end, and the Fed shows only the intention to pause its plans for policy normalisation and not reversing course as the market may be hoping.
Further interest rate hikes may be on pause, but quantitative easing continues to unwind. Notably, too, although the Fed has signalled a pause in rate hikes, financial conditions remain tight. This has been driven by higher yields initially but also by a stronger dollar over 2018, wider spreads across the credit market and higher equity market volatility.
"The higher volatility across multiple asset classes means a greater opportunity set for multi- asset investment strategies"
Financial markets endured a torrid final quarter of 2018, a year in which there were few hiding places in traditional assets, particularly global equities. There has been a recovery of sorts so far this year, but markets remain well off their peak levels of last year. Despite this correction, valuations have merely dropped from expensive to less expensive.
In similar circumstances in 2016, when global growth was weaker than today and equities had fallen 20% from peak levels in 2015, global "The higher volatility across multiple asset classes means a greater opportunity set for multi- asset investment strategies" equities were genuinely undervalued and had higher-than-average future expected returns. That is not the case for markets today. Although US bond yields are higher than three years ago and have potentially higher future expected returns, the overall level is still low in historical terms and the same can be said for credit markets.
So financial markets, particularly in the US, find themselves between two converging tectonic plates: tighter financial conditions and low expected returns on traditional asset classes. This, of course, affects many global institutional investors that have a significant proportion of their portfolio allocated to US assets and are increasingly seeking out less- liquid opportunities to satisfy their return requirements.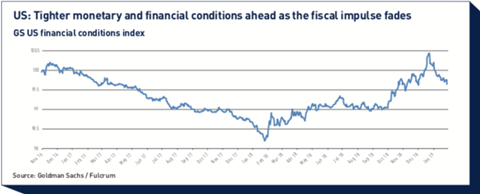 The correction for traditional risk assets in the US and a slower American economy may indeed leave us with lower growth globally in the coming periods. The main implication for the global economy will most likely be a shift in the drivers of growth away from developed economies as a whole, and the US in particular, to emerging markets.
For instance, amid the tightening of financial conditions in the US, the Chinese policy mix is increasingly shifting to a more pro-growth economic strategy. In terms of monetary policy, interest rates are being lowered, the currency is reasonably cheap, reserve requirements for banks are being lowered and some pressure has been taken off a push for deleveraging in the corporate sector.
Fiscal policy has also clearly become more growth-oriented and the pace of such fiscal policy stimulus has increased. US government expenditure is increasing, particularly on infrastructure projects, where there has been a $160bn (€140bn) spending programme.
Recent data from China shows growth rates at the lowest level since official reporting data began in 1992. Such growth rates are beyond the tolerance of the Chinese authorities and so policy is likely to remain loose or loosen further. Additionally, while not necessarily among the main catalysts, the trade war has not been helpful and would appear to be damaging the US economy and that of China equally. UBS, for instance, expected that tariffs alone will lead to a halving of GDP growth in the US in the final quarter of 2018. Some thawing of this political risk will clearly be helpful for China's future growth prospects.
Falling liquidity and lower growth is not a good mix for traditional growth assets which still provide below-average expected medium- term returns despite the recent sharp correction. This year might therefore see many investors increase diversification away from US markets. Between the Fed's policy and a peaking business cycle, the outlook for the US economy is far less favourable than it was this time last year, when flows into US assets were at their strongest.
The higher volatility across multiple asset classes does, however, mean a greater opportunity set for multi-asset investment strategies. Such strategies also fared better than most traditional assets in 2018, hence there is a strong case for institutional investors to take on or increase allocations to such diversified, global and liquid multi-asset approaches within their portfolios.
Graham Neilson is investment director at Fulcrum Asset Management