Two years after its inception, the UK's automatic enrolment programme is unanimously seen as a success. The programme has changed the pension landscape dramatically, compelling people to save for retirement and accelerating the drive towards a UK pension industry dominated by defined contribution (DC) arrangements. "Employers have risen to the challenge," says Darren Philp, head of policy at B&CE and master trust, The People's Pension.
However, existing providers of DC solutions, and new ones that have entered the market following the start of automatic enrolment, face challenges.
First, is how to manage the opt-out rate. From October 2012, when the programme commenced, employers have had to automatically enroll their employees in a workplace pension scheme, in a staged programme that runs until 2018, starting with larger companies. Employees can choose to opt-out, although fewer people than expected are doing so.
The latest research by the Pension Policy Institute (PPI) shows an average opt-out rate of between 9% and 10%.
But the number of employees who opt-out, is widely expected to grow. Larger employers with more than 250 employees were the first to auto- enrol their employees; employers with 50-249 employees will enter the programme by April next year, and from June 2015 on it will be the turn of small employers with up to 49 employees. Opt out rates will increase at smaller employers because they have fewer resources to set up and contribute to schemes.
Philp says: "Now we're dealing with many more employers with a small workforce. These, compared to larger employers who have auto-enrolled so far, have different communication resources, expertise, knowledge bases and drivers for the business. They all just want to comply with auto-enrolment, whereas larger employers may see a pension as a part of a benefit package."
The PPI judges that if the opt-out rate stays at 9%, the number of new pension savers will reach 8.5m by 2030 and by the same date around 15m employees in total will be saving into private sector workplace pension schemes, most of them DC. However, it also estimates that the opt-out rate could rise as high as 25% as small and medium enterprises enter the programme.
In the latter case, the number of new pension savers would rise to 6.5m and the total number of savers (including existing ones) to 13m in 2030. These figures translate to estimated DC assets of £455-495bn (€568-617bn) by 2030 (in 2014 earnings terms), which compares to £350bn without auto-enrolment. At this rate the value of private sector workplace DC assets in the UK could exceed the total value of DB assets by 2036. The second challenge is winning business and finding a footing in a fragmented market com- prising large providers and a plethora of smaller master trusts.
Since the start of the programme, the DC sector has boomed, with large and small master trusts being set up to capture a portion of the new inflow of pension savings. The UK's largest insurers – Aviva, Legal & General and Standard Life, all with experience in the pension business – have set up master trusts to cater for the needs of employers and pension savers, offering all- round solutions including technology and fund management.
B&CE, a niche provider focused on the build- ing industry, set up The People's Pension in a bid to expand its reach to other sectors.
The UK government also set up the National Employment Savings Trust (NEST), a master trust tasked with offering a simple solution for employers of all types and sizes and backed with a loan.
The Danish pension fund giant ATP saw an opportunity to capitalise on its expertise, set- ting up Now Pensions, another master trust. The rest of the market is made up of smaller master trusts, and there is a debate about whether the number of master trusts is too high. Some believe, because of the size of the market, that it might be difficult for employers to identify the best solution and that the Pension Regulator will find it hard to ensure all master trusts meet the required standards.
John Lawson, head of policy at Aviva says: "I think that one of the reasons so many master trusts have been set up is that the differences between a group personal pension [GPP] scheme and a master trust are negligible for employers and employees, but it is easier to establish a master trust without regulatory approval, which is not true for GPPs. At the same time, the regulator is under resourced and cannot stay close to master trusts to ensure that they comply with codes of practice. I would like to see stronger, mandatory regulation of master trusts to ensure that all meet the required governance standards."
Jonathan Lipkin, director of public policy at the Investment Management Association (IMA), sees the need for clear communicative objectives, particularly when members are unengaged and uninformed. "A provider of auto-enrolment solutions needs to have oversight structures in place that ensure that they are delivering the very best default arrangement," he says. This involves set- ting objectives, strategy implementation and review. "You need to set an objective that individuals can relate to, for instance an inflation-linked target, and one that can be objectively defined. Our view is that there should be an objective quality check for the governance of master trusts or other schemes."
In their attempt to increase market share and comply with regulations, DC providers will have to think hard about fees, given the new cap of 0.75% for all default funds. The charge will come into effect next April, but many providers already comply.
UK automatic enrolment: key issues for DC providers
• Opt-out rates – As smaller employers enter the auto-enrolment programme, it is expected that opt-out rates will increase as those employers may have fewer incentives to engage with pension issues.

• Market structure – The DC market has been flooded with small master trusts and there is a worry that many of them will not be able to suit the needs of their clients. The market may to go through consolidation.
• Structure of default funds – With retirees no longer obliged to purchase an annuity, master trusts will have to design default funds that allow members to take full advan- tage of the flexibility.
• Charging cap – The debate on the charg- ing cap is ongoing, and while many leading providers already comply, their fees policy will determine their success in gaining market share.
"The government asks for transparency in charging, but really it is about standardisation," says Philp. "Until we get standardisation of charges across the market, I think that the messages around transparency are slightly hollow. At the moment, providers compete not on the charge but how they charge. They should be competing on the level of the charge and the quality of service. Until we strip out some complexity and we have standardisation, it's going to be impossible to compare schemes. Also, my worry is that the charge cap becomes a target rather than a maximum."
Lipkin believes the OFT report was correct in its conclusions and acknowledges that governance is critical, especially in an industry where there is high asymmetry of information. "The final conclusion was that we should be more careful with the charge cap, because if it is too high, it might become a ceiling that people will gravitate towards, and if it is too low it might be difficult to deliver quality services. We agree with that and we would add that the industry needs to get a better appreciation of value for money."
The third challenge for master trusts is deal- ing with the new flexibility at retirement whereby retirees are no longer obliged to purchase an annuity. This means they have to reflect on the shape of the default fund they offer.
Some members may still opt for an annuity, but most will probably not. This means the industry needs to move away from default funds that implicitly target annuity purchase at retirement with a low-yielding investment strategy rather than offering a 'to and through' investment strategy that dovetails with income drawdown.
"Flexibility at the point of retirement is a particular challenge for pension schemes," says Adrian Boulding, pension strategy director at Legal & General. "It is making them stop and think about default investment choice, since a large proportion of the staff, in excess of 90%, ends up in the default fund," he says. "We don't quite know what people are going to do in retirement in this new world. Some will buy annuity with some of this pension pots, some will not. If instead retirees go towards income drawdown we need to target income-generating assets. It is a work in progress which we are tussling with at the moment."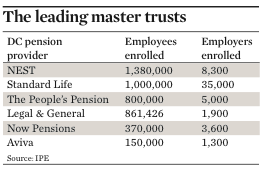 However, designing default funds that allow flexibility at retirement may not be sufficient if pension savers are unaware of the risks associated with the choices they make at retirement. Besides, it is not clear how the government's proposal to provide guaranteed guidance at retirement will be implemented.
DC providers are aware that they have to engage with their members after retirement. Morten Nilsson, chief executive of Now Pensions, says that this may help stimulate savings further in the short term and concedes the annuity market did not work. "However, telling people they can do what they wish with their money when they retire means that the pendulum has swung too far," he says. "There is a risk that without guidance people will not choose what is right for them. Therefore, in the long term it will important to develop new products, and it is positive to have the flexibility to develop those products."
"There is a gap that needs to be filled, between providing limited advice that is free and providing full advice at a cost," concludes Jamie Jenkins of Standard Life. "The proposal to provide focused, simplified advice to members is positive, but I don't think the issue has really been resolved. Guidance should seek at the very least to prevent people from making extreme, counter productive choices."