Alternative credit provides a breadth of diversity that can help investors create better risk-adjusted portfolios for outperformance in a tough market, writes Nimisha Srivastava
Little was known about alternative credit only a decade ago but today few institutional investment portfolios are being constructed without considering it. In the past, some investors may have had dedicated emerging-market debt or high-yield mandates. More likely, they employed traditional benchmark core or core-plus managers, with modest discretion to invest off-benchmark into alternative credit. In addition, diversification within a fixed-income portfolio was not a high priority because it was thought that branching out into hedge funds and private equity would capture enough variation in strategy and skill.
However, alternative credit has evolved rapidly of late and is now a much larger asset class warranting more serious attention from institutional investors. Many still remain underinvested, with too much capital tied up in core credit exposure and not enough alternative sources of return. This leaves institutional portfolios vulnerable, particularly as fixed-income markets are increasingly showing more signs of volatility and the risks around the interest rate and credit cycle appear skewed to the downside. As a result, investors should proactively review their credit portfolios with a view to introducing alternative credit as a critical portfolio building block, particularly given its potential to outperform in these adverse credit scenarios.
Alternative credit is simply any credit that is not core or traditional investment-grade corporate or sovereign debt. For example, it includes high-yield, bank loans, structured credit and emerging market debt on the liquid side and strategies such as distressed debt, direct lending and speciality finance on the illiquid side. Each of these sub-asset classes carries a different set of return drivers beyond those found in traditional credit mandates, whose returns are driven primarily by investment-grade credit risk, interest-rate term risk and inflation uncertainty.
While the greater complexity and reduced liquidity of alternative credit can put some investors off, these characteristics can be viewed as key attractions – not forgetting that these markets are generally less efficient in nature.
Alternative credit is known for generating additional returns through accessing illiquidity, complexity and thematic market drivers, while also providing scope for additional returns from manager skill in a space where active management is more likely to be rewarded.
In addition, the access to different risk premia and different underlying borrowers – such as emerging markets, and residential mortgage borrowers – delivers alternative credit's powerful diversity characteristics. As such, portfolios that incorporate alternative credit are better protected from broad credit-market movements.
Putting this into the current context, the market is entering a phase where there is likely to be greater single-name, sector and asset-class differentiation. It should no longer be expected that a rising tide fuelled by co-ordinated central bank activity, easy monetary policy and investors' search for yield to lift all boats.
Indeed, the tide is turning, with expectations around an increase in base rates by the US Federal Reserve and Bank of England already creating some uncertainty and stress in credit markets. In addition, stricter bank regulations are likely to lead to less market liquidity. At the same time, volatility will probably increase with retail product growth adding to technical selling risks and an overall rise in global macro risk.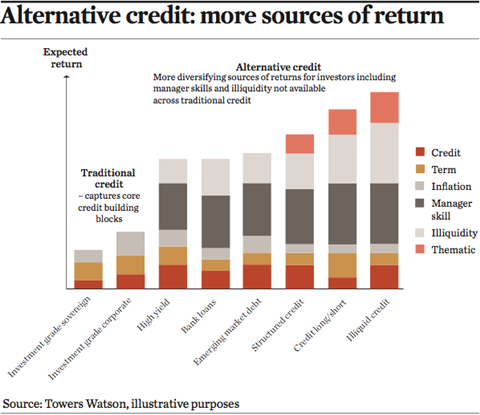 Under such circumstances it is not surprising that investor concerns about credit, markets are starting to grow.
A decline in credit market quality could be enough for greater selling pressure, which would create a turn in the credit market cycle. Without diversity by return driver – which alternative credit provides – investors will be exposed as the tide starts to go out.
The different sources of return (see figure) within and across alternative credit can create a better risk-adjusted return profile. When considering this in the context of portfolios, the entire Sharpe ratio can improve, albeit subject to strong manager-selection skills. This includes cleaning up managers with overlapping exposures, eliminating that do not provide much more than market beta, and optimising liability-matching credit to free up capital to select the right managers to provide additional return drivers in less liquid, more complex markets.
Reducing traditional credit exposure and replacing it with alternative credit can also enhance portfolio returns without adding too much more risk. However, just as importantly, an investor should consider the strategic allocation between equities and bonds. Funding alternative credit from equities can prove just as beneficial, particularly in higher return segments such as illiquid credit, which can maintain a higher return target while decreasing overall portfolio volatility. In today's market environment, this may be an opportune time to consider the latter form of implementation.
As there are many ways to implement alternative credit, thinking about the trade-offs before doing so can lead to better portfolio construction decisions. Typically, it boils down to a compromise between best-in-class specialist skill and breadth as well as between governance, control and appropriate fund structure. There are superior ways of approaching implementation and specific paths to avoid.
Liquid multi-asset fixed-income funds and diversified absolute-return multi-sector credit products are increasingly commonplace in the market. However, these risky implementation routes should be considered in light of concerns around credit-market liquidity. Furthermore, these products often carry large amounts of traditional credit-market beta disguised as alternative risk premia and they typically lack the bottom-up credit expertise required to deliver outperformance in these markets. Therefore, a keen eye on manager skill as well as careful alignment of the liquidity of assets to fund terms remains as important as ever.
Alternative credit markets can be complex and, as such, a specialist approach to implementation often leads to the best exploitation of the risk premia in these asset classes. This approach can attract higher fees and more demands on governance, which would point to a skilled multi-strategy credit fund, or fund of funds.
Traditional credit portfolios could suffer in the next phase of the market cycle but would appear to reward manager skill and illiquidity. This includes managers that can capture complexity premia by focusing on smaller segments of credit, niche or esoteric sectors, or by playing a more active role in events. There should also be a place for skilled long/short credit managers that can capitalise on growing market dispersion. Finally, within illiquid credit, managers targeting smaller segments of the corporate or real-asset market are more likely to capture added premia.
This is the right time for institutional investors to think about their alternative credit exposure, with the beta portion of credit market returns having reached its peak. In the absence of a supportive credit-market environment, higher-skill strategies across alternative and illiquid credit are required to provide much needed portfolio diversification. And when implemented correctly, the diversity that alternative credit introduces – across asset classes, return drivers, liquidity and manager skill – will help investors create better risk-adjusted portfolios built for outperformance in an unsupported market.
Nimisha Srivastava is head of alternative credit research at Towers Watson
Equity Earnings: Burning the furniture
1

2

3

Currently reading

Alternative Credit: Portfolio role for alternative credit