5-16 October 2020, Online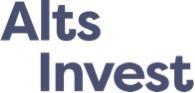 Pairing private markets with asset owners
In times of change, flexibility is key. How investors look to diversify their portfolio has never been more important; both real estate and private equity are steady hands to hold on to during this volatile time. How all investors access alternative and private markets is key to managing increasing uncertainty in the times ahead.
Delve into the opportunities and latest trends in alternative investments and hear from leading asset managers and institutions at Alts Invest.
Alts Invest is part of IM|Power - a platform of events with 2,000+ senior professionals gathering in Monaco to learn, connect and establish the future of investment management.
10% discount code: FKN2757IPE
To find out more about the event and to book your ticket:
Call: +44 (0)20 3377 3279
Email: gf-registrations@informa.com
Visit the website: https://bit.ly/2JDqxAC
Venue
Grimaldi Forum, Monaco