Ahead of the Curve: The tricky search for yield
According to reports, global bond exchange traded funds (ETFs) had their best quarter on record in the first quarter of 2017 with $44.5bn (€39.7bn) of inflows (the previous record being set in Q1 2016 with $42.5bn of inflows). This will not be a surprise to many as institutions throughout the developed markets continue to search for yield in an ultra-low-interest-rate environment. At the same time, flows into private debt instruments are booming, with north American institutional investors investing about $12bn in private debt in 2016 – an increase from less than $1bn in 2015.
While there is a logic to these flows, some aspects are concerning. First, at a macro level, large asset inflows can result in bubbles which cause volatility (at best) and extreme pain at worst. The 2008 credit crisis is a reminder that investors have short-term memories, as the same investment advisers make the same mistakes again.
This trend was highlighted in an article by Martin Wolf in the 1 July 2008 edition of the Financial Times entitled 'Lessons to be learnt from the financial crisis'. In it he summarises the findings of a report by the Bank for International Settlements (BIS), the central bankers' central bank. To take just one quote from the article: "First, why did it happen? The [BIS] report states that loans of increasingly poor quality have been made and then sold to the gullible and greedy, the latter often relying on leverage and short-term funding to further increase their profits. This alone is a serious source of vulnerability. Worse, the opacity of the process implies that the ultimate location of the exposures is not always evident."
In their search for yield, investors are compromising their principles and process just as in 2008. At the same time, they are failing to recognise that others are doing the same, which can result in structure failings within asset classes. The first principle that investors should remember, therefore, is that there is no free lunch.
With more cash chasing returns, it is an economic reality that yields fall (as aptly demonstrated by the sovereign and corporate debt markets). In today's environment, therefore, investors have two options – either settle for a lower return; or take on more credit risk to maintain the return.
My concern is that investors, particularly pension funds, cannot 'afford' the lower returns on offer as it further accentuates their asset/liability mismatches. Consequently, they are then required to hunt lower down the credit spectrum or take more risk, which brings emerging markets into consideration.
This being the case, advisers are suggesting alternative credit investments but I am not convinced these address the issue. Let us look at long/short credit as an example.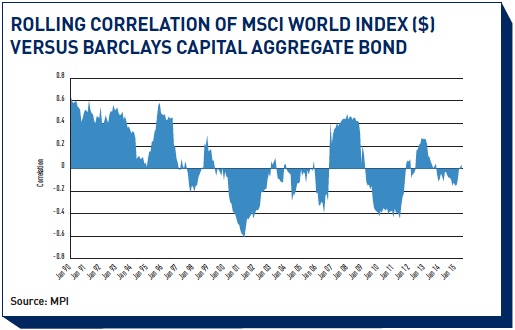 GMO's Amar Reganti makes the case for long/short credit in the May issue of IPE. While some points were well made, investors are naïve if they think investing in a long/short strategy eliminates bond beta.
First, it is rarely clear how 'long' or 'short' the investment manager is, potentially leading to more beta exposure than you are comfortable with. Second, as many of these trades are incredibly crowded, correlations between bonds and other risk assets can change quickly, further accentuating the sensitivity that bond investors have to the equities markets.
In this context, investors should also distinguish between 'risk-on' and 'risk-off' assets. US government bonds have, since the global financial crisis, been one of the premier risk-off assets, whereas European government bonds have behaved much more like risk-on assets.
"Private lending offers outstanding opportunities, and the possibility of genuine credit diversification, but investors need to understand the pitfalls"
And now the key point. Instead of switching focus and looking at other sub asset classes within credit as alternative sources of yield, I would urge investors to stick to what they know but to invest substantial resources on ensuring that they understand the big picture and the exogenous risks. Despite large flows into private credit, for example, I am still a fan but I am proceeding with caution. Let me explain:
With the banks pulling away from lending to small and medium enterprises (SMEs), other liquidity providers (institutional as well as private) have intermediated and lent directly, or via fund structures, to this market as the $12bn flows mentioned earlier show.
This is undoubtedly a positive development, as it has provided SME corporates with breathing space. It is also good for lenders, because it eliminates bond beta. However, the risks in this space are much more operational in nature and institutional investors do not have the resources and experience to properly address these; nor are their traditional advisers structured to provide them with the guidance needed.
Investors should therefore bring in people who understand the difficulties. Private lending offers outstanding opportunities, and the possibility of genuine credit diversification, but investors need to understand the pitfalls. These are three of the biggest:
● Liquidity promises that cannot be kept. Funds in the direct lending space provide 12-24 month loans to counterparties, but promise quarterly, or even monthly, liquidity to investors. If the 2008 crisis taught us anything, it is to ensure that the duration of underlying loans match the liquidity offered to investors – 'gate' provisions in prospectuses are not the solution.
● Monitoring and pricing loan defaults. In private markets there is no public accountability or pricing mechanism. The performance of the underlying loan portfolio, and how it is accurately priced, comes down to the fund manager and the independent administrator. Investors must ensure both that the fund has a clear valuation policy and that there is independent loan monitoring by the administrator, rather than just the information given to them by the fund manager.
● Collateral management. Making loans and earning a nice yield is good, until there is a problem. Take time to investigate what type of collateral is being taken – is it an asset (a piece of machinery or a property), or a cash flow (for example, an invoice receivable)? How realisable is that collateral in the event of default? Are there any additional personal pledges to you as a creditor?
In summary, take time and spend money investigating the private lending space. The case for private market lending is, in my opinion, a robust one if investors are searching for yield while trying to minimise bond beta. Do not be put off by large asset inflows. Instead, analyse, embrace and (most importantly) proceed selectively. The alternative of taking the easy option and simply allocating more to high yield or emerging market debt is dangerous. When interest rates begin to rise – and they will – investors may find they will have far too much beta risk in those investment strategies.
Nick Rees is the managing partner of Absolute Return Partners