Martial Godet and Ankit Gheedia warn that their indicators show the rest of the world sliding into 'Japanisation' – just as Japan is escaping it
Mention 'Japanisation' and this causes concern among investors, visualising the lost decade (or two) experienced by Japan as its economy stagnated.
This February, German and Japanese interest rates converged, with German 10-year yields at 0.33%, below the equivalent Japanese yields at 0.36%. The rapid convergence through the steady decline of European interest rates since December 2013, has tracked the decline in nominal GDP growth and inflation expectations in Europe.
The convergence of global economic and market indicators has raised the prospect of the Japanisation, with Europe and elsewhere seemingly heading towards it, just as Japan appears to be escaping it.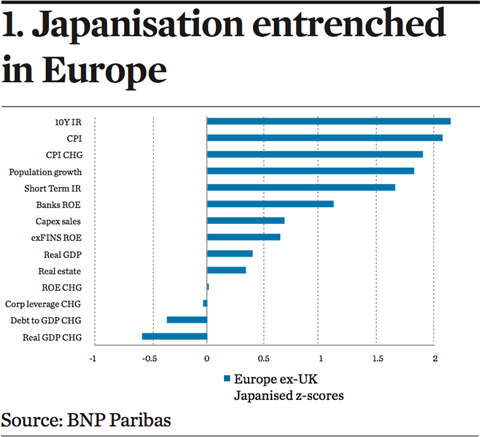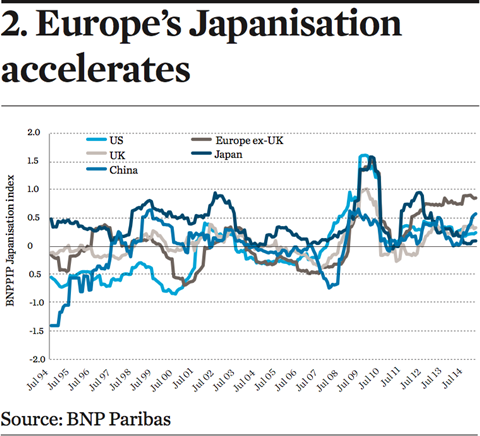 The conditions that drove Japan's lost decade were inadequate corporate investment, imprudent leverage, excessive valuations and asset bubbles. There was also inflexible economic policies and lavish regulation, as well as a loss of competitiveness and unfavourable demographics. These resulted in falling profitability, sub-par growth, deflation, government sector leveraging, private sector deleveraging and market crashes.
To understand who is at risk of Japanisation, BNP Paribas developed an index based on indicators associated with Japan's economic decline in the 1990s. While sometimes influenced by short-term cyclical factors, the calibration of these factors to Japan's period of Japanisation gives interesting results.
Three things stand out. Firstly, 'Abenomics' has sharply reduced Japan's level of Japanisation, which had reached elevated levels again in the first half of 2012. By our measure, Japan is currently the least Japanised economy. But whether improvements will be self-sustained without increasing the size of intervention will be critical to assessing the success of the Bank of Japan's policies.
Secondly, there are warnings in Europe that draw parallels with those of Japan in the 1990s. Other than the changes in corporate leverage (deleveraging slowing) and real GDP growth (economic stabilisation), all indicators point to the Japanisation of Europe. Time will tell whether the ECB QE programme announced in January will be sufficient to counter deflationary forces.
Finally, despite more robust growth, China, the UK and the US also display signs of mild Japanisation. Chinese inflation has declined to below-average levels while the economy has cooled. PPI (producer price index) has been negative for almost three years and has plunged again. The strength of the RMB has hurt Chinese corporate profits and the stabilisation since 2013 is avoiding a larger deterioration.
In the UK, the economy has recovered since 2012, but remains under pressure of further appreciation of sterling against the euro, which acts as an implied monetary tightening. The decline in US long-term yields and lower-than-expected inflation in the absence of wage increases surprised most investors in 2014. The shallowness of the investment trend and the absence of re-leveraging from US corporates indicate that some Japanisation forces remain despite the success of the Fed's strategy.
To counter the risk of Japanisation – the result of excessive global debt, demographic trends, and structural changes related to the impact of new technologies or lack of broad-based investment trends – more effort from central banks and governments is required. More reforms and monetary support for economies in developed countries is needed, and an acceleration of infrastructure investment and middle-class expansion in emerging countries.
Martial Godet and Ankit Gheedia work in equity and derivatives strategy at BNP Paribas
Asset Allocation: Fixed income, Rates, Currencies - The big picture
1

2

Currently reading

The 'Japanisation' of the economy