The past year will be remembered as one where economic performance diverged among the world's key markets, with the US and the UK beginning to stabilise, and China and the euro-zone presenting growing cause for concern.
Despite this, confidence among institutional investors was on the rise, as asset performance was generally positive over the course of 2014, with government bond yields tightening – even for the euro-zone's periphery.
Equities across the UK and euro-zone started the year strongly and, despite minor fluctuations, remained so, while the US market rose by more than 10%. Real estate and other alternatives also performed well despite potential crowding in some markets, as the search for yield intensifies.
And while European pension funds' traditional assets generally fared well, overall performance over the course of 2014 varied quite a lot from country to country, particularly compared with 2013, when taper talk in the US caused many funds to lose out to emerging market holdings in both equity and fixed income.
In the Netherlands, Europe's largest pension fund ABP reported a 14.5% investment return, significantly higher than the 6.2% it recorded for 2013. However, compared with its peers, ABP's returns were lower-median on the scale, as interest-rate hedging among the Dutch funds led to some outstanding return figures. Leading the way was the closed €25bn ING fund with a 32% return. BpfBOUW, SPMS, SPZ, PMT and Vervoer – with more than €140bn in combined assets – all reported return figures in excess of 20%.
The Dutch schemes led the way in Europe, matched only by Industriens Pension from Denmark. But Philip Menco, a consultant at Fortunis, says the explanation behind the Dutch returns is simple. "It was more luck than skill with many of the funds," he says.
"If you take all the factors into account, you already have a really high return without major effort. Some of the funds also did very well with investment policies that took into account private equity and alternatives"

Philip Menco
For example, the Dutch regulator's requirement for pension funds with low coverage ratios to invest in government bonds acted as a boost for investment returns, as demand for safe assets squashed yields to record lows and sent asset values rising.
"Many [Dutch pension funds] have an [interest rate hedge] overlay with swaps," Menco explains. "Rates came down considerably last year, so this led to such high returns. On top of this, many pension funds benefitted from the weaker euro compared with the US dollar, which increased the equity portfolio in developed and emerging markets in euro terms."
He adds: "If you take all the factors into account, you already have a really high return without major effort. Some of the funds also did very well with investment policies that took into account private equity and alternatives."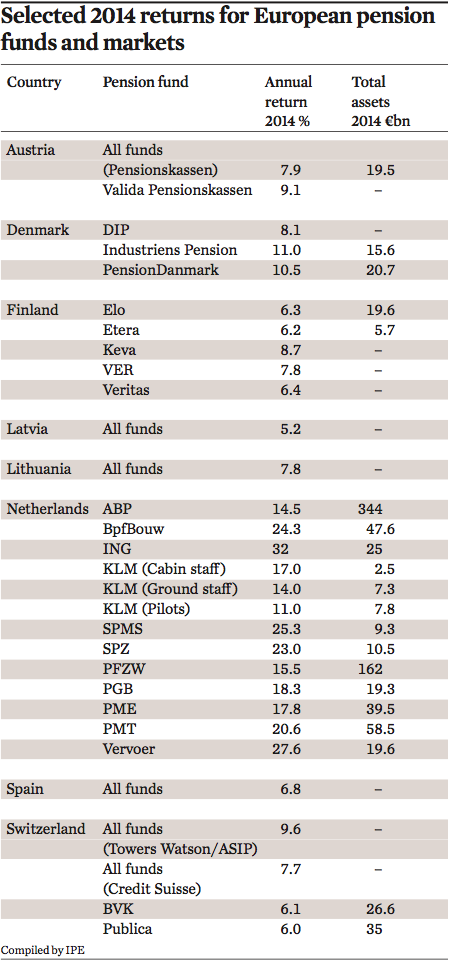 The €19.3bn PGB scheme generated a 30.7% return on its government bond holdings and 20% on its alternative fixed income. The ING scheme had a 76% allocation to government bonds, with 40% interest-rate hedging coverage. According to Menco, this explains the spread in returns among the Dutch schemes.
"[The returns spread] depends on the open position on interest-rate hedging," he says. "Some funds will have 100% interest-rate hedging to protect the coverage ratio, others only 25%. The more long-bonds you held, the better off you were."
In Finland, pension funds fared rather differently in what was another difficult year for the local economy and equity market. Elo, the €19.6bn pensions provider, announced a 6.3% return, citing deteriorating economic conditions and inflation expectations. It warns that 2015 will be even more difficult.
Maria Rissanen, an analyst at local pensions industry group TELA, says the expectations were for 2014 returns to be marginally lower than the average of 8% produced in 2013. "The stock market performed well, really benefitting the public sector pension institutions that have larger listed equity allocations," she adds.
Etera, the €5.7bn provider, says its 40% exposure to Finnish assets helped it secure a 6.2% return, particularly its exposure to the local stock market. And Keva and VER both report equity returns of more than 10%, with the former generating 22% from its private equity holdings. Rissanen notes that the providers have a variety of equity strategies, which account for the range of returns seen from the market.
"The most important factor behind the equity returns was globally diversified equity portfolios," she adds. "At the whole sector level, one-fifth of listed equity holdings are in domestic markets. For some, it has been a good strategy to invest in Finnish equities – especially with stock picking, since they know the Finnish corporates very well. In general, if you look at the market and stock indices in Finland, it has not been a wonderful performance over the last five years. It is lagging its international peers."
Rissanen shares Elo's caution when it comes to 2015, saying it will be a tough year in terms of producing returns. "There might also be a volatile equity market since there are many challenges," she says. "If [pension providers] reach the same returns as 2013 and 2014 in this environment, they have really done an amazing job."
In Switzerland, research from Towers Watson, ASIP and Credit Suisse on Pensionskassen found expected returns ranging between 7% and 10%, with foreign equities the largest contributor. Publica, the largest Swiss fund, says its 6% return would have been 8.9% had it not lost out on currency hedging.
Danish pension providers fared marginally better, with Industriens Pension and PensionDanmark reporting returns in excess of 10%, with the latter citing its real estate and infrastructure holdings as strong contributors to performance. Danish, international and private equity also boosted assets across the industry.
Overall, the data so far shows that, for most European pension funds, most asset classes fared much better in 2014 than 2013, although challenges involving inflation, economic growth and the crowding out of assets continue. As markets price in – and out – continually evolving geo-political turmoil across the continent, as well as attempt to predict interest rate movements across the globe, 2015 is set to be another interesting year for investors.