Interview: Andreas Kretschmer, former CEO of Ärzteversorgung Westfalen-Lippe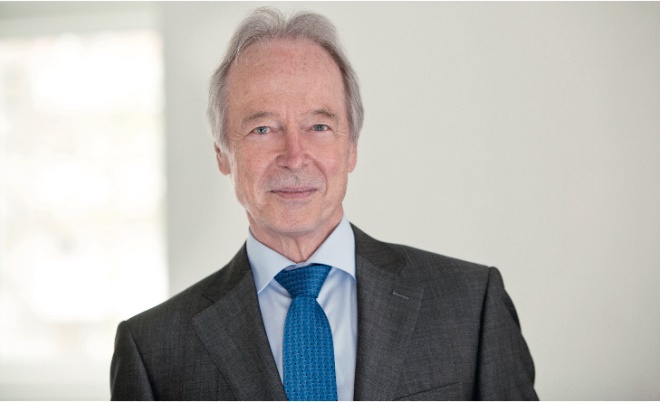 When Andreas Kretschmer was recruited to the pension fund for doctors in the German province of Westfalen-Lippe (ÄVWL) in 1992, he did not know much about pensions. But that was the whole point. 
ÄVWL is a so-called Versorgungswerk, one of Germany's funded first-pillar pension schemes for the liberal professions.
"I have to admit I did not know what a Versorgungswerk was," Kretschmer says. "But I had both national as well as international experience –  mainly with alternatives, such as private equity and MBO valuations."
Kretschmer continues: "Following German reunification, doctors felt the investment business was becoming more international and so they were looking for someone with know-how in the field, and I was in quite a strong position." 
Kretschmer's predecessors had been from the clinical sector, taking on both scheme administration and investments. It was time for a change at the ÄVWL. 
Until 1995, the former CEO continued to work for the Treuhandanstalt – the post-reunification privatisation agency for East German enterprises – in tandem with his new role. 
"This influenced the portfolio, which now started to include equities," says Kretschmer. 
Prior to his tenure, the portfolio mainly held debt securities and a few directly held properties. 
"These were, however, less in the way of investments, but consisted of some real estate around the church towers in the cities in which some of the members lived," he says.
With Kretschmer on board, the portfolio started to view alternative investments and real estate as  investment opportunities. And then ÄVWL started to grow. In the early 1990s, the assets stood at €2.4bn and by year-end 2016 they had grown to more than €13bn at market value. 
The growth came from member contributions  and capital gains. This, in turn, paved the way for co-operation with other pension providers. In 2006 the regional assembly of North Rhine-Westphalia signed a co-operation agreement with ÄVWL to outsource the investment of assembly members' pension assets. Two years ago, the regional parliament of Brandenburg followed. And last year a fund for vets signed an administration agreement to use the ÄVWL's own early risk-monitoring tool and investment expertise.
"During the crisis they saw that we were a partner with experience and know-how," says Kretschmer. For him, this kind of co-operation is the future for Versorgungswerke. "Not everyone has to reinvent the wheel themselves, a lot can be done through co-operation."
In addition, many of the region's doctors have started to pay higher contributions, increasing the asset base and leading to economies of scale. 
This is one of the opportunities arising from the most recent crisis, according to Kretschmer. "In a changed capital market and regulatory environment with zero interest rates, the costs and effort for pension funds have increased considerably, especially when they want to diversify globally. [ÄVWL has] the organisation, the size and the know-how to help them." 
For German supervisors, including BaFin at federal level and the regional supervisory authorities, large Versorgungswerke are akin to sizeable insurance companies. They have to have their own internal audit, controlling and actuarial functions, and they have to report their risk models. 
Additionally, as the ÄVWL counts as a 'significant supervised entry' it will probably have to report its portfolio to the European Central Bank  (ECB) in the future. 
Kretschmer describes how opportunities  have arisen from past financial crises.
"We have been through various crises in the past 25 years and they all forced us to take certain new steps, such as with the Lehman crash practically rendering German Bunds uninvestible for institutions like  ÄVWL," he says. 
So a logical step was to look to infrastructure. But apart from higher return opportunities, Kretschmer also felt a pull towards assets such as renewable energy from the ÄVWL's members. 
He says: "They let us know that we have to take responsibility regarding the ecological impact of our investments, so that is what we are doing."
Kretschmer says he agrees with Austrian economist Joseph Schumpeter's ideas on creative destruction when it comes to financial crises. "They are part of the norm," he says. "And when they arise from hype they can create major opportunities to acquire assets others want to sell." 
But he also stresses the unique position of Versorungswerke: "We are institutions with a very long investment horizon and a predictable contribution stream. 
"In addition, we also have a close dialogue with our members in which we explain measures to them. We have been able to convince our members it is sometimes better to build buffers rather than to slightly increase payouts." 
In recent years, ÄVWL has managed to achieve economic returns of roughly 6%, which is well above the required rate. This has significantly added to the risk buffer and allowed investment strategies with more complex risk-return profiles. 
Kretschmer leaves a sound organisation to his successor, Christian Mosel, although he stayed on as an adviser for a few months after his retirement. 
"But then there has to be a clear break," he stresses, adding that he intends to spend more time with his family and his golfing buddies.
"Many people have already asked me to spend time with them," says Kretschmer, adding in the spirit of poet Hermann Hesse that "a magic dwells in each beginning". 
On the other hand, he has also has received many offers to work as an adviser in various industries including succession management in smaller companies. 
In any case, Kretschmer is determined to find a better balance between leisure and work. 
"I will enjoy not having a daily work schedule anymore but, on the other hand, I hope to still make a contribution."