The UK's 89 Local Government Pension Schemes (LGPS) have finalised their asset-pooling plans ready for this month's deadline. With the exception of Border to Coast, which secured a three-month extension to the government's deadline, all the pools are ready to begin bringing assets on board. These eight regulated fund management entities will eventually run almost all of the LGPS assets, leaving individual funds to decide asset allocation and focus on other areas of pension scheme management.
Border to Coast Pension Partnership // £43.7bn
LGPS funds: Bedfordshire, Cumbria, Durham, East Riding, Lincolnshire, North Yorkshire, Northumberland, South Yorkshire, Surrey, Teesside, Tyne & Wear, Warwickshire
Key staff: Rachel Elwell (CEO); Fiona Miller (COO); Chris Hitchen (chair)
Border to Coast has secured a three-month extension to the government's deadline, meaning it will be ready to launch funds from July. Northern Trust has been appointed as its administrator and depositary to help build the foundations.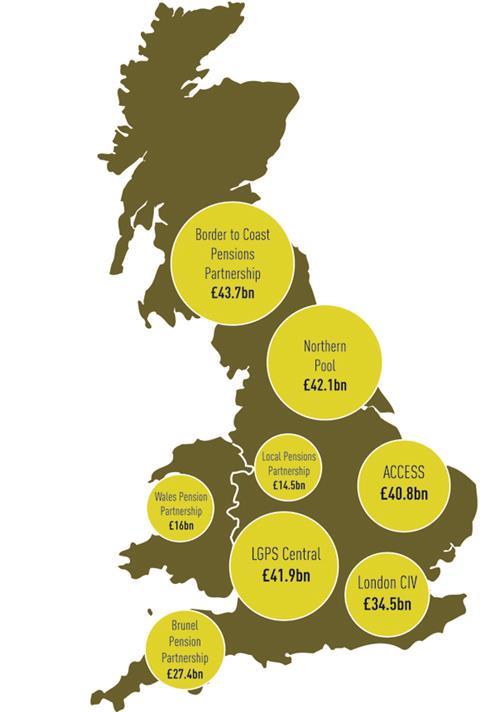 Local Pensions Partnership // £14.5bn
LGPS funds: London Pensions Fund Authority, Lancashire, Berkshire
Key staff: Susan Martin (CEO); Chris Rule (CIO); Sally Bridgeland (chair, LPP Investments); Michael O'Higgins (chair, holding company)
The first of the pools to get up and running, LPFA and Lancashire have combined a significant amount of their equity, fixed income, infrastructure and private equity assets. It remains to be seen how Berkshire's unique portfolio will fit with its new partners.
Wales Pensions Partnership // £16bn
LGPS funds: Cardiff, Clwyd, Dyfed, Greater Gwent, Gwynedd, Powys, Rhondda Cynon Taf, Swansea
Key staff: Stephen Churchman (chair, joint committee)
The eight Welsh funds have appointed Link Asset Services to provide the infrastructure for pooling, while Russell Investments will help with manager selection. This outsourced model means little need for extra internal staff.
Brunel Pension Partnership // £27.4bn
LGPS funds: Avon, Buckinghamshire, Cornwall, Devon, Dorset, Environment Agency, Gloucestershire, Oxfordshire, Somerset, Wiltshire
Key staff: Dawn Turner (CEO); Mark Mansley (CIO); Denise le Gal (Chair)
With Turner, Mansley and Faith Ward lifted from the Environment Agency Pension Fund to lead Brunel, the pool has unsurprisingly set out its stall as a vocal proponent of long-term sustainable investment.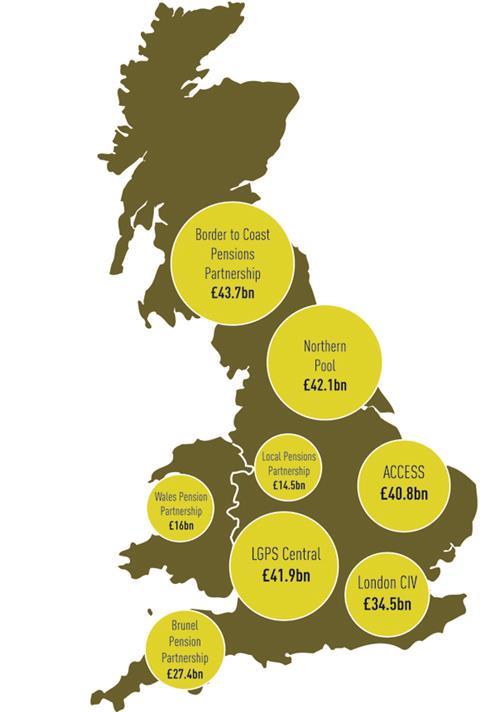 Northern Pool // £42.1bn
LGPS funds: Greater Manchester, Merseyside, West Yorkshire
Key staff: Peter Wallach (head of pensions, Merseyside); Rodney Barton (director, West Yorkshire)
This trio of funds have told government that they do not expect to save much money through pooling liquid assets due to their sizeable internal teams. However, they have targeted significant savings from clubbing together on private equity and other alternatives.
LGPS Central // £41.9bn
LGPS funds: Cheshire, Derbyshire, Leicestershire, Nottinghamshire, Shropshire, Staffordshire, West Midlands, West Midlands Transport, Worcestershire
Key staff: Andrew Warwick-Thompson (CEO); Jason Fletcher (CIO); Joanne Segars (chair)
The Central team has set an ambitious timetable of pooling plans, with several sub-funds set to launch in the coming months. CIO Jason Fletcher is building an internal investment team with initial appointments from West Midlands.
ACCESS // £40.8bn
LGPS funds: Cambridgeshire, East Sussex, Essex, Hampshire, Hertfordshire, Isle of Wight, Kent, Norfolk, Northamptonshire, Suffolk, West Sussex
Key staff: Andrew Reid (chair, joint committee)
ACCESS has appointed Link Asset Services to host its pooled investments rather than build the infrastructure from scratch. It has already secured savings of an estimated £5m (€5.7m) a year by consolidating all passive mandates – these are now being run by UBS Asset Management.
London CIV // £34.5bn
LGPS funds: 32 London borough pension funds including the City of London Corporation
Key staff: Mark Hyde Harrison (interim CEO); Larissa Benbow (head of fixed income); Rob Hall (head of equities)
The pooling vehicle for the capital's funds was quick off the mark to set up, but has since run into numerous problems. Several founder members are critical of the progress so far, including Kensington & Chelsea, which has refused to pool any of its assets. A scathing governance report from Willis Towers Watson led to a full-scale strategy and structure review. Although £6.5bn has been pooled so far, the direction of travel is unclear.