Stewardship is currently perceived as a nascent phenomenon, according to our latest global survey, 'Passive Investing: the Rise of Stewardship'. But its evolution has been gaining traction along its six-stage value chain, after the global adoption of UN Sustainable Development Goals in 2015.
This extended chain requires pension plans to kick-start the process in the first two stages and pass the baton to their index managers thereafter. The stages involve:
● Raising awareness of pension plans about the latent power of their index holdings and how it can be harnessed to improve the quality of their beta assets while producing positive spin-offs for wider society;
● Creating an agenda for change and acceptable standards that are consistent with its delivery;
● Engaging in proxy voting that can ensure investors' standards are observed and their voice is heard on board resolutions, board independence and a raft of hot-button issues like strategy, governance and ESG;
● Fostering year-round dialogue with investee companies beyond shareholder meetings on issues that have an impact on long-term value creation and brand enhancement;
● Acting as an agent of change via deeper engagement with investee companies that envisages the index manager as active owner, instead of passive holder of paper assets;
● Providing regular feedback to end-investors on stewardship activities and outcomes.
Currently, most of our survey respondents say that stewardship activities have progressed up to the third stage – proxy voting – with the expectation that they will get to the final stage over the next five years.
For pension plans and their index managers, the journey so far has relied on learning by doing. The lessons learnt are then being used to ratchet up the quality of stewardship to the next level.
Stewardship in action
For their part, pension plans have identified the practices that uphold their vision of stewardship (figure 1).
The most noteworthy point is that all the practices listed in the figure are deemed 'important' or 'very important' by between 84% and 96% of respondents.
This overwhelming emphasis across the board underscores the fundamental belief that sustainable businesses require the whole to be greater than the sum of individual parts. Thus, each practice in figure 1 is not just essential to create viable businesses; it also mutually supports other practices such that success breeds success.
Corporate failures in the past have suffered from unbalanced support structures, where weaknesses in one area have spilled over into others in a chain reaction.
In our survey, this self-reinforcing circularity was expressed in a narrative that went as follows:
A viable business needs clear strategic direction, backed by the necessary resources and effective management of downside risks (94% said this was 'important' or 'very important'). The aim is to ensure that the business has a clear and credible vision for the future.
Its implementation requires robust regular oversight by a board of directors who are independent, experienced and capable, with no conflicts of interest (identified by 96%). The aim is to ensure that full-time business executives are not over-confident about their abilities and blindsided by wider forces that often derail the best-laid plans. The gender balance on the board is vital to ensure cognitive diversity that harnesses a variety of views and experiences.
The resulting governance structures should represent all stakeholders and be accountable to them (90%). The aim is to comply with today's stakeholder model that requires companies to balance the diverse aspirations of shareholders, customers, employees and the wider society.
The structures should also ensure that executive compensation is based on value creation over multiple periods (94%). The aim is to connect compensation to personal merit and goals delivery, and not be overly influenced by competitive leapfrogging in the external labour market.
Hence, index managers should foster a regular dialogue with the investee companies covering strategy, ESG and other matters pertinent to their future success, their downside risks, their upside opportunities, their regular course corrections and their outcomes (identified by 90%). The aim is to act like active owners – not as passive holders of paper assets – who receive updates, review progress and have a say on major issues arising from the implementation of the strategy as well as the overall conduct of the business.
"For pension plans and their index managers, the journey so far has relied on learning by doing. The lessons learnt are then being used to ratchet up the quality of stewardship to the next level"
Another potent tool of engagement for index managers should be voting at regular shareholder meetings (identified by 86%). The aim is to ensure that the voice of shareholders is heard on every important issue and the board members are not only called to account but are also held accountable for the delivery of the strategy and the overall reputation of the business.
The stellar rise of index funds in pension portfolios worldwide is one factor behind the growing momentum towards stewardship. Just as important, however, is the concentration in passive industry.
The big three of the US asset industry – BlackRock, State Street and Vanguard – now manage 80% of the money invested in the US index industry. The European-based index managers, too, manage a fair chunk. Thus, the size of their holdings gives them the requisite scale and reach to exercise their voice cost-effectively.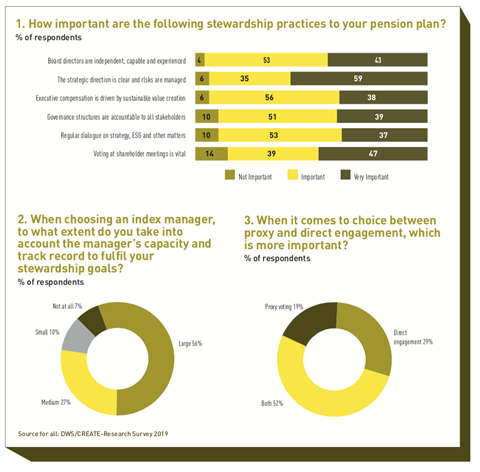 A manager-selection tool
Given the effort put into designing sound stewardship practices, it is not surprising that stewardship credentials are also taken into account when selecting an index manager (figure 2).
Some 56% of our respondents say that the manager's capacity and track record in fulfilling the stewardship goals of its clients are taken into account to a 'large extent', 27% say to a 'medium extent' and 10% say to a 'small extent'. Notably, only 7% do not take them into account.
The main reason behind these numbers is the need to improve the quality of beta, as index funds are now increasingly dominating the core portfolio of pension plans, accounting for around a third of global pension assets. There are concerns that without effective stewardship, index funds may be dumbed down with rising inflows. They risk being a disincentive for innovation and growth, thus undermining the future dynamism of their constituent companies.
Another reason for using stewardship track record as a selection tool is the intensifying bottom-up pressures from pension plan members. As countries have become more aware of the United Nations' Sustainable Development Goals, members want their plans not only to adopt an activist stance but also provide tangible evidence that it delivers positive results.
ESG investing is gaining powerful momentum in all regions. Stewardship sits at the heart of it. For example, the latest corporate governance codes now being implemented in France, Germany, Japan, the Nordics, Switzerland and the UK are far more refined than what prevails in other countries. Generally, European pension plans want to be sure that their index managers are fully cognisant of the local laws and customs.
The issue is less pressing in other regions, where the index fund industry is dominated by three top US managers, each with proprietary standards and a regional overlay.
However, if there is a common thread running across the regions, it is this: index managers need to differentiate themselves by the quality of their stewardship, as competitive pressures have commoditised their funds and driven down their fees. Their stewardship effectiveness will not only become a key barometer of their business culture. It will also be a key point of competition. Index funds are expected to display stewardship on a par with their active peers, whose activism has a longer pedigree and track record.
Going beyond proxy voting
Given a choice between proxy voting and direct engagement to achieve effective stewardship, 19% of our respondents chose 'proxy voting', 29% chose 'direct engagement' and 52% chose 'both' (figure 3).
As noted earlier, the choice is not binary: one evolves out of the other. Most respondents chose both, since they are part of the same evolutionary value chain that eventually delivers more effective shareholder activism.
That 52% chose 'both' speaks to a simple imperative: in stewardship, the whole has to be greater than the sum of its individual parts.
To achieve that, certain best practices have to be observed with respect to policies and processes, as shown earlier.
On the policy side, index managers should have clear explanations of their investment policy in general, their stewardship policy in particular and their regular stewardship activities on their websites. Their reports should provide voting records, their rationale, the number of engagements, issues covered and their outcomes. The aim is to ensure that stewardship policies are observed in letter and spirit. Beyond reporting, index managers should also consolidate their active and passive portfolios to ensure a common stance on voting and engagement.
On the processes side, index managers should act like active owners in all that they do. That means demonstrating how their voting decisions protect and enhance shareholder interests, instead of being a simple tick-box exercise. It means demonstrating how proxy voting advisers add value in what they do and are duly held accountable for their decisions.
Under pressure from pension plans, stewardship will emerge as a banner theme for the index industry as it enters the next decade, enjoining its key players to step up their efforts.
We are at the dawn of a new phenomenon where pension plans are reshaping their ideas on what stewardship should actually mean and index managers are duly learning how to respond.
Both are climbing a learning curve in the belief that perfection cannot be allowed to be the enemy of progress.
Amin Rajan is CEO of CREATE-Research and Simon Klein is head of passive sales, Europe and Asia Pacific, at DWS