In the first in a series of articles analysing the most recent reporting output of the Pension Fund Perceptions Programme, James Tew assesses how pension funds perceive their managers in terms of delivery against objectives
Portfolio performance is the acid test of an asset manager's ability to deliver against objectives and of trustees, directors and other fiduciaries to fulfil their responsibilities. In the PFPP survey, three key questions addressed pension funds' perception of performance. They address pension funds' key interest in the delivery of what is expected against their objectives. Funds were asked to rate the ability of asset managers to control risk relative to performance expectations; the alignment of outcomes against expectations; and the value received in return for fees paid.
The questions are subjective, not least the question about controlling risk. In the context of this survey the question may be assumed to cover principally portfolio statistical risk.
Figure 1 sets out the overall impression that pension funds hold with respect to performance issues. Responses relating to over 3,000 mandates were received for each question. The numbers represent the quartile ranking, with a 'four' indicating that pension funds have a low opinion relative to other factors rated in the survey, which include fees, service and quality of reports. In addition to an overall assessment, the responses are further split by asset class.
Areas for improvement
• Pension funds do not rate their asset managers highly in terms of delivery against objectives, the PFPP research shows.
• There is room for improvement in the way asset managers communicate about performance.
• Only 45% of pension funds received performance updates between regular standard reports.
• Asset managers should demonstrate better that they provide performance value for fees paid: our research shows they have failed in this regard.
• Asset managers also need to make greater effort to communicate how they control risk.
• Asset managers should review their responses to SLA breaches.
Only 45% of pension funds received regular updates from their managers between standard comprehensive reports on performance. This may contribute to the perception that performance outcomes are disappointing because asset managers may not be effective in holding their clients' hands between the fixed reporting dates. However, the third quartile ranking for performance outcomes relative to expectations and the control of risk are both much better than the 85th percentile ranking of value for money. Asset managers will increasingly have to demonstrate their ability to provide performance value for fees, especially with the increasing interest in indexing strategies. The response to the PFPP survey suggests they have failed so far to convince pension funds.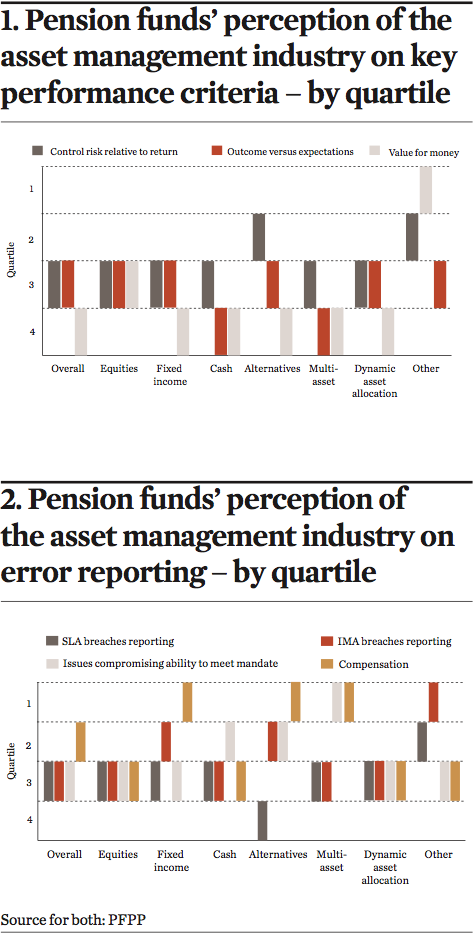 The ability to control risk relative to return should be easy with modern systems. It may therefore be surprising that this control of risk does not score better in the minds of pension funds. As might be expected, alternatives, including hedge funds, score better than other asset classes. Similarly, fixed income, was better placed than equities within the third quartile. As with value for money, asset managers may need to make greater effort to explain in simple terms how they control risk. The broadly disappointing perception of portfolio performance by pension funds ranges across all the asset classes.
A separate article will review the PFPP research with respect to some of the tools that pension funds can use to assess performance and an asset manager's ability. However a valuable insight into the overall perception of that ability can be derived from the capacity to meet service level and investment management agreements (SLAs and IMAs). Almost all aspects of an asset manager's operations have the potential to impact portfolio performance. If asset managers' breach their SLAs it could reflect poorly upon their overall ability to deliver pension fund expectations.
Even more detrimental to performance can be breaches of IMAs, which are more likely to have a direct impact on performance, notwithstanding potential compensation. Failures in either area, and especially repeated errors, can often be symptomatic of deeper problems, whether in failing to invest in infrastructure or more seriously in a failure of internal controls that could lead to regulatory issues. Such errors could also indicate a willingness of the asset manager to take greater risk than pension funds intended by investing to the extreme limits of the IMA.
Figure 2 shows the responses to four questions concerned with error reporting that can indicate areas where managers may not be meeting pension fund expectations.
Overall funds seem satisfied with the compensation for errors with a second quartile ranking. Three asset classes, fixed income, alternatives and multi-asset, managed a top quartile ranking in this regard. The average rating from over 1,500 mandates that responded on IMA breaches and other issues compromising performance was third quartile. However, both had a less than 60th percentile ranking and might therefore be considered adequate. In contrast, reporting on SLA breaches, which would tend to concentrate more on operational and back office issues, was rated closer to fourth quartile. Asset managers may want to review their response to SLA breaches in order to improve the overall perception of performance.
While there are patches of positive news for asset managers, the overwhelming response from pension funds is that performance in its broader context of meeting their objectives has room for improvement. Simply outperforming a benchmark does not necessarily deliver against expectations and asset managers' perceptions of their performance can easily differ from those of pension funds. The PFPP suggests that there remains a significant deviation in understanding between asset managers and investors.
The PFPP Research Programme is an independent research project providing detailed information on how pension funds and other institutional investors across 19 countries in Europe assess their asset managers, together with collective market data on investment activity by investors, and investor priorities. A confidential peer group information-sharing programme facilitated by IPE, it is entirely controlled by the pension funds, providing detailed intelligence on over 200 asset managers to participating investors.
For more information see www.ipe.com/pfpp or contact Louise Ashmore at louise.ashmore.com.
PFPP survey: Delivery against objectives
1

Currently reading

PFPP survey: Delivery against objectives

2

3