Interview: Institutional Investors Group on Climate Change
Peter Damgaard Jensen tells Susanna Rust about the need to keep up the momentum on climate change and develop more green investment opportunities for institutional investors 
Peter Damgaard Jensen, the new chair of the Institutional Investors Group on Climate Change (IIGCC), wants to make sure that climate change stays high on the political, corporate, and investor agenda.
These are the main goals of the new chair of the group, which now counts 136 members with €16trn of assets under management. And there is no time to let up.
Damgaard Jensen, who is also chief executive of Danish pension fund manager PKA, took over as chair in January from Donald Macdonald, a long-serving and active member of the UK and international institutional investor industry. 
Damgaard Jensen had already been on the board of IIGCC for three years. He was motivated to get involved because of his personal – and PKA's – views on climate change.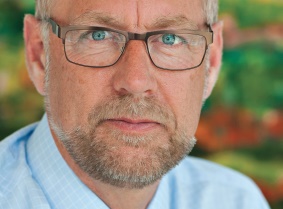 "PKA is a member-based Danish pension fund," he says. "We have about 300,000 members and [€33.6bn] assets under management, and the climate issue has been a very important issue for our members for the last five to six years."
He adds: "We try to find green investments and IIGCC is an interesting place to be and to hear what is going on in the rest of Europe."
The IIGCC is also an important collaboration effort because of its "impressive" membership backing, as well as its voice in the EU and at a wider international level, he says.
This makes the group "the right place" for engaging with governments and other stakeholders on climate change.
For PKA, this engagement is important because "you can't solve the climate issue just as one pension fund. You have to work together and try to influence what is going on", he says. "And we have a strong support from our members to do that."
Talking about his desire to keep climate change on the agenda, he says that in the past investors had experienced a degree of fatigue following high-level talks on the subject, and the accompanying commentary.
However, Damgaard Jensen says such fatigue did not necessarily set in after the COP21 climate change agreement in Paris in 2015. "I'm actually quite positive," he says of the project. The IIGCC was an official institutional partner of the two-day event.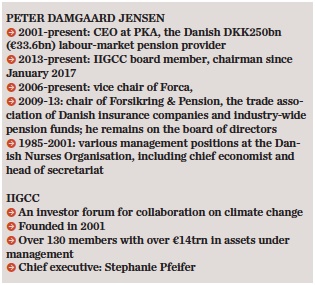 Many countries in the EU are working on ambitious plans to move from carbon-based economies to greener economies, Damgaard Jensen says, with momentum in China on this front also unlikely to let up.
He also has an optimistic – or at least constructive – outlook for the US. Despite President Donald Trump's election ushering in an administration largely sceptical of climate change, Damgaard Jensen points out that prices on green energy have nevertheless fallen to a point at which they can compete with fossil fuels. 
Emerging markets
There is more work to do on the practical side of incorporating climate risk in investments. This includes getting better data, as well as better instruments and tools – and more of them – covering a range of asset classes and markets. The IIGCC's membership, given that it includes some very large investors, including asset owners and service providers, can play an important role in this area.
Also on Damgaard Jensen's mind is the possibility of working with individual countries and the European Commission to get more green investment in emerging markets. He sees this as crucial in achieving climate change targets.
The IIGCC's members have different views on this topic, but their chair believes institutional investors could play a role. "Some of these investments are going to be long-term investments in utilities, solar parks and so on," he says – just the kind of assets some of Europe's biggest pension funds, including PKA, have been buying in recent years.
A range of tools are needed – such as government-backed guarantees, risk-sharing, and blended finance – to get such projects off the ground, Damgaard Jensen says.
Investors are deterred by the perception that the returns do not justify the risks, "so you have to take out some of the risk in some way", he adds.
Asked what change in attitude he would like to see from investors, corporates and policymakers in relation to climate change, Damgaard Jensen says there is still a need to drive home to them that inaction is the biggest risk. 
"From my perspective as a long-term investor, the biggest risk is that if we are not doing anything and we are going to have global warming, we are going to have stranded assets and we don't know at all where the economy is going to end up," he says.
"We still need to get the knowledge through to investors, to politicians, and also to the public in general that the big risks are not going to be investing in the green area or developing a new economy," he concludes. 
"The big risk is doing nothing."