Growth in the euro-zone is back on track, unemployment has fallen and the economy is generally in better shape than before the crisis. The only missing element in the recovery is inflation, which is still way below target. This shortfall is the main reason the European Central Bank (ECB) will continue to expand its balance sheet until at least September 2018, albeit at slower pace.
The central bank's tone regarding future monetary policy is still dovish, which is surprising, given the relatively healthy state of the economy.
In fact, the central bank's decision to maintain strong monetary stimulus should be questioned. The costs of quantitative easing (QE) and rock-bottom interest rates could soon start to outweigh the benefits.
First, unconventional monetary policies could inflate asset prices further, increasing the danger of bubbles in the financial markets. For example, there is evidence that low rates are pushing up property prices in some areas.
Second, if deleveraging has occurred and credit creation has been restored, there is no pressure to keep interest rates so low. Commercial banks have already bolstered their margins by not passing on lower rates to their customers.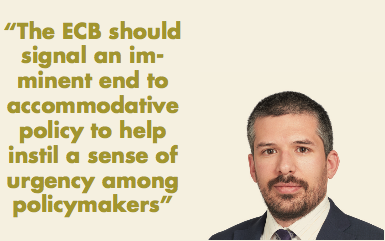 Third, and perhaps most important, governments are unlikely to push for further structural reform now that economic growth is back on track, even if that is exactly what the ECB itself has called for. Governments will turn to more pressing challenges, rather than the tricky but necessary business of restructuring their economies.
Experts broadly agree that the ECB should start withdrawing monetary stimulus but there is no sense of urgency. There is a worry that, because the recovery has been so slow, withdrawing stimulus too quickly would be dangerous.
Furthermore, central bankers are particularly concerned about communication, mainly because of the way financial markets reacted to announcements of monetary policy decisions in the past. They feel that decisions have to be communicated clearly, carefully and in advance.
But unwavering monetary support for the economy could be creating a false sense of security. Both the ECB and independent experts agree that monetary policy alone cannot fix the structural weaknesses of the euro-zone economy. It has served as a defence against stagnation but structural reforms are necessary to create the basis for sustainable growth.
It would be foolish to assume that governments will act during a time of relative prosperity. The ECB should signal an imminent end to accommodative policy to help instil a sense of urgency among policymakers.
Carlo Svaluto Moreolo,
Senior Staff Writer
carlo.svaluto@ipe.com
Norway reduces oil risk
1

2

3

4

Currently reading

Unconventional monetary policy needs to end soon