The Netherlands' largest pension administrator APG has clashed with pensions regulator DNB over the order in which it wants to transition its pension fund clients to the new defined contribution (DC) pension system. The only way out may be a further postponement of the 2027 deadline.
ABP does not want to transition its two largest pension fund clients ABP and Bpf Bouw to the new DC system at the same time because of capacity constraints. This request conflicts with a demand set by regulator DNB that large pension funds should make the transition to the new system by 2026 (a year prior to the official 2027 deadline), according to Wim Koeleman, programme manager for the pension transition at APG.
Koeleman made his statement last week at a congress organised by IPE's Dutch sister publication Pensioen Pro.
ABP president Harmen van Wijnen said last year in an interview with Pensioen Pro that the €458bn civil service scheme is planning to move to a DC platform in 2026.
This would mean €61bn Bpf Bouw would have to make the transition by 2025 or 2027. The former seems unrealistic, and conflicts with APG's preference to start the transition with some of its smaller clients, and the latter option is opposed by DNB.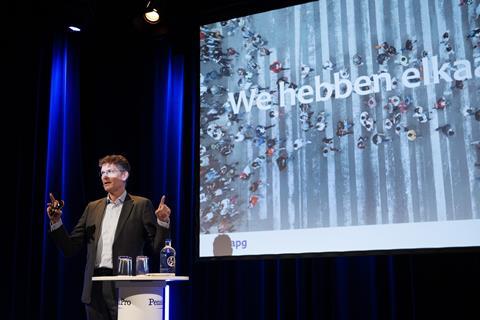 A solution to the issue is not yet in sight, according to Koeleman. "We expect there will be room to discuss the matter with the regulator in the second half of this year," he said.
Transition groups
APG wants to split its eight pension fund clients in three transition groups: for 2025, 2026 and 2027. None of its clients have "voluntarily opted for 2027," according to Koeleman.
The 'class' of 2025 is also still empty, as this date will likely come too soon for most funds. So 2026 seems to be the sweet spot: besides ABP, medical specialists fund SPMS has also claimed a spot in this group.
There's only limited capacity for each of the three groups, said Koeleman. "We are currently assessing the capacity of our transition module," he added.
APG is looking at various criteria to spread its client base across the three transition groups. The firm is working with two different admin systems and wants to avoid a concentration of clients with the same system in either group.
"We also want to strike a balance between clients that also do asset management with us and funds that are mere admin clients," said Koeleman.
Tight planning
The continuous delays to the implementation of the pension law have made the timelines shorter, noted Koeleman. "The implementation keeps getting delayed, but the [2027] deadline for implementation remains unchanged," he said. Timely implementation of the law is therefore "a challenge".
"The planning is tight, also because we want to take one year per fund to test everything before making the transition to DC. There is pressure on the timelines, but for now we still think the 2027 deadline is still attainable," Koeleman concluded.

Tjibbe is IPE's Netherlands correspondent. He splits his time between IPE and its Dutch-language sister publication Pensioen Pro. Before joining IPE following a move back to Amsterdam, Tjibbe worked in London for several years writing about fund selection and portfolio construction trends.
View full Profile