A string of government reforms due to come into effect from July 2021 has caught the superannuation sector off-guard.
The Your Future Your Super reforms are aimed at removing under-performing funds and reducing fees.
The sting, it seems, is a requirement for super funds and their trustees to publish annual reports showing full disclosure of remuneration and expenses. The latter includes political donations, advertising and sponsorships. This is what some would say is a 'gotcha' moment for the country's influential industry funds.
For the conservative Liberal-National Coalition government, this provides a means to keep tabs on where the money goes. It may also provide an answer to the question of whether any money is being funnelled by funds to trade unions or the Labor Party. That is long suspected by conservative politicians but never proven.
For its part, the government says the rationale for the reforms is to save workers an estimated A$17.9bn (€10.8bn) in fees over the next decade.
Australians annually pay A$30bn in super fees – more than they pay for electricity and gas combined. The fees are among the highest in the OECD.
With the nation's savings pool projected to reach A$5trn by 2034, federal treasurer Josh Frydenberg says that, without reform, annual fees in 2034 would reach A$45bn.
Frydenberg has made law the key recommendations from the Productivity Commission, a government agency that reported in January 2019 following an inquiry into the super industry. The Commission found that Australians holding multiple super accounts contributed to the level of super fees.
Frydenberg said in his October budget address that Australians are paying A$450m annually in unnecessary fees because of 6m multiple accounts. The reforms seek to reduce this number by 2.1m over the next decade.
The fee gravy train will be curtailed when super accounts follow members. From next July, Australians will choose a super fund when they start work. It will follow them through life unless they choose to switch to another.
Today, about two-thirds of Australians starting a new job become members of a MySuper default fund. This is a low-fee government initiative offering basic super products.
Since January 2014 only super funds offering a MySuper product have been eligible to receive default superannuation relating to new employees.
MySuper funds rose from A$362bn in 2014 to A$731bn at 30 June, 2020 – and now represent 25.5% of total funds under management.
"Current arrangements are clearly not putting members first. Member outcomes are too variable," says the Productivity Commission report.
"One of the main drivers of subpar outcomes is the way default funds are tied to employers and the workplace relations system, with employer choice constrained by a list of funds in modern awards and enterprise bargaining agreements.
"Employers are not always well-placed to navigate this maze to make decisions on behalf of their workers."
The report says policy settings have created an 'unlucky lottery' by failing to ensure they are in the best funds, noting that "over 5 million member accounts are in funds experiencing serial underperformance".
According to analysis by Super Consumer Australia, part of Choice, an advocacy group, about 70,000 workers are placed into poor-performing default funds each year.
Choice has long called the reform of the system. "Way too many people" are trapped in under-performing super accounts, says Xavier O'Halloran, Super Consumer Australia's director.
O'Halloran said the announced reforms are a "game-changer".
"Creation of a comparative website, YourSuper, will help consumers make comparisons of fund performance and fees," he says.
"The other big measure is around benchmarking. The regulator will publish performances over an eight-year period and will force funds to tell their members that they are underperforming."
From July 2021, the Australian Taxation Office and the Australian Prudential Regulatory Authority will be tasked to rank funds. They will also run tests to benchmark their performance.
Funds found to be under-performing in two consecutive years will be banned from accepting new members. The testing regime will be extended to non-MySuper "choice" funds from July 2022.
The government says the measure will result in competition, drive down fees and increase retirement savings.
O'Halloran agrees. "Competition does not exist today because of lack of consumer engagement," he says. "But it is currently difficult to compare the performance of funds because they all report differently."
The industry itself is supportive of the reforms. Bernie Dean, CEO of Industry Super Australia, representing the large industry funds, says: "Stapling the money to a member would remove multiple accounts more quickly, and more effectively weed out underperformers.
"Underperformance is the biggest cost drain on member savings, and dud funds need to be removed no matter what type of fund they are."
The Australian Superannuation Fund Association describes the measures as a "significant change to the architecture".
But Russell Mason, superannuation partner with Deloitte, says: "While I support the concept of restricting underperforming funds, we have to be careful determining what underperformance is.
"I don't believe the regulator should simply select an arbitrary benchmark and then say a fund has underperformed if it falls short of this benchmark."
He continued: "We need to look at the underlying investment objectives of the fund, and to compare performance against these objectives."
Mason also wonders about the impact on fund managers' behaviour to avoid underperformance.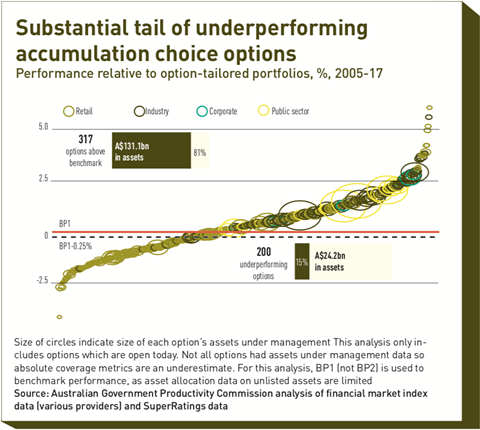 "Will funds start to avoid more volatile assets, or those taken up by private equity – which can take some time before returns are produced?" he asks.
Eva Scheerlinck, CEO of the Australian Institute of Superannuation Trustees, warns: "We need to ensure that people are not in danger of being mis-sold or stapled to an underperforming fund outside the default system.
"In particular, we are concerned that the scheme does nothing to protect people already in dud funds."
Over the past 30 years, the governance of super funds has improved but governance practices are not best practice, according to the Productivity Commission.
"Some trustee boards are either not complying with all of their regulatory obligations, or are complying in a 'tick and flick' sense without striving to protect and promote members' best interests," it says.
From next July the onus will be on super fund trustees to ensure that they perform in the "new" best financial interests of members.