Pension funds are increasing their allocations to alternative and illiquid assets in a bid to boost flagging returns
Key points

Swiss pension funds are reducing bonds and raising alternatives to improve returns
Equities are still a main driver of risk and return
ESG investing is increasingly being adopted
Over the past year market sentiment has see-sawed, with Swiss pension schemes gearing up for increased rates towards the end of 2019.
Then the mood turned gloomy, with downward expectations for global economic growth and more fisticuffs in the US-China trade tussle. The result is that central banks have returned to their previous course of monetary loosening.
But, of course, pension investment horizons are much longer than a year, so the shift has not had a clear impact on asset allocation.
"Over the long term, the key trend has been of lower interest rates and the resulting effects," says Michael Valentine, investment consultant, Willis Towers Watson Switzerland. "Given that Swiss pension liabilities are not directly coupled to these market rates, technical parameters are slow to react and so the gap between the required and expected return on assets has increased. This has been the defining factor affecting Swiss pension schemes' asset allocation over recent years."
And, he points out, this has led to a steady reduction in bond investing and a corresponding increase in illiquid and alternatives investing, as investors run out of traditional options to meet their liabilities.
"In the last 12 months, we have seen the path towards more illiquidity continue, and even accelerate," says Charles Morel, head of institutional sales for Switzerland, Lombard Odier Investment Managers. "Alternative investments, in particular non-listed equity and debt in the form of loans, private equity and infrastructure, are once more reaching an allocation weight – near 10% – not seen since the global financial crisis. Real estate is following the same path."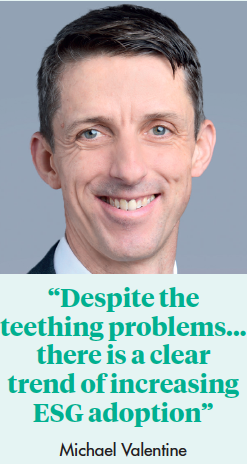 He says this increase has come at the expense of bonds and equities. "Interestingly enough, this trend [towards private equity] has increased the appeal for the core-satellite investment approach, the higher total expense ratio of the illiquid asset classes being partially compensated for by more pressure on fees for passive core investments," he says. "In the past few months we have observed a renewed interest in active bonds, in parallel with the descent of the rating scale towards more non-investment-grade bonds, especially the cross-over segment and high-conviction Asian bonds."
And Morel is also seeing increased allocations of actively managed Swiss bonds, "As every basis point of yield counts and the hedging cost is historically high for foreign bonds."
In fact, high foreign-exchange hedging costs are generally considered a sore point with Swiss pension funds, but not necessarily for all asset classes.
"In traditional fixed income, allocations have been at rather low levels for years, be it domestic or non-CHF, given negative returns after forex hedging and transaction costs," says Olivier Cassin, head of European institutional distribution, BNY Mellon Investment Management. "There was no major shift to ex-CHF assets, given the high forex hedging costs. But in asset classes such as credit or alternatives, with higher expected returns, there is a natural shift towards global allocations, given the small and tight domestic market."
Indeed, Frank Häusler, chief strategist at Vontobel, tips emerging markets generally as more likely to be popular with Swiss funds.
"Emerging market hard currency bonds proved their merits in the recent volatile market period," Häusler says. "They not only offer an attractive longer-term return according to our models, but are also – from a tactical perspective – an attractive asset class."
He adds that emerging-market debt is more diversified than its developed-market counterpart.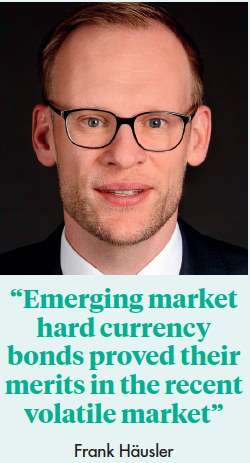 "In terms of duration and historical Sharpe ratio, hard currency emerging-market paper is almost as attractive as the global benchmark," Häusler says.
"This would matter little in normal times, but ours clearly aren't. Central bankers have opened the liquidity floodgates again to shield the economy against the fallout from the US-Chinese trade conflict and a slowdown of global growth. In an environment where investors are clinging on to what returns there are left, emerging markets are likely to play a more prominent role."
One unwelcome development has been the equivalence row between Switzerland and the EU, which has resulted in Swiss shares being barred from EU stock exchanges and EU shares being excluded from the Swiss SIX Exchange. However, there appears to have been little fallout for asset allocation.
And from a longer-term perspective, the political uncertainty in Italy and concerns about its banks does not appear to be causing any large portfolio changes by Swiss funds.
"The biggest allocation by Swiss pension funds is domestic, followed by regional allocations such as the EU, US, emerging markets or global, so Italian bonds are not held directly, but via the European bucket," notes Cassin. "For passive investors, this might be a bigger issue than for active investors, who can avoid or take the benefit of short-term volatility."
However, the economic slowdown in the euro-zone, plus the ECB's new stimulus package could have an impact on Swiss asset allocations, says Morel. "In the context of the regional investment approach for bonds and equities, the current bearish economic data might push Swiss pension funds to reassess their exposure in European equities and bonds, which might lead to an underweight in European equities," he says.
"It is possible that this tendency might even be strengthened by the current political and economic situation in both Italy and the UK, not to mention the suffering German economy. That said, as any underweight has to be reallocated, it is hard to believe that Swiss pension plans might implement a strong underweight in this region, lacking attractive alternatives."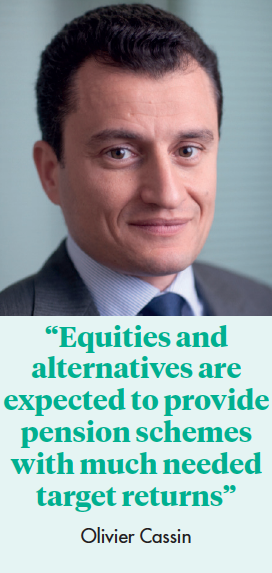 Colin Harte, head of research, multi-asset solutions, BNP Paribas Asset Management, says: "Generally, we believe that we are operating in a fragile Goldilocks economic environment with low inflation and moderate growth, with both bond and equity markets supported by policy easing globally. However, the risk to this benign environment remains a further deterioration in economic activity that overwhelms the ability of central bank easing to support markets."
He says: "In such a scenario, there is a risk that equity markets undergo a significant correction. But while bond yields would decline further in absolute terms, we believe their downside in Switzerland and Europe is limited, given the asymmetry in their current pricing; a recession in Europe and deterioration in inflation expectations is already discounted in bond prices."
Environmental, social and governance (ESG) investing has reached the agendas of most pension fund boards, says Cassin.
"The first move in the past couple of years was to get the equity allocation ESG-compliant," he notes. "In the last few months this has spilled over into the fixed-income and even alternative buckets, where we see interest in getting ESG components integrated into the investment processes."
This has also been encouraged by the Swiss pension fund association (ASIP) introducing sustainability as part of the fiduciary duty of pension boards, in addition to regulatory pressure on Swiss investors to reduce the carbon intensity of their portfolios.
"We believe we are operating in a fragile Goldilocks economic environment… However, the risk to this benign environment remains a further deterioration in economic activity that overwhelms the ability of central bank easing to support markets" - Colin Harte
"Despite the teething problems typical of adopting new approaches, there is a clear trend of increasing ESG adoption," says Valentine. "We are seeing simple exclusions of individual stocks or market areas, for instance with weapons, tobacco, and fossil-fuel exposures, right up to full-blown ESG policies that flow through most, if not all, of the portfolio."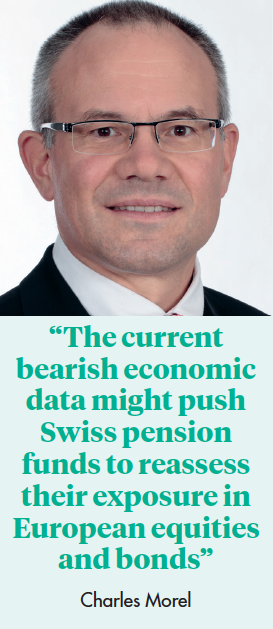 Looking ahead, Valentine says Swiss pension funds are anticipating a protracted period of low interest rates and inflation, with some bumps along the way.
"Equity exposures have remained broadly constant over many years, and these markets remain by far the most dominant drivers of returns, and risk, in portfolios," he says. "But given the low-return expectations, we also see a certain trend towards non-economic income streams such as asset-backed loans and insurance-linked securities."
Cassin says: "Equities and alternatives are expected to provide pension schemes with much needed target returns, given fixed income, with the exception of some credit strategies, isn't yielding at positive levels any longer."
Harte says: "Perhaps the major trend in asset allocation over the next 12 months will involve a reappraisal of the role of fixed-income debt in a negative nominal yield world. Such a reappraisal will involve assessing the role of less-liquid fixed-income securities in generating positive yields, and what constitutes the minimum risk asset."
Switzerland: Online lending
1

2

Currently reading

Asset Allocation: Alternatives key to raise returns

3

4

5