Sub-investment-grade debt markets are becoming more sophisticated and fund managers have taken note
Key points
• The US has a less dominant position in the high-yield market than in the past
• High yield incudes asset-backed securities, contingent convertibles and leveraged loans
• The expansion of the derivatives market enables sophisticated portfolio management
Structuring sub-investment-grade global debt portfolios has become more sophisticated recently. There are three developments worth noting and fund managers – particularly those offering absolute-return and multi-strategy approaches – are in a good position to take advantage of them.
The clearest shift is the move away from the overwhelming US dominance of the global high-yield bond market. Today the US high-yield debt market accounts for 55% of the main indices, with Europe and emerging markets making up the difference. This widens the universe considerably, by geography and sector, due to the contrasting sector exposures in different regions. Emerging markets are dominated by resource companies and banks, so there is some correlation with the US via the impact of energy prices.
The truly global scope of opportunities in sub-investment-grade credit requires managers to account for different currencies, base rates and inflation, and the resultant absolute real returns they can achieve for their clients. But as T Rowe Price portfolio manager Mike Della Vedova points out, the behaviour of individual companies has an effect on medium- to long-term return in credit. The market is driven by idiosyncratic risk, more so than any other market such as the investment-grade market, which puts a premium on analysing individual securities.
"Two thirds of our views are driven by single names rather than sectors," says Justin Jewell, senior portfolio manager at BlueBay Asset Management. Retail, for example, is a sector the firm was wary of, although two of its returns came from retail. However, geographic and sector variations play a part: Europe shows better value than the US presently, with European investors finding it generally uneconomic to venture to the US after including the 3% currency swap costs required for hedging.
Having global opportunities means that managers can take advantage of divergent economic conditions across markets. Emerging markets are politically more stable, reforms are happening in Latin America and Asia continues to grow.

Since the 2008 financial crisis, the US has enjoyed good growth with rates going up and fiscal expansion. While this is also happening in Europe, Della Vedova argues the US is further along the credit curve and the growth cycle.
At a time of rising interest rates, Europe has further to go with regard to term premiums, says Andrew Feltus, co-director of high yield at Amundi-Pioneer in the US. He sees particular vulnerability in higher quality credits. As a result, his Amundi High Yield fund has been reducing exposure to Europe despite generally being bullish on the region.
"We like what is going on in Europe fundamentally," says Della Vedova. "What is worrying is when investors start looking at the ECB the way they look at the Fed. With inflation is the Fed behind the curve or ahead of the curve? No-one knows, but people are worried. Sooner or later those worries will also hit the ECB." But what is positive is that the three key regions provide something different through the credit cycle, which we have never seen before, says Della Vedova. For global managers this creates tremendous opportunities for diversifying risk exposure.
The second development is that sub-investment-grade strategies can now encompass wider credit opportunities, not only in the US but in Europe.
The fastest growing product at Capital Four Management for the past couple of years has been a European leveraged loan strategy, which reached €2bn (including a €1bn fund) in five years. The investments are in debt issued by private-equity financed leveraged buyouts (LBOs) with enterprise values about €1bn, with about €500m in senior secured debt, says portfolio manager Torben Skødeberg. "They tend to be senior secured single B credits with loan to value ratios of around 50% and spreads of 400bps but extremely low, almost zero duration," he says.
For investors who are able to invest in alternative investment funds outside pan-European UCITS-compliant fund structures, it represents an alternative to cash, with exposure to the least risky senior-secured segment of the loan and high-yield market.
Adopting a multi-asset approach to sub-investment-grade debt also opens portfolio strategies to the leveraged loan market, as well as contingent convertible bonds (cocos) and lower-rated tranches of asset-backed securities (ABS). Leveraged loans and lower-rated ABS tranches have existed for many years, but after the financial crisis cocos were invented to offer yields comparable with high-yield corporate debt, but with a different risk profile. [See Cocos are here to stay]. Amundi's biggest position last year was in cocos, says Feltus.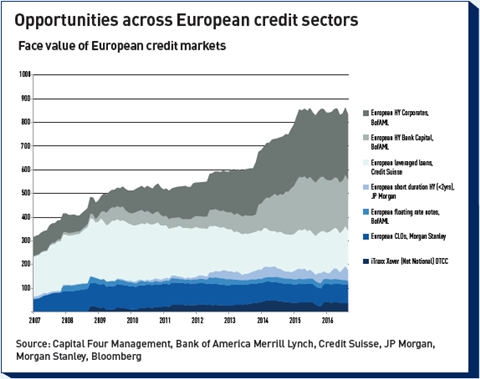 Assessing relative strengths is an important way for managers to create value. "We have invested in a lot of CLOs [collateralised loan obligations] historically. We think the best value right now is in some of the higher yielding LBO transactions in loans and high-yield bonds, with almost zero duration. We have not found that much good value in ABS and CLOs with spreads fairly tight," says Skødeberg.
Managers have to be aware of the main differences in the risk exposures and relative valuations of individual markets. It is those differences that provide the opportunity for superior risk/return profiles for active multi-asset strategies. Having as broad a toolkit as possible is beneficial, particularly in current markets. "If you want to be long credit risk you have to be absolutely confident that you are in the right spaces. There are lots of spaces where you would rather be short than long," says Andrew Jackson, head of fixed income at Hermes.
The third development is liquid derivative contracts, particularly credit default swaps (CDS). These enable a proactive approach to taking on and taking off credit exposures and separating credit risk from interest-rate risk.
Most names in the global liquid high-yield market do not have CDSs against them so they can take on short positions if they wish. In some of the smaller names there might not be liquid CDS, particularly in the distressed ratings of B and CCC corporates. The two high-yield bond credit indices are constructed from the most liquid securities. There is also a highly developed index option market that gives the capacity to be short on credit risk generally and then choose securities in which to be long. "We have been running a short index position in European subordinated financials over the last month to take off some of the exposure to the financials market as a result of our view on individual securities which we thought were great value," says Jackson.
Using a broad toolkit allows managers to try to achieve a high proportion of the upside and limit the downside. Hermes, for example, focuses on larger corporates within the high-yield market, as these tend to have more instruments to select from; perhaps five to 10 high-yield bonds outstanding, leveraged loans and, often, CDS markets in their securities. "That gives us the capacity to choose between bonds, loans and CDS and gives us a further option of where we want to be in maturity so that we can utilise duration and convexity," says Jackson.
The benefits of running global sub-investment-grade portfolios really come into play regarding arbitraging relative valuations. Amundi, for example, has had an overall overweight position in energy for some time. But exposure has varied between US and emerging markets through exploiting relative valuations between US energy companies and emerging-market companies. When energy prices were low a couple of years ago, the biggest issuer in the high-yield market was Brazil's Petrobras, accounting for 2% of the index. Its balance sheet looked similar to US high-yield energy companies but there was more political risk with Brazil, so Amundi then favoured US high yield. But as Petrobras sold assets to strengthen its balance sheet, Amundi shifted exposure from US energy to the Brazilian energy giant.
For an asset class such as sub-investment-grade debt – which covers multiple asset classes, geographies and sectors – portfolio construction is key in differentiating the best managers from the worst. Few asset owners are in a position to determine whether cocos offer a more attractive risk/return trade-off than US energy high-yield bonds – the challenge they face is finding managers that are.
High Yield: New risks and opportunities
1

2

Currently reading

Asset allocation: An expanding universe

3