Defined benefit pension funds are adopting various strategies to reduce risk and boost returns
Key points
Irish DB schemes continue to reduce equity risk
Schemes are diversifying into alternative credit and corporate bonds
The illiquidity premium is seen as a source of extra return
Fluctuating euro long bond yields over the course of 2017 have played havoc with Irish defined benefit (DB) pension liabilities, making liability management harder for trustees.
According to LCP Ireland, an actuarial consultancy, Irish schemes had an aggregate deficit of €3.3bn at 31 October 2017, on an accounting basis (see article in this report). This was a fall from the €3.6bn at 31 December 2016 but still higher than the €2.6bn reported at end-2015.
DB schemes must now hold risk reserves over and above their statutory funding standard measure of the liabilities: if this requirement is not met, they must submit a recovery proposal or funding plan.
Standard methods of addressing deficits of course include increasing employer's contributions – not exactly popular – cutting benefits, or the more drastic route of closing DB schemes to new entrants or future accruals.
But how are Irish pension funds protecting against deficits by using investment strategies?
"Schemes have had a stable regulatory background for a number of years in which to manage their investment strategy against," says Paul Kenny, partner, Mercer Ireland. "In this environment there has been a general move by schemes to gradually reduce equity risk."
According to the Pensions Authority, equities made up 32.5% of assets in DB schemes at end-2016 (the latest date for which figures are available), down from 35.8% the year before. The figures came from annual actuarial data returns of DB schemes.
Kenny says: "Equity markets have performed well for the past eight or nine years, but no-one is saying when they expect the next correction, so schemes are making sensible decisions to diversify away from the asset class and we expect increased focus on this over 2018."
A second trend that Kenny highlights is an appetite for more diverse investment in bond markets.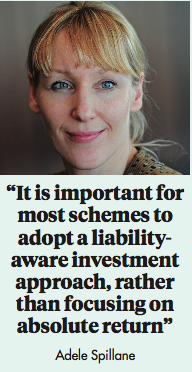 "Bonds are unattractive from a return perspective at the moment, with low yields and challenging expected returns. Previously,
Irish DB schemes held euro-zone government bonds and traditional equities, with limited diversifying allocations. Now, with low yields on government bonds, schemes are increasing their allocation to alternative credit in the mid-risk space, as well as investing in investment-grade corporate bonds."
In particular, Kenny notes the growing use of multi-asset credit mandates, and also private debt, via commingled structures launched by investment managers.
According to the Pensions Authority, 33.5% of DB scheme assets were held in EU sovereign bonds at end-2016, with a further 8.9% in 'other bonds'.
Kenny says bonds still have a role to play in risk reduction: "A rise in bond yields would generally be matched by a fall not only in bond values but also in liabilities," he says.
LDI strategies
Adele Spillane, managing director for institutional client business and head of Irish institutional business at BlackRock says it is about finding the right balance between risk and return.
"It is important for most schemes to adopt a liability-aware investment approach, rather than focusing on absolute return," she says. "Given current funding levels, the regulatory environment and expected returns across all asset classes, we believe that a more active stance to the management of liabilities will be key to success."
According to Spillane, schemes will need to act on both fronts: on one hand, squeezing more return out of their shrinking pot of return-targeting assets – for instance,
taking advantage of their long-term horizon to invest in illiquid assets that offer attractive cashflows – and, on the other hand, adding value in their liability-driven investing (LDI) portfolios through an active management style.
She says: "The latter point is particularly pertinent in Ireland, as the domestic nominal bond market has limited depth and liquidity and there is currently no inflation-linked bond market. Thus, taking an active approach to sovereign risk is unavoidable.
"Further, Irish DB schemes are fortunate enough to have a long-term investment horizon, giving rise to attractive opportunities both in the short and long term and, finally, we believe it is important to seek value across the entire base."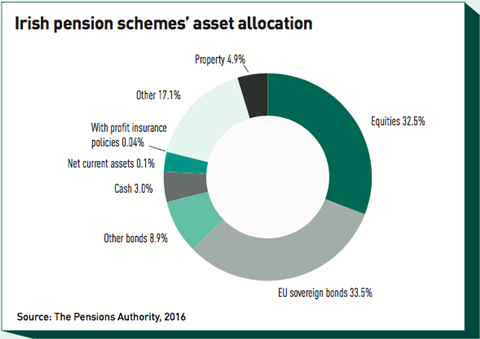 Kenny says: "Unless schemes are doing something to protect against low interest rates and higher inflation, their risk budget looks lopsided. So there has been more interest in liability-driven investment [LDI] mandates over the past year, as schemes look to re-profile risk budgets."
He adds: "We are also seeing schemes continue to adopt dynamic de-risking strategies, trying to reduce growth assets in favour of bond assets as funding levels improve."
Jennifer Richards, head of distribution, Ireland for Standard Life Investments , agrees: "People are looking at simple solutions for bond portfolios, like LDI."
However, she says that while large schemes can talk to LDI managers, there are only one or two providers for passive investors, "So medium-sized funds looking for bucket funds don't have much choice. After our merger with Aberdeen, we're looking at what LDI solutions we can provide for pooled investors."
Thinking out of the box
Richards observes: "The really interesting thing is that DB schemes which have not converted to a DC model now realise they are here to stay, and are thinking about assets differently. In particular, in the past year, they've taken a new look at the illiquidity premium as a way to add extra return."
For example, she says, while investing in real estate has long been an Irish tradition, pension funds are now looking not just at commercial buildings for rent, but at products such as European long-lease real estate accommodation, which gives a regular cash flow. They are also looking at infrastructure.
"Irish property has seen strong growth, in rents and capital values, particularly as Dublin now has under 3% unemployment," says Richards. "The question is, is now the time to diversify out Irish-only commercial real estate, even into unlisted?"
Kenny sees an interest in pan-European property held directly, although he says yields are probably tighter than investors would like.
And he adds: "Infrastructure is an area that, although it has seen notable inflows of capital, warrants attention from pension scheme trustees. The asset class is suitable for DB pension schemes given the long-dated cash flows generated, which generally have a link to inflation. Furthermore, there is reduced price volatility, as unlisted infrastructure funds tend not to mark to market in the same way as listed funds.
A further asset allocation consideration linked to risk is environmental, social and governance (ESG) investing.
IORP II, which must be transposed into Irish law by January 2019, requires that the investment decision-making processes will have to build in ESG factors, while the statement of investment principles will need to state how the investment policy takes ESG factors into account.
In response to perceived demand, last October Aberdeen Standard Investments launched its Global Equity Impact fund, investing only in companies aiming to generate measurable positive social and environmental impact alongside financial returns. The fund incorporates the United Nations' 17 Sustainable Development Goals as a framework.
Richards says another trend for equity investing is a shift from regional allocations towards global equity mandates which give fund managers scope to make geographical calls.
"Rather than diversify between different countries, pension funds may prefer to run a global equity mandate with a 50% hedge," she says. "In any case, stock exchanges do not necessarily represent the nationality of some companies listed – for example, a number of mining companies on the London Stock Exchange are in fact South African."
In terms of other areas of interest, Kenny sees growing interest in specific allocations to emerging market assets.
"For example, some schemes believe that emerging market equities have more favourable long-term growth prospects than developed-world equities, but are under-represented by standard market-weighted indices," he says.
New pensions legislation still some way off
When Independent News & Media, publisher of the Irish Independent newspaper, announced in late 2016 that it was to wind up its two DB schemes and transfer members to a less generous DC arrangement, there was uproar in the press.
Ireland's current regulations do not force scheme sponsors to plug deficits when winding up DB schemes, so the employer could have walked away from the estimated €23m shortfall in the scheme, while pensioners saw their benefits cut.
Although this particular situation was later resolved, the then minister for social protection, Leo Varadkar, reacted by drawing up proposals, approved by the cabinet, which would introduce a six-month time limit after the actuarial valuation for submitting a funding proposal for a scheme in deficit, and a 12-month notice period for employers ceasing contributions.
The proposals also gave the Pensions Authority power to determine a schedule of employer's contributions, and extended the beneficiary's rights of spouses to same-sex partners.
Last summer, the then new social protection minister Regina Doherty presented the Social Welfare, Pensions and Civil Registration Bill to parliament. This did not include most of the proposed measures; the only change included was the shorter timescale for submission of a funding proposal.
Doherty said that amendments reflecting the other proposed measures would be introduced for consideration by the parliament's joint committee on social protection. However, the committee has not yet considered the bill.
Philip Shier, actuarial manager, Society of Actuaries in Ireland, says: "The government's focus is currently on a number of domestic issues and Brexit, but there is no reason to think the proposed changes won't happen."
He continues: "There is no indication that the government have changed their stance, despite some opposition from employers' organisations. We are not seeing employers charging for the exits while they can, and employers who wanted to get rid of their DB schemes and had the power to wind up without being forced to make good a deficit, have probably already done so."
Meanwhile, the Pensions Authority report on setting up a funding standard and introducing a pensions protection fund, requested by then minister Varadkar and due in September, was still not published by mid-January.
Shier considers there is not much appetite for a Pension Protection Fund, even among some opposition parties.
The Society of Actuaries has engaged with the Pensions Authority on the funding standard, particularly in relation to the issue of valuing pensioner liabilities.
Shier says: "At present, the actuary is required to compute this from the cost of buying pensions in the market, but we can't do that properly unless we get quotes each year, and that is impractical."
There are also some ambiguities with the existing risk reserve rules which Shier hopes will be resolved as part of the review of the funding standard.
Ireland: Drive is on for auto-enrolment
1

2

Currently reading

Asset allocation: DB pensions act to curb deficits

3

4

5