Pension funds are having to rethink their asset allocation policies to meet funding requirements, says Michael Valentine. A more holistic, multi-dimensional approach is needed
At a glance
• Low interest rates and low returns are putting pension schemes under pressure to meet their minimum requirements.
• Asset allocation shifts are under way.
• The level of interest rates requires investors to diversify away from bonds.
• It worth considering factors such as liquidity as an asset class in its own right.
A fundamental shift in thinking is required by Swiss pension schemes as they begin to realise that safe, low-cost investing is no longer what it used to be. Already, slight changes in asset allocation are under way.
In common with other well-developed occupational benefit systems, there has been a steady migration to defined contribution-type arrangements over recent years, moving risks from employer to member. And although members have a guaranteed minimum level of benefits, low interest rates and low returns are placing pension schemes under increasing pressure to meet even these minimum requirements.
Since the introduction of negative interest rates on cash holdings and the removal of the peg between the Swiss franc and the euro, Swiss government bond yields have frequently been negative (see figure). With the pension guarantee requiring returns on assets of about 3% a year or more to meet liabilities, the return shortfall needs to be sourced from risk premia that have been squeezed after years of strong returns. Large moves into equities and exotic new investments to bridge this gap are not the answer, however.
Going into 2015, Swiss cash holdings, at about 7%, were more than twice those of markets such as the UK, Netherlands and the US. Many schemes are reducing cash to meet basic operating needs. Other developments vary greatly between schemes but the fact that Swiss bonds have continued to deliver respectable returns (2% for the SBI AAA-BBB to 30 September 2015) has made it harder for funds to leave this asset class. But with about 30% of Swiss pension assets generating low or even negative returns, these investments could be put to better use.
Although Swiss bonds have an important role in portfolios – such as downside protection, stable income stream and loose liability matching – the low level of interest rates requires investors to diversify into the domestic and foreign bond markets. This means making modest allocations to emerging markets, corporate bonds, and investment in other types of debt, such as secured income.
Fear of rising interest rates has led to Swiss investors shortening the duration of their bond portfolios. However, this has proved a costly measure as interest rates have declined over the years. It has also increased the duration mismatch versus the long-dated liabilities. Investors need to decide which risks they are most sensitive to, but being diversified by region, issuer, debt type (also convertibles, for example) should be a crucial overriding principle.
'Smart beta' was originally coined to mean smart allocations to beta opportunities, but investors need to exercise caution as it has been somewhat hijacked. Regardless, the underlying ideas are relevant to Swiss pension schemes. However they are defined, if there are 'factors' that affect investment behaviour beyond a single asset class – for example, equity market sentiment, illiquidity or the oil price – they need to be managed so that the overall portfolio is not overly exposed to individual risks. Typically, the main exposure in most portfolios is equity risk. Often, this can be more than twice the explicit allocation to equities, as corporate bonds, real estate securities and even some supposedly market-neutral hedge funds are all closely affected by equity market movements.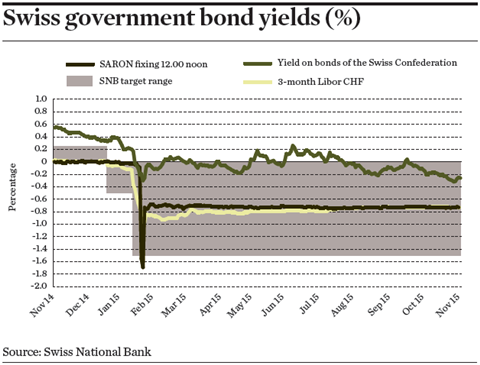 Another valuable insight we gain from smart beta is that if factors can be identified that deliver a return premium, for example, small-cap versus large-cap, then why pay high active management fees when the same effect can be achieved more cheaply using a passive equivalent? Many hedge funds, particularly funds of hedge funds that charge high fees, can be implemented more cost efficiently. Being more selective in how active management is used allows a more focused and genuinely active approach to be applied in those areas where skilled managers have the potential to add real value.
By international comparison, Swiss investors tend to be fairly defensively minded and quite sceptical of less traditional investments, and have relatively high cash holdings and lowish equity allocations. However, market developments are forcing a serious rethink; we have seen heightened interest in a variety of alternative approaches. Even hedge funds have started to prove their worth again.
For pension funds, this means not only taking advantage of their long-term investment horizon and tax-exempt status, but also being aware of first-mover advantage. Taking too long to make otherwise solid investment decisions can cause significant erosion of returns by faster moving investors pushing up prices. It therefore pays to consider how investment decisions are made. Some, such as portfolio rebalancing may be delegated internally, say to an investment committee, while others such as fund management can be outsourced.
Returning briefly to the long-term investment horizon, this allows pension funds to put a portion of their investments in less liquid investments and therefore benefit from the illiquidity premium in, for example, secured loans, secured income assets, private debt and infrastructure.
The traditional approach to asset allocation involves defining weights for individual asset classes and fixing them for a number of years. However, as indicated earlier, markets are increasingly inter-related, so it is valuable to consider certain factors such as liquidity almost as an asset class in its own right. This multi-dimensional, holistic approach, whereby the same risk premia are apparent in different asset classes, allows improved risk control and portfolio diversification.
Beyond the need to diversify return drivers, and not paying active fees for semi-passive investing, it is also worth conducting periodic checks that the fees and costs are fair. This also means that skill and value-added are rewarded and that manager incentives are aligned with those of the asset owner.
Furthermore, reviewing less obvious costs is essential. For example, is best execution being achieved or is there an excessive reliance on proprietary trading? Are currency hedging costs transparent and are market impact effects considered when larger portfolio movements are made? Also, careful liquidity planning can significantly reduce any unnecessary charges being incurred on cash balances.
The market environment is clearly challenging but it is promoting the development of more efficiently managed Swiss pension schemes.
Michael Valentine is a senior investment consultant at Towers Watson
Pensions in Switzerland: Retirement reform revisited
1

2

Currently reading

Asset allocation rethink

3

4

5

6