A look at the top five Dutch pension funds
ABP hits carbon emission reduction target two years early
The €414bn civil service pension scheme ABP has made considerable progress in reducing carbon emissions from its investments, exceeding its 2020 target. The reduction amounted to 28% relative to 2014. The scheme had initially aimed to decrease emissions by 25% by 2020.
ABP announced that it would roll out its online 'personal pension pot' to all its active participants under average salary arrangements later this year. The statement is designed to show its members how much has been set aside for them individually, and how much their pension assets are expected to grow until their retirement date. The pension pot also shows how much the employer and the workers have each contributed to the accrued pension.
The pension scheme also announced that it would launch a website to explain its choices for sustainable and responsible investment to its participants.
Last year, ABP increased its sustainable investments by €8bn to €50bn. It aims to add another €8bn by 2020. It says it had invested €23bn towards the UN's target of making cities and communities sustainable so far. Its investments include stakes in energy-efficient buildings and manufacturers of LED lights.
Since September 2017, ABP had raised its holdings in green bonds by €2.1bn to €3.5bn. It invested, for example, €563m in French green bonds aimed at expanding sustainable energy as well as dredging the river Seine to reduce flood risk as a result of climate change. It also purchased €360m of Belgian green bonds.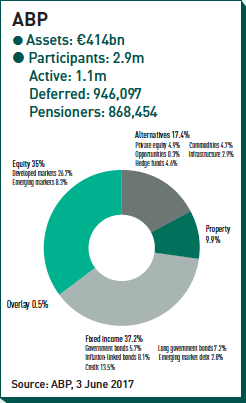 The largest Dutch pension fund raised its allocation to renewable energy to €1.2bn to €4bn, which equates to 80% of its target for 2020. Its investments included €330m in three large solar power projects in the US with a combined capacity of 1,400MW. The investment was made through the joint venture Capital Dynamics, in which the $225bn (€194bn) Californian State Teachers Retirement System (CalSTRS) also has a stake.
ABP further acquired – for an undisclosed sum – a 75% stake in the Open Tower Company which operates more than 800 telecoms masts in the Netherlands. It increased its investments in education and communication technology by €500m to almost €2bn.
The civil service scheme says it had decided to divest its €300,000 holdings in South Korean firm Posco Daewoo, because a subsidiary was involved in chopping down rainforest for palm oil plantations in the Indonesian province of Papua.
In a statement, ABP says that the company was "too slow in responding to communication" from the scheme's asset manager APG about tackling issues. However, Dutch environmental group Milieudefensie claimed that ABP had divested as a result of pressure from the campaign group as well as its own members.
At the end of June, ABP's funding had increased to 103.9%. Its coverage must have improved to at least 104.2% at the end of 2020 to prevent rights cuts.
PFZW remains most sustainable Dutch scheme
PFZW, the €203bn pension fund for the healthcare sector, came again on top of the list of the most sustainable Dutch pension funds. The survey was conducted by the Association of Investors for Sustainable Development (VBDO), which assessed the 50 largest pension funds in the Netherlands.
Last June, PFZW passed the halfway point in achieving its target of halving its carbon footprint by 2020. At the end of 2017, the CO2 emissions in its investment portfolio had been reduced by 28% relative to 2014.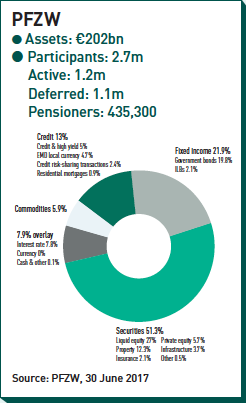 However, it made clear that it would keep its €66m stake in three Canadian tar sand companies amid pressure from campaign group Greenpeace. Eloy Lindeijer, chief investment officer at PGGM, PFZW's asset manager, says that it was unable to accommodate Greenpeace's wish. He pointed out that, "with due regard for sustainability", the scheme's task was generating a financial return for a sufficient pension.
He says that shareholder engagement is central to its investment policy. "Simply selling shares, in itself, will not eliminate the problems for the world," he says.
The healthcare pension fund posted an overall result of 5.1% for 2017, attributing more than half of it to the 70% hedge against the weakening dollar. It has halved the number of hedged currencies to seven to reduce complexity, and says this decision would have little effect on expected returns or investment risk.
The pension fund, however, lost 10.8% on its 2.6% allocation to structured credit. It puts this down to adjustments to its valuation model for the asset class, which focuses on taking over credit risk on bank loans. PFZW is among the largest players internationally and has, for example, a stake in HSBC loans to Carillion, the large British construction firm that went bust last January. At the time, PFZW declined to elaborate on the impact on its investment.
PGGM has warned that its IT system would not be able to cope with the new pension contract of individual accrual combined with collective risk-sharing, favoured by the government. Expensive adjustments would be needed if this option were to be chosen as the backbone of a new pensions system.
The healthcare scheme also says that it had boosted engagement with its participants through fine-tuning its digital annual pension statements, also known as UPOs. It claims that the percentage of participants reading their annual statement has increased to 13% of those aged under 42, compared with just 0.5% in 2015.
It says the appreciation of the UPO increased after it introduced a summary of the statement, offering members additional information on a separate page. In its opinion, the increased engagement was caused by more direct and less informal language. Funding at PFZW stood at 100.6% at the end of June.
PMT invests €375m in real estate
PMT, the €72bn pension fund for the metalworking and mechanical engineering sector, made several significant real estate investments in the past year, committing €250m to European property in total, and acquiring a €125m Dutch retail portfolio.
The pension scheme committed €150m to the new Aberdeen Standard Pan-European Residential Property Fund, acting as a cornerstone investor. It says that MN, its fiduciary asset manager, and Aberdeen Standard Investments had jointly developed a fund strategy, anticipating geographical and demographic trends, a high occupancy rate, low leverage and costs, as well as a solid focus on sustainability.
In December, the pension fund acquired a €125m retail portfolio from BPL Pensioen, the €17.1bn Dutch scheme for the agriculture sector from Syntrus Achmea Real Estate & Finance. According to MN, the new investment is a good match for the metal scheme's real estate holdings. It says it believes in a diversified real estate portfolio comprising residential property, offices as well as retail objects.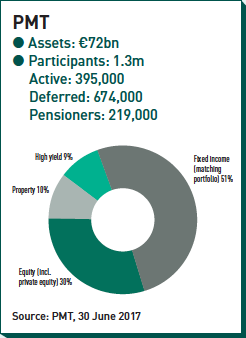 The pension fund further committed an additional €100m to Barings' open-ended European Core Property Fund (BECPF) as part of its European core real estate allocation. It says the target net return of the fund was 7-9% after management fees. Last year, it was also one of the cornerstone investors in BECPF, with a €125m investment.
Since 2014, PMT has committed €1.4bn in total to European core property. Its real estate portfolio includes direct investments in the Netherlands, as well as indirect investments across Europe. It says it would further extend its current 2.6% stake in Dutch real estate, in particular residential property.
PMT reported an extra return of 8.4% for 2017, arguing that its 4.1% result on investments had been boosted by a 4.3% drop in liabilities due to rising interest rates. It says its long-term goal for additional returns is 1.5%, initially to aid its recovery and rebuild financial buffers, and later to finance indexation.
It makes clear it would take no more risk than is necessary to achieve its return goal. As a consequence, it has set its interest rate hedge at 50%, with a bandwidth of five percentage points. The scheme's funding stood at 101.9% in June, and it has not been able to grant inflation compensation.
Indexation in arrears has increased to more than 16% for active participants and almost 14.5% for deferred members and pensioners. On top of this, the pension fund had to implement two rights cuts of 6.7% in total during the past few years.
PMT announced that it planned to improve online portals for both members and employers. It also says it would actively seek contact with workers approaching retirement, to alert them to the available options and guide them with their choices.
BpfBouw moves to attract self-employed builders
David van As, the director of the €58bn sector scheme for the construction industry, says his fund wants to attract the many self-employed workers (zzp'ers) in the building sector to boost its number of participants, as soon as this becomes legally possible in a new pensions system.
According to van As, BpfBouw would also try to boost the number of employers participating in BpfBouw's voluntary collective DC plan for workers with salaries of more than €60,000. He estimates the potential number of new entrants in the tens of thousands. By making this "excellent plan" more attractive to employers, the sector scheme is hoping that satisfied employers will become ambassadors to colleagues in the industry.
However, BpfBouw makes it clear that it does not want to position itself as a 'magnet scheme', as most large sector-related pension funds already joined the industry-wide pension fund. It sees slim chances for the remaining candidates – including the scheme for the wood trading industry – to join because of differences in coverage ratio as well as pension arrangements.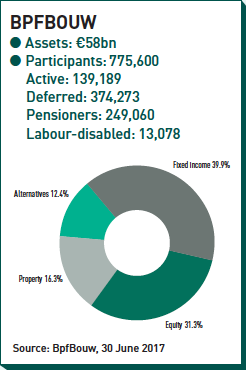 As a preparation for possible scenarios in a new pensions system, BpfBouw is also investigating new variants for collective defined contribution arrangements. It indicates that it is taking trends in society as well as legislation into account, and wants to be prepared for a target contract if the social partners wanted to look into such a pension plan. Currently, BpfBouw has defined benefit arrangements.
The scheme has extended its stake in green bonds from €298m to €662m and decided that it will increase its care property holdings from €24m at the end of 2015 to €500m in 2020. It also wants to have 12,000 solar panels installed on its real estate by then.
The construction scheme reports an annual gain of 6.6% over 2017 and attributes one-third of its result to its hedging strategy. Its full hedge of the currency risks on government bonds and hedge funds as well as an 80% cover of the main currencies in its securities portfolio, generated 3.4%.
Bouwinvest, the pension fund's own property manager, generated an overall return of 12.4% last year and saw its assets under management increase by 11% to €9.4bn. With a return of 15.6% its Dutch Residential Fund – focusing on high quality and sustainable new residentail property in the non-regulated sector in the most important cities – was the best local performer. Its Asia-Pacific Fund generated 16.2%, up from 2.7% in 2016. Bouwinvest announced that it was developing a data warehouse to provide for predictive analyses.
BpfBouw's property manager says it expected further growth to more than €13bn in 2020, with €1.5bn of this in international investments in Europe, North America and Asia-Pacific. Growth would be due its €1.4bn pipeline of investments as well as new annual investments of about €800m, it says. Bouwinvest expects annual returns of 6-7% for the long term.
BpfBouw is still in the best financial shape of the five largest pension funds in the Netherlands. At the end of June its funding stood at 117.7%.
PME wants to be trail-blazer against climate change
PME, the €47bn sector scheme for metalworking and electro-technical engineering, wants to be a trail-blazer on investments against climate change. It has announced that it will cease investing in coal producers as it fears its holdings would become stranded assets.
It argues that the large carbon footprint of the fossil fuel as well as social pressure for sustainable energy, means that mining companies solely focusing on coal do not have a future, and therefore no longer fits in its investment portfolio. Pointing to the Paris climate agreement, the metal pension fund says it expect that coal would lose its role for energy generation as well as steel production.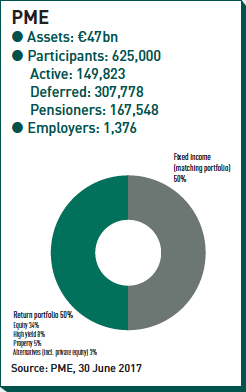 The metal scheme had already decided that the carbon footprint of its combined investments should be reduced by 25% in 2021 and has ceased investing in tar sands. It has started an active engagement with energy companies, focusing on the 10 worst carbon emitters and demanding an active contribution to the energy transition. It will exclude companies that avoid a dialogue, or make insufficient progress in reducing their carbon footprint, from investment.
Last spring, it supported the resolution of pressure group Follow This at Shell's AGM calling on the energy company to increase its climate goals.
PME says that in 2021, 10% of all asset classes in its investment portfolio must contribute to achieving the UN's Sustainable Development Goals. In line with this target, it has invested €100m in the CI III fund of Copenhagen Infrastructure Partners, which targets large projects for wind and solar energy as well as heat generation from biomass and waste. The pension fund says that the fund would not only report on returns, but also on achieved carbon reduction as well as employment creation.
The investment is part of PME's €250m mandate to its asset manager MN for a further increase of its impact investments in energy transition, recycling and access to affordable housing. It also took a €100m stake in the Corporate Loan fund run by Robeco as well as €25m in Innovation Industries, an investment fund focusing in growth capital for Dutch start-ups and technology firms.
PME reported a 4.5% return on investments over 2017. It decided to temporarily cease expanding its investment grade credit, pointing out that the spread compensated increasingly less for investment risk. At year-end, its holdings were 16.5%, short of the strategic allocation of 20%. It also underweighted its high-yield corporate bonds relative to emerging market debt citing a low credit premium.
In contrast, PME says it deliberately exceeded its 5% strategic mortgages allocation, because of the positive aspects of the asset class. It says that it aims to extend its real estate holdings to €2bn of Dutch property – through annual investments of €125m – and €1bn of European property. It has already taken a €600m stake in European funds.
The metal scheme made a €450m commitment to private equity and aims for a long-term strategic allocation of 5%. PME closed the second quarter with a coverage ratio of 101.4%.
The Netherlands: Pensions reform poses IT puzzle
1

2

Currently reading

Asset Allocation: State of play

3