Better funding positions offer Dutch pension funds a chance to increase diversification
Key points
Pension funds are enjoying higher solvency ratios
Risk budgets remain tight with low allocation to equities
Demand for mortgages continues to grow despite lower spreads
Investors are seeking higher diversification across the portfolio
Exposure to illiquid assets is growing
It should come as no surprise that Dutch pension funds, despite recording better solvency ratios last year, are keeping their risk budgets firmly in check.
According to the regulator De Nederlandsche Bank (DNB) solvency ratios improved markedly between the third quarter of 2016 and the third quarter of last year.
The share of pension funds with a solvency ratio lower than 105% fell from 65% to just a quarter, while two-thirds now have a ratio of 105-130% – up from a third previously. The proportion with a cover ratio of over 130% is up more than four fold, from 2% at the end of Q4 2016 to 9% now (figure 1). This largely anticipated improvement was possible thanks to a mixture of higher discount rates and gains on equity portfolios. Funds with better solvency ratios are now debating whether to raise pension payments in line with inflation.
But despite better solvency levels, liability-driven investment (LDI) portfolios remain a strong focus for pension funds. Max Verheijen, head of financial markets at consultancy Cardano, explains that many pension funds have recently lowered their interest-rate hedging in anticipation of rising yields. On the asset side, they have lowered the duration of their bond portfolios and replaced long-duration bonds with swaps.
Verheijen says: "As the 30-year euro swap rate moves towards the 200-250bps mark, and solvency levels improve as a result, pension funds will start to hedge interest-rate risk again. If the spread between swap yields and bond yields starts to decrease, as the economy starts to pick up pace, investors might start switching back to long-duration bonds and sell some of their swap positions."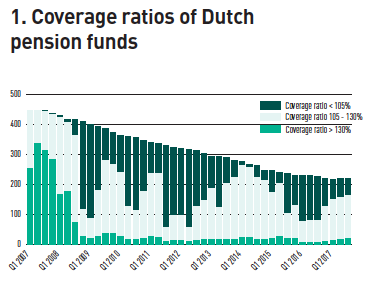 On the inflation side, better solvency levels mean pension funds can afford to index their pensions, which leads them to buy inflation swaps, particularly as inflationary pressures start to appear again, Verheijen adds.
These decisions might seem straightforward, but recent history tells us they are anything but. Given the constant anxiety and regulatory pressure over solvency levels and indexation, it is likely that Dutch pension funds will keep their budgets tight for the foreseeable future.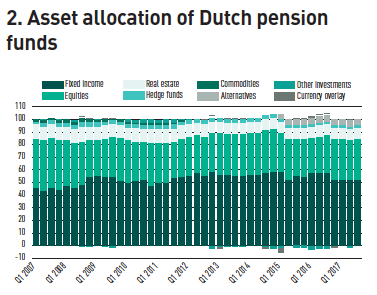 Indeed, the share of equities in portfolios barely grew in the year to 30 September 2017, contrary to what one might expect (figure 2). The aggregate allocation to fixed income fell from 57% to 52% of portfolios and the allocation to equities rose only slightly, from 30% to 32%. The share of real estate, hedge funds and commodity investments was stable. The same applies to alternatives, which account for 5% of portfolios. However, alternative portfolios grew by almost €6bn, or 9.5%.
This cautious stance is perhaps appropriate, considering the sharp falls in equity markets during the first half February. But it could actually be part of a longer trend. Niek Swagers, senior consultant in the investment solutions business of Aegon, points out one interesting fact. Looking at the DNB data, there appears to be very little correlation between solvency ratio and equity allocations (figure 3). Pension funds have not taken full advantage of rising equity markets even when higher solvency levels allowed it.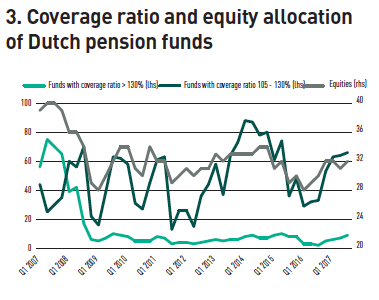 In fact, although they marginally raised their equity allocations over the past 12 months or so, the share of equities in portfolios has remained mostly stable since the financial crisis.
This would suggest pension funds are in constant de-risking mode. Swagers attributes this to the relatively high cost of equity investments in terms of risk budget. Funds still face pressure to grant indexation and this greatly reduces their tolerance for risk.
Furthermore, investors have been wary of buying into the equity markets lately after the multi-year bull market and given the return to volatilty in February. Verheijen notes that some investors have de-risked their equity portfolios by buying put options.
More generally, disappointing results and cost pressures have seen pension funds firmly switch from active to passive equity management in recent years. There is also growing interest for factor investing, according to Jasper Streefland, head of institutional sales in the Netherlands at fiduciary manager SEI. "Factor investing is on the radar screen of most pension funds in the country, and there a lot of money flowing into these strategies. Investors who want to replace their active mandates are increasingly embracing factor investing and smart-beta indices instead of pure passive management," says Streefland.
Focus on fixed income
DNB figures suggest pension funds have been significantly more focused on their fixed-income portfolios. Investors are finding yield in alternative fixed-income assets, particularly domestic mortgages.
A minority of pension funds have reached full capacity and now invest more than 10% of portfolios in mortgages, according to Frans Verhaar, director at international consultancy bfinance. Those who are yet to invest, or invest only a small part of their portfolio, are flocking to the market. In 2016, the DNB estimated that mortgage debt could grow from around €660bn to up to €875bn in 2025. A growing share of that extra capital would be provided by pension funds.
Pension funds favour mortgages due to the additional yield and perceived security. The assets are highly rated and partly guaranteed by the government. Verhaar points out that the spread over government bonds has tightened over the past two years, but not enough to dampen demand.
More importantly, adds Verhaar, a key trend of the past few years is reversing. He says: "In terms of asset allocation, there has long been a trend for pension funds to simplify their portfolio, in order to get back in control of what they are doing. I think that trend has come to a definitive halt. Part of the reason for that is consolidation between pension funds, which creates organisations with larger governance budgets." Counterintuitively, this means pension funds are more willing to delegate management of more complex asset classes, provided that they understand them.
This drives pension funds to seek more robust portfolios that can withstand different economic scenarios, argues Verhaar. The outcome is higher demand for factor-investing strategies but also private debt.
Stefan Cornelissen, head of institutional business at M&G in the Netherlands, sees significant interest in private debt, including mortgages, and other types of alternative credit. This can be senior bank loans, infrastructure debt, direct lending, senior and junior commercial mortgages, but also distressed and special situation debt.
"In general, private debt is still very much in demand. Every quarter we see a multi-billion flow to the market, although it is smaller than the mortgage market. Investors continue to look for diversification and yield, as they crave assets that generate returns in this low-rate environment," says Cornelissen. "Real estate, not just European but also US, Asian and UK assets, is also in demand."
In general, investors are looking to diversify their fixed-income portfolios, both the return-seeking and matching part. By doing so, however, they are inevitably introducing relatively illiquid assets that increases risk levels within the portfolio. Swagers cites research carried out by the Investment Solutions Center of Aegon Asset Management and TKP Investments, which suggests that Dutch pension funds may be overestimating the liquidity risk of their portfolios.
Swagers says: "The study looks at a typical pension fund's portfolio, and how much liquidity it might need under certain stress scenarios to pay pensions or keep within its strategic asset allocation limits. The stress scenarios include falling interest rates as negative returns on risk assets. Although illiquidity is difficult to quantify, the results show that pension funds can have more illiquid assets on their balance sheet than most realise. This was not an optimisation exercise, it was about considering the many aspects of having a portfolio of illiquid assets."
The DNB is on the case of pension funds that hold mortgages, and it is known to be a proactive regulator. If experience is anything to go by, the regulator will act to curb a build up of illiquidity in pension funds' portfolios.
When it comes to Dutch mortgages, for instance, liquidity is a crucial aspect. While theoretically the supply of assets is plentiful, the demand dynamics are worthy of attention. Edward Krijgsman, senior investment consultant at Mercer, says: "The waiting lines to invest in the mortgage market are long, particularly when investors want fund solutions. In most instances they have to wait three to nine months. The question is whether there will be a long line to get out of those investments as and when investors choose to do so."
This article was amended on 19th March 2018 to better reflect the results of the research carried out by the Investment Solutions Center of Aegon Asset Management and TKP Investments cited in the text. The previous mention of the research did not reflect its results entirely accurately.
Dutch pensions: IT is a bottleneck
1

2

Currently reading

Asset allocation: Steadying the ship

3

4

5