The globalisation of asset management means that Swiss managers have to broaden their product range and service different regulatory regimes
Key points
• The Swiss economy is reliant on financial services
• Asset managers need foreign clients to widen their asset base and are competing in niche segments like alternatives
• The current legal framework hinders competitiveness
Swiss banks such as UBS and Credit Suisse, including their asset management arms, have become household names all over the investment world. But for smaller Swiss asset managers it is an uphill struggle to compete in the globalised world of investment services.
Researchers at the Universität Luzern have compiled the first comprehensive study into the Swiss asset management industry. The researchers looked at domestic providers to assess their impact on the economy and to ask them about future challenges.
In Switzerland, the financial sector accounts for about 10% of GDP, which stood at CHF659bn (€578bn) in 2016. Much of this revenue comes from wealth management for a globally diversified client base. "A key strategic goal of the financial industry is to develop asset management into a main pillar of the Swiss financial sector," the authors of the IFZ/AMP Asset Management Study 2018 noted. In a first step, the Swiss Fund Association was renamed the Swiss Fund and Asset Management Association (SFAMA) in 2013.
But the domestic market is too small for all to make profit. This is true even with a mandatory pension system holding assets approaching CHF1trn. More than half of these assets are managed by external managers. However, despite Swiss Pensionskassen having to name all their service providers in annual reports there is little research into how much Swiss institutions are relying on domestic providers. In its study, Universität Luzern called on academics to contribute more to the promotion of the domestic financial services by "conducting research in topics of particular interest for the industry".
In early 2017, the Swiss online financial news service finews.ch had reprimanded the domestic asset management industry on the grounds that it was "not really innovative". The journalists also criticised its dominance by large players. But mainly they blamed Swiss institutional investors for having "too little faith" in domestic providers. In addition, the journal claimed that Pensionskassen were too cautious in their asset allocation. The journalists maintained the rise in demand for exchange-traded funds (ETFs) was proof of the charge.
Even if this harsh assessment of the Swiss asset management industry and its customers were true, the landscape and its stakeholders are constantly changing. Pensionskassen in particular are always increasing diversification in the search for yield and this generates the need for specialised managers.
Indeed, the same journal had to concede, after going through the IFZ/AMP study, that the domestic asset management industry was "surprisingly strong" and offered a "good framework" for investors. The journal also applauded the providers' successful approach of growth through specialisation.
Studying the annual reports of even a few Swiss Pensionskassen confirms these trends, such as an increase in diversification, greater exposure to alternatives, and the use of small Swiss boutiques. Additionally, large pension funds have taken a lot of plain-vanilla mandates in-house and are managing bond exposures internally. But it also shows a diminishing home bias, which means more demand for asset managers with expertise outside Switzerland but also outside its neighbouring countries.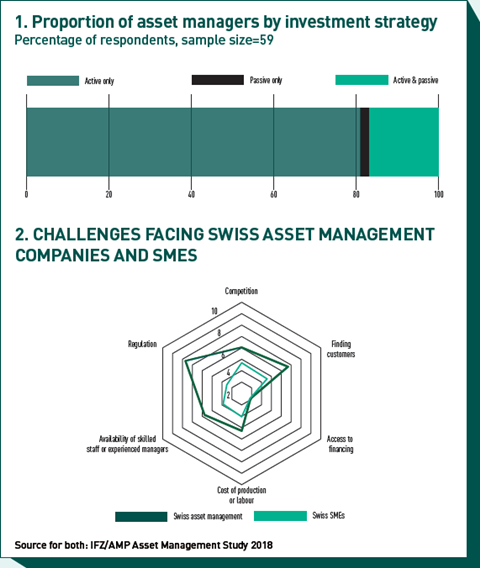 According to the IFZ/AMP study, most Swiss asset managers are offering active management by specialising in alternatives. The researchers included real estate, hedge funds, commodities, private equity and insurance linked securities in this category. This specialisation not only helps to satisfy investors' needs and find a niche, it also boosts fees. "In this context, actively managed alternative investment products tend to offer higher net revenue margins, not just in comparison to passively managed funds but also relative to traditional actively managed portfolios," the researchers pointed out.
One hurdle in expanding the customer base, especially for smaller domestic asset managers, is regulation. Not only the growing reporting demands from domestic authorities but also from the unique position the landlocked country holds surrounded by EU member states. Swiss financial service providers have to be versed in international regulations and reporting standards to be able to offer their services. Additionally, the domestic legal frameworks should match other countries.
After three years, two new laws have been passed by parliament to ensure that the domestic regulatory framework and asset management providers have a better position on the global market. In June 2018, the Swiss parliament passed the Financial Services Act (FinSA) and the Financial Institutions Act (FinIA). Barring any referendum, critics can still demand to challenge the laws that will come into effect from 2020.
In a press release, the Swiss finance ministry noted these new laws "will create uniform competitive conditions for financial intermediaries and improve client protection". It pointed to "significant shortcomings" in the current regulatory and legal framework. One example is that information given to customers is not tailored to their needs or financial knowledge. Further, there is no unified supervision for financial service providers. Both these weaknesses will be amended through the new legal framework.
The researchers at Universität Luzern are convinced that the current legal drafts offer "adequate rules of conduct" and "a further essential standard", that is the supervision of asset management providers under one framework. "Only when these two aspects are fully embedded in the Swiss financial regulatory system, will Switzerland be consistent with international standards."
Pension fund of Wallis canton gets creative
It was supposed to be an act of liberation when Swiss public pension funds were able to become independent of the cantons.
On the other hand, this gave the Swiss regions and cities the opportunity to rid their books of guarantees they had to grant public pension funds – albeit after a top-up payment to enable Pensionskasse to become autonomous.
This was the vision that went into the decree issued by the Oberaufsichtskommission (higher supervisory authority) in 2012.
However, many cantons and public authorities chose to uphold the state guarantee. One reason was that many did not have funds to top-up the Pensionskasse.
The other was the legal obligation for independent public funds to achieve full funding within 10 years of being stripped of state ties.
Since then 16 funds (out of about 30) have been trying to achieve this requirement and many are on track. Some, like the Pensionskasse CHF12.8bn Basel-Stadt, suffered a setback when they found the parameters with which the funding level (Deckungsgrad) was calculated, were too optimistic.
This June, the canton of Wallis announced it had found a solution for its CHF4bn Pensionskasse PKWAL. It wants to split its pension fund into two – one, for people employed before 2012 with a state guarantee and an open fund for other employees.
The Swiss think tank Avenir Suisse called this "innovative and elegant".
"This makes the canton for new employees more attractive as they do not have to help carry the burden of former underfunded pension promises," Jerome Cosandey, a board member of Avenir Suisse, highlighted.
He added many cantons still granting guarantees had "too little ambition" to achieve a better funding situation.
Switzerland: In need of a reformist zeal
1

2

Currently reading

Asset Management: Fit for purpose

3

4

5

6

7