AXA Investment Management has named the leadership team for core investments, a new division that was created last year as part of an overhaul of the asset manager's corporate structure.
Core investments is one of the four "pillars" into which the business was reorganised, and combines AXA IM's fixed income, multi-asset and active equity (the Framlington Equities platform) strategies.
According to the €730bn asset manager, the appointments in the core investment leadership team will "accelerate collaboration and innovation" between the strategies, as well as further embed research and quantitative insights into portfolio decisions.
They see Chris Iggo, chief investment officer for the fixed income platform since 2008, taking on additional responsibility in the newly created role of CIO for core investments.
Marion Le Morhedec has been appointed head of active fixed income for Europe and Asia, a role that Iggo carried out on top of being fixed income CIO. Le Morhedec had been head of products specialists and solutions for the core investments platform since February 2019, and before that head of business development and client relationships for fixed income.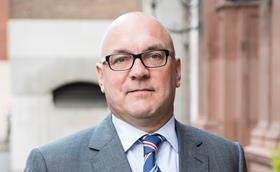 Serge Pizem, previously global head of the multi-assets investments team, has been named head of multi-asset, while Laurent Clavel, formerly head of research at AXA IM, has been appointed head of the firm's "Quant Lab", a unit that pre-dates the corporate reorganisation.
Hans Stoter, who was named global head of core investments at AXA IM in December, said: "I am convinced that this new leadership team will result in increased collaboration, lead to better performance and engender a true transformation in the way we manage portfolios."
DWS adds ESG criteria to money market funds
DWS today said it would apply environmental, social and corporate governance (ESG) criteria to money market funds managed in the EMEA region.
According to the asset manager, the criteria include a set of sector exclusions, screens based on norms, and best-in-class rankings, but "no changes in the portfolio allocations were necessary as the ESG quality was already high".
Harm Carstens, co-head of short duration portfolio management for EMEA at DWS, said: "The ESG money market funds universe is still at an early stage and we are pleased to announce these latest advancements. DWS ESG money market funds aim to cater to investors' increasing demands for sustainable investment vehicles in the money market space."
DWS said that it last year launched the first money market fund available in the US to apply ESG criteria.
In Europe, BlackRock launched a "Liquid Environmentally Aware Fund" in July. Moody's said it was the first money market fund in Europe to apply environmental and other characteristics, including social and governance factors, when selecting the funds' investments.
"Investors in money market funds in Europe are showing a strong interest in sustainable investment that will over time pressure all short-term debt issuers to improve adherence to ESG principles, or face difficulties placing their debt," said the credit rating agency.