Mandatory contributions mean Austrian provident funds are catching up with Pensionskassen both as institutional investors and in terms of business strategy, finds Barbara Ottawa
They were not set up to provide pensions but contributions are mandatory. Many would take out their money out immediately but this is only possible only after certain conditions are met. So total assets keep accumulating in the Vorsorgekassen, provident funds set up to manage the money employers have to set aside for their employees' severance pay (see panel).
Stefan Eberhartinger, CEO at Valida, which comprises the Valida Pensionskasse, the Valida Vorsorgekasse and a consultancy, tells IPE he wants to focus on Vorsorgekassen and scale down direct sales activities for Pensionskassen. "The Pensionskassen market is currently too small, and active sales produce too little margin," he says.
Vorsorgekassen on the other hand are a market "guaranteed to grow", he says. And the figures prove him right: After just over a decade of existence, €8bn is managed in the system with more new participants because contributions have to be made for each new employee and people still under the old regime are dropping out of the labour market through retirement or by changing companies.
Employees are becoming aware of these mandatory saving plans, especially as their balance ticks up. However, those who change jobs may find they have multiple accounts with different Vorsorgekassen -– the problem of small pots.
"It would make sense to join accounts from various providers because people are getting confused," notes Wolfgang Kotlan, employee benefits manager at insurance broker GrECo International. "Many providers already have more closed accounts than active ones".
Michaela Plank, principal at Mercer Austria, sees the merits of account consolidation, but with reservations. "Some formula has to be found to make sure everyone profits, not just the latest fund the employee has joined," she says. "Employees have to be made aware of their savings in these Vorsorgekassen and then choose the most sensible option for them, such as to transfer assets over to another provider."
Austria's €8bn provident fund market
In 2003, the regulations on severance pay provision for those leaving employment changed. Companies had to choose from a set of provident fund, or Vorsorgekasse, providers, to manage mandatory severance pay contributions, which are retained when an individual moved to a new employer, although they are likely to contribute to a new provider in their new position, leading to the problem of multiple small pots.
Savings can be withdrawn after three years under certain circumstances. Assets in the system amount to around €8bn, divided among nine providers. Most are subsidiaries of the same companies that run Pensionskassen in Austria.
Fair-finance is the only independent Vorsorgekasse.
Interest among employers must also increase if awareness among employees is to grow. Many employers selected a provider in 2003 and have not reviewed the decision since. Those that did not make a decision were assigned to a default provider. "Companies are more aware of their choice of Vorsorgekasse, of its customer service and how it handles the issue of sustainability," Kotlan says.
"There is movement in the market and customers are increasingly reviewing their choice of Vorsorgekasse," notes Markus Zeilinger, founder and chairman of the board at Fair-finance, which is the newest provider, having entered the market five years ago.
"It can definitely be said that the appearance of Fair-finance re-shuffled the market. Previously all providers were very similar," agrees Kotlan. "After Fair-finance announced its plans to lower contribution charges last year, four providers in the system from the beginning followed suit." Most of those lowered costs to the legal minimum of 1% for those who remain in the system without withdrawals for 10 years or longer.
At a glance
• There is increasing competition in the €8bn market for Austrian provident funds created to manage severance pay for employees.
• Those changing jobs may end up with multiple small savings pots and should consider consolidating them.
• There is some downward pressure on fees as asset growth creates economies of scale.
Plank notes that market participants included a fee reduction in their original business model and economies of scale after 11 years of asset accumulation make such moves achievable.
"In our calculations of three and five-year performance, Fair-finance is the best provider. Only last year was it overtaken by BUAK – but it was a close call," notes Kotlan. For 2014, Fair-finance returned 5.95% while BUAK achieved 5.99%.
Koltan says asset management costs should also be taken into account once larger account balances have been accumulated.
Zeilinger, whose Vorsorgekasse charges 60 basis points in asset management fees, points out that contribution charges make a small part of the total expense ratio.
BUAK has the lowest current asset management costs at 40 basis points per annum. "Most others remain at 0.7% and nothing has changed in this fee segment," confirms Kotlan. He adds that the low cost structure means BUAK takes second place behind Fair-finance in the 3- and 5-year-average calculated by GrECo.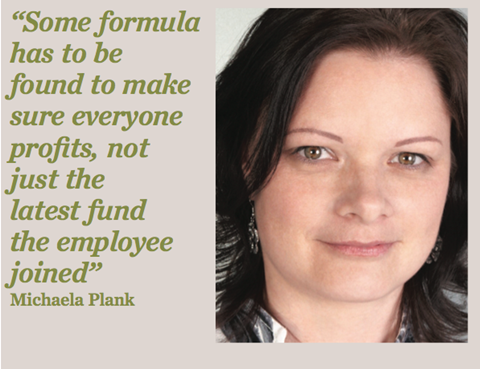 There is also the question of sustainability. Almost all Vorsorgekassen providers have some kind of sustainable investment strategy but approaches vary.
The first one to bring some green in the landscape was the VBV Vorsorgekasse, which set up with a social, ethical and environmental asset allocation concept from inception. It is the largest Vorsorgekasse with over €2bn in assets under management and a 33% market share.
It has established an ethics committee and has received certification for its investment strategy from the Austrian sustainability rating firm ÖGUT. Last year, four Austrian Vorsorgekassen were awarded a gold certificate – VBV, Valida, Bonus and Fair-finance.
It is unclear which criteria an employer rates more highly when deciding on a Vorsorgekasse; according to a survey conducted by VBV costs, performance and sustainability are ranked equally.
However, as more money flows into the system, the more important it will become for Austrians to understand it.
Austrian Provident Funds: The pensions challenger
1

Currently reading

Austrian Provident Funds: The pensions challenger

2