The government should set out its long-term policy on auto-enrolment contributions with a view to increasing the overall level
Key points

Auto enrolment contributions should be levied on all earnings, not just those above the tax threshold
There should be flexibility and relief for new employers and smaller firms
A long-term target for contributions should be 12-14%
Our 2018 Pension Trends Survey examined the impact of last April's increase in auto-enrolment (AE) minimum contributions on employee participation in UK pension schemes. It enquired about cessation rates post-staging, what might happen after April 2019 when minimum contributions increase further, and outlined what the government's longer-term pensions strategy should be.
Much debate about pensions has dwelt on driving down charges, transfers from defined benefit (DB) schemes and the efficacy of the popular 'freedom and choice' reforms. However, our survey pointed to a need to look at gradual, but essential, increases in the minimum level of savings in defined contribution (DC)schemes.
This is needed to ensure people save sufficient amounts for both a comfortable retirement income and one with real choices on how they spend this after they stop working. Without a commitment from government to ensure that sums saved into pensions are meaningful, we see little prospect that as a society we will be able to address the growing gulf in retirement incomes between the generations.
The report's overall theme is the ongoing need for the government to build on the progress made in extending AE pension provision, so the many still outside the pensions tent, as well as those with well-established savings, have positive future outcomes.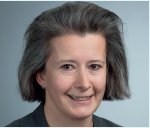 Opt-out and cessation rates
We have seen low employee opt-out rates from AE, with 9% across all employers (increasing to 13-23% among small and micro employers). Overall, according to Department of Work and Pensions (DWP) data, employers estimate around 16% of auto-enrolled employees cease active membership in the year following the initial one month opt-out period – albeit with around 11% ceasing membership because of changes in employment status.
Our survey found that:
● The median opt-out rate of employees at auto-enrolment staging was 6-10% across the sample, falling to 1-5% of eligible employees across employers with more than 1,000 staff; rising to 6-10% across employers with a workforce between 50-999; 11-15% for those employing 10-49 people and 26-30% at employers with fewer than 10 workers.
● The current median cessation rate (including initial opt-outs) is 11-15% of eligible employees across all employers, with higher cessation rates at companies with fewer than 500 employees (see figure).
The data collected defined the current 'cessation rate' as the total percentage of eligible employees now withdrawn from auto-enrolment (including initial opt-outs). Unclear from these findings and unmeasured is whether cessation is due to change of employment or other reasons, such as an inability to afford (higher) contributions in the long-term.
The survey also examined employers' experience of the increase in minimum statutory contribution rates for employees (and employers) in April 2018, as well as asking what employers predict this April when minimum contributions increase further.
● 88% of employers say the April 2018 increase in minimum AE contributions did not impact adversely on participation.
● Post-April 2019, 75% of employers expect there will be no increase in cessation rates, although 65% of companies with fewer than 10 staff do expect modest or substantial reductions in participation.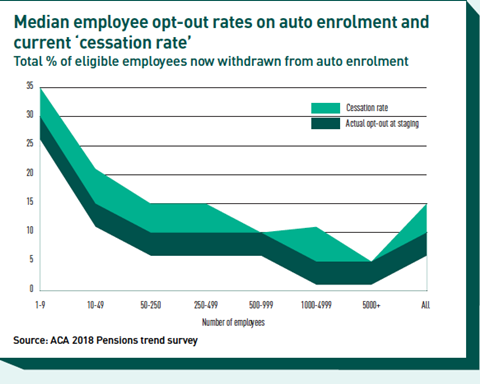 Another factor that disguises the number of employees automatically enrolled is the high number who do not meet the eligibility criteria owing to age or low income. Those not eligible for auto-enrolment total over 9.27 million. This does not include the 4.8 million self-employed.
A plan for the future
We view it as vital that the pensions minister develops a 'next steps' strategy to build on automatic enrolment and – depending on the UK's economic growth over the near to mid-term – boost minimum pension contributions from 2025 onwards, following extensions in pensionable earnings and AE coverage.
We believe that the government will have to be prepared to offer incentives to secure the ongoing success of the AE programme and should consider the following:
● Calculate minimum AE contributions on the first pound of earnings from 2021 rather than on earnings in excess of the lower earnings limit of £6,032 (€8,880) per annum. At the same time, action is needed to draw more of the self-employed to AE levels of contribution. A start could be made by including the gig economy's quasi-employers, such as Uber and Deliveroo, into the regime over the period.
● Increased flexibility, whereby new employers are able to introduce the full minimum statutory contributions after April 2019 over three years. An additional flexibility might also be offered whereby employers permit employees to opt-down when they are facing an all-or-nothing choice to pay increased contributions in 2019, rather than opting-out of pension saving entirely. Currently, an employer who operates an 'opt-down' facility risks being accused of inducing workers out of minimum rates.
● Seek cross-party support to map out increases in minimum AE contributions after 2025 targeting an eventual combined contribution of at least 12-14% of total earnings. This longer-term policy should also seek to offer incentives for employers to auto-escalate contributions to above the minimum level on a voluntary basis.
● Assist smaller employers and their workforce over the period of increases in pension contributions through planned reductions in national insurance (NI) and further increases in tax-free allowances and the employment allowance.
"While fewer than 10% of UK private sector DB schemes remain open to new members, many millions of employees are reliant to some degree on legacy benefits flowing from both open and closed schemes" - Jenny Condron
These increases in contributions and tax adjustments should only be implemented subject to the performance of the economy. While CDC is the current 'hot topic', it is unlikely to become a mainstream feature of pensions while AE rates remain so low.
Finally, our survey also considered reforms in the DB pensions area. While fewer than 10% of UK private sector DB schemes remain open to new members, many millions of employees are reliant to some degree on legacy benefits flowing from both open and closed schemes.
Our survey found employers to be supportive of more stringent action against errant directors or trustees, but also identified that across-the-board additional regulation would be counter-productive.
Simplification of these legacy schemes, so disrupted by 'knee jerk' government interventions, offers both members and employers huge opportunities and benefits, and could prove the way forward for successful consolidation of the DB pensions landscape alongside the equalisation of guaranteed minimum pensions, which is now a key priority for many DB schemes following the October 2018 Lloyds Bank judgement.
Jenny Condron is chair of the Association of Consulting Actuaries
Deficits: All set for a bumpy ride
1

2

Currently reading

Auto-enrolment: A call for clarity

3

4

5

6