Politics is clouding the outlook for Brazil following the rebound
Brazilian equities started 2018 posting the highest returns of all emerging markets in January as the country emerged from a recession with a reformed economy and better investment opportunities.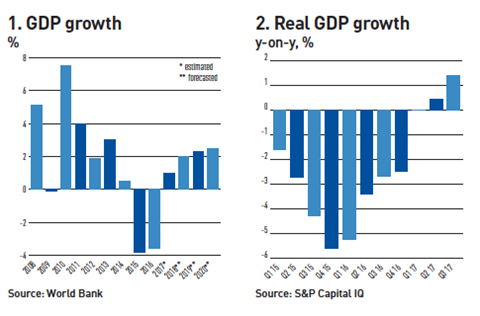 But Brazil's dysfunctional politics are creating uncertainty about the ability of the government to promote the reforms still needed for the long-term economic future of the country. They also cast a shadow on businesses.
Such economic fears are justified. Brazil's GDP growth has been erratic. In the 1980s, GDP growth hovered around 8% , before slumping to -3.1% in 1990. GDP shrank by 0.1% in 2009, yet expanded by 7.5% the following year before posting a two-year long recession in 2015 and 2016 (see figure 1).
This volatility has been reflected in the mood of investors towards the B of BRICS. Periods of enthusiasm have alternated with despair about an economy encumbered by outdated laws and crooked business practices. A case in point is oil giant Petrobras' recent $3bn (€2.4bn) settlement with investors, including the UK's Universities Superannuation Scheme. The company admitted in 2015 that it had lost billions to corruption.
Equity markets have performed well recently. MSCI's Brazil index, which covers 85% of the market, returned 24% in 2017 in dollar terms (26.5% in local currency) – outperforming the MSCI emerging market index in 2016 in dollar terms but underperforming in 2017 (see figure 3).
In January 2018, Brazil was the fastest performer among emerging markets, with the MSCI Brazil index delivering a 16.8% monthly performance in dollar terms (see figure 4), and Ibovespa, the main stock market index, breaching 81,000 points, a new record. But will investors' infatuation persist, particularly given the correction in February?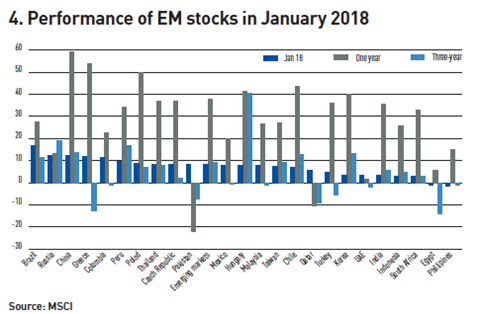 The perception is that, after three torrid years, the Brazilian economy is set for a period of growth of up to 3% in the next few years, according to some forecasts. But asset managers say there are reasons to feel both upbeat and cautious.
"We are seeing sustained improvement in consumer and business confidence," says Carlos de Leon, co-portfolio manager of the Emerging Markets Equity fund at Lombard Odier Investment Managers. "It has been pretty encouraging."
This perception was fuelled by positive data in the second half of 2017. Unemployment is falling, although it remains high at over 12%. Inflation appears tamed, closing the year below 3%, the lowest in two decades. With inflationary pressures on the slide, the central bank has been able to reduce interest rates (see figure 5). From a peak of 14.25% in mid-2016, the reference Selic rate reached 7% in December (figure 5).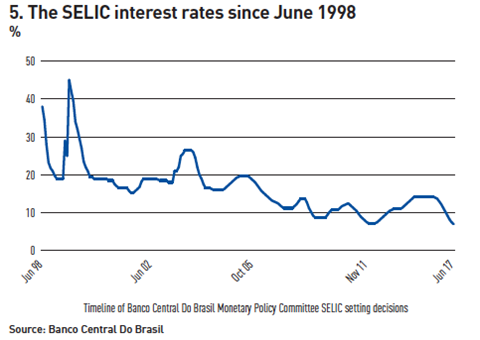 The expectation is that lower rates will boost credit growth, accelerating consumption. The recession forced companies to become more efficient, and labour reforms should enable them to become more competitive.
"Times have been very favourable for the economy in Brazil, allowing the central bank to cut interest rates down to historical levels," says Claudia Castro, a senior analyst at OppenheimerFunds.
This improved outlook has motivated some to take a closer look at Brazilian equities, which as an asset class missed the 2017 emerging markets bandwagon.
"It certainly looks like we are well past the worst with the Brazilian economy," says Ian Simmons, a portfolio adviser at Fiera Capital's Magna LatAm fund. "In 2016, we saw a rebound in sectors such as some commodities and industrials, and now we should see better earnings results for banks, retailers, healthcare companies and others."
Performance in 2017 was not brilliant, but 2016 was a bumper year, so valuations are not as attractive as they might be. Even then, according to Simmons, the robust recovery in domestic consumption implies that stocks have potential to deliver earnings growth to make them a good play. And, although the Brazilian benchmark is composed of commodities exporters that rely on global appetite, the domestic market is likely to offer opportunities in 2018.
"We are finding attractive investment ideas among select healthcare business, where barriers to entry remain high, as well as consumer-facing companies that are benefiting from a recovery in consumer spending," says Luke Barrs, head of EMEA fundamental equity client portfolio management at Goldman Sachs Asset Management. "We also like insurance providers that benefit from structural themes such as ageing and demographic change, whose strong brands have supported market share gains even in the tougher environment seen in recent years."
In a quest to take advantage of the feel-good sentiment, several Brazilian companies have performed IPOs in São Paulo and New York, and a pipeline of new offerings is on the books for 2018. Simmons expects, for instance, that private equity houses will, before the October elections, place companies acquired during the crisis. The IPO pipeline includes healthcare, consumer goods, energy and fuel distribution companies.
"The IPO window remains clearly open," said Paulo Salazar, a senior fund manager at Candriam Investors Group. Experienced investors warn, however, that Brazilian IPOs have a tendency to be on the expensive side, often failing to offer the discount to convince investors to embrace the risk.
Political concerns
The clouds on the horizon are mostly political. Brazilians will elect a new president and Congress in October. There is uncertainty about the outcome. Political parties have been discredited by the Operação Lava Jato scandal (Operation Car Wash), which has been described as the world's biggest corruption investigation. Among the targets of prosecutors are the current president, Michel Temer, and his predecessor Luiz Inácio Lula da Silva.
Markets are concerned by the prospect that Lula could win another four-year term in October on populist platform. He has consistently led opinion polls, with support of around a third of votes, although he could be barred from running by the courts. Lula's condemnation has opened up the field, and investors expect that a market friendly ticket will occupy the void, although the only candidate with momentum has been Jair Bolsonaro, a populist in the Donald Trump mould.
What looks likely is that the next president will have to deal with a fragmented Congress used to demanding political and financial wincentives after approving the reforms proposed by the unpopular Temer administration.
The prospect of a weak executive does not bode well for the reforms that markets would like to see, such as to the pension and tax systems.
"Brazil faces a deficit of political leadership, especially if the only candidate with significant support cannot run for president," says Gaspard Estrada, a political scientist at SciencesPo, a French university. "It is difficult to say whether the new players that are going to emerge will have enough leadership to push the reforms forward."
Emerging Markets: Ballots ahead
1

2

3

Currently reading

Brazilian equities: Politics and Brazil

4

5