Lower mortality assumptions and improved pension scheme solvency have created ideal conditions for derisking
Key points
• The scale of pension derisking in the UK is at record levels
• A change in mortality assumptions is one of the reasons for this shift
• A huge improvement in pension scheme solvency levels is another driver of the surge in derisking
• More insurers look set to get involved in the market
For records to be broken in athletics, environmental conditions have to be perfect and athletes have to be well-prepared.
In pension derisking the same is true, as UK market participants have found this year. By the end of June 2018, some £7.8bn (€8.7bn) in pension liabilities had been insured through bulk annuities, according to actuaries and consultants LCP. The amount was more than 50% higher than the deals completed in the first half of 2017, and just £3bn shy of what was derisked in the whole of 2016.
The half-year broke all previous records by some way, without even considering an annuity book buy, when Rothesay Life took on £12bn in assets and liabilities from Prudential, and £21.8bn of longevity swap activity, dominated by a £2bn deal between the National Grid Pension Scheme and insurer Zurich.
Pension Insurance Corporation conducted 42% of all transactions in the first half of the year, with Mitul Magudia, head of business development, predicting more to come before Christmas. Just four days into the second half of the year, the company announced it had completed its largest single-insurer deal since 2014, with a £1.4bn pensioner buy-in for Siemens. Others followed.
One of the main drivers of the rush to crystallise and offload liabilities has been an update to longevity assumptions. For years, pension trustees and corporate sponsors had been grappling with rapidly-improving life expectancies for their members, which served to push out their obligations and make them increasingly expensive.
However, recently updated mortality tables from the Institute and Faculty of Actuaries have shown these improvements have begun to slow down since 2016. A reduction of about two months for both genders has meant the price an insurer might put on this part of the deal has been a welcome lowball for schemes.
Magudia says reinsurers taking on longevity risk have been pricing it more cheaply, which means bulk annuity providers have been able to pass on the savings.
This respite in longevity improvements has spurred many finance directors to insure their obligations in case it begins to rise again. Luckily, the market is bursting with providers willing to take on both the risk and their assets.
Keen competition
Seven companies were actively bidding in the first half of the year, with all – except Rothesay Life, which concentrated on the £12bn Prudential deal – transacting about £500m or more.
John Baines, a partner in Aon's Risk Settlement team, says current pricing is "at almost unprecedented levels" with plenty of large schemes coming to market and getting deals done quickly with providers hungry for business.
The timing of this bustling marketplace can be traced back to the implementation of the European insurance regulation Solvency II in January 2016. In the first half of that year there was the lowest six-month deal flow since 2013, as insurers adapted to the change. Once insurance bosses had time to take stock of what the regulation meant for their businesses, capital ratios and investment portfolios, business began to flow again.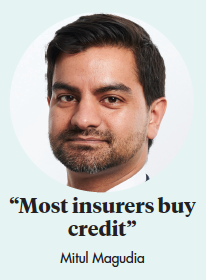 Sammy Cooper-Smith, co-head of business development at Rothesay Life, says: "There is no reason this year won't see £20bn in deals. This level will become the new normal and will probably increase."
With more than £2trn in UK pension liabilities, there is still a huge way to go. "Five years ago, we thought £5bn was a lot," says Baines at Aon. "This year, we could be looking at £30bn, or even more. There is great appetite from the insurance community – even outside the monoline players – to get deals done."
Matt Simms, director for solutions at River & Mercantile, says one of his clients, which had recently agreed to derisk, was quoted a price by an insurer that was 10% cheaper than its actuary had expected.
Along with slowing longevity improvements and keen market players, a third factor has created the ideal conditions to break records.
A huge improvement in pension scheme solvency levels is one of the key drivers for trustees addressing the possibility of derisking. According to the Pension Protection Fund's index of UK schemes, the aggregate funding level hit 94.9% at the end of June. At the same point in the year in 2016, the figure was 78%.
"Schemes that think they might be in touching distance are likely to be closer than they think," says Simms.
Global equities, which have been on a very long bull run, have played their part in bolstering solvency. They have made 11% a year – on a sterling basis – over the past five years, says Simms.
Matching assets
It is not just market returns that have improved fund solvency, though, according to Jos Vermeulen, head of solution design at Insight Investment.
"Ten years ago, less than 30% of schemes hedged their interest rate and inflation risk," says Vermeulen. "Now it is more than 60%. Back then, they had 60-70% in equities, now they have this in bonds."
And while this shift has helped reduce their risk and exposure to volatile markets, it has helped them get closer to safety in another way, too.
Much of the hedging instruments and income-producing bonds held by pension funds are exactly what insurers want in their own portfolios. Rather than carrying out the complex – and often costly – portfolio liquidations that used to be commonplace for derisking schemes, many are finding a simpler handover process.
However, to fill the gap and match long-term liabilities, insurers are still having to seek out their own assets.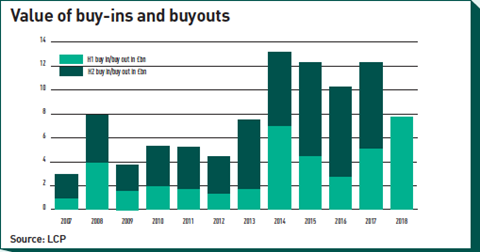 "Most insurers buy credit," says Mitul at PIC, which holds a range of UK, European and US corporate bonds.
There is plenty of credit to go around too. Some $3.6trn (€3.1trn) in global corporate bonds was issued in the first half of 2018, according to Thomson Reuters. While this was 9% down on the same time a year earlier, it was only the first year-on-year decline for the sector since 2010.
Corporate bonds yield more than government-issued instruments and are not heavily penalised under Solvency II as other, more volatile securities such as equities.
More esoteric options are popular with insurers, too. Through scheme asset consolidation, they can go after the big-ticket infrastructure deals that provide regular income streams.
While there were concerns a few years ago that the price of direct real assets was being inflated, Mitul says companies bringing these deals to market have taken a more balanced view of supply and demand.
With so much appetite, if the assets are not there, an insurer might ask a potential client to wait until the deal can work for both sides. Cooper-Smith at Rothesay Life can see this happening, with scheme advisers, on the other hand, holding back to see if even better pricing is around the corner.
With such keenness on either side, a stalemate is unlikely. Baines at Aon says there are more insurers set to join the party, adding to the pricing squeeze and breaking even more records as the ideal conditions persist.
"At the end of 2017, some estimated we would see £30bn in transactions this year," says Baines. "That is a significant underestimate. From a corporate point of view, you've made additional contributions, you find yourself in a good place – all you need to do is get your data in order. With prices like this why would you continue to take keep hold of the risk?"
UK retailers: tough times
1

2

3

Currently reading

Breaking all derisking records

4

5

6