Rising interest rates put collateral management strategies to the test
Key points
If interest rates rise more than expected, holders of fixed-for-floating swaps will access collateral pools with increased frequency
Pension funds are advised to set aside different layers of collateral
There is a risk, albeit low, that pension funds become forced sellers of assets in falling markets in order to meet collateral requirements
Stress testing is useful to design robust and prudent collateral structures
Collateral management is anything but an everyday task for defined benefit (DB) pension funds. Falling interest rates have forced DB funds to grow their portfolio of liability-matching assets. In turn, they have significantly increased their use of derivatives, particularly interest rate swaps. But owing to the constant threat of a sudden reversal in interest rates, collateral management has become a strategic risk-management problem.
Regulation has also made collateral management more challenging in recent years. This is because regulators have enforced the use of central clearing houses to trade swaps, replacing bilateral swap transactions. Pension funds are still exempt from central clearing and many will have some bilateral swaps on their books, where counterparts accept cash as collateral. However, the trend is towards central clearing, and clearing houses only accept high-quality fixed income, typically government bonds, as collateral. This has contributed to yield compression in fixed-income markets, exacerbating the problem as it makes holding collateral more expensive.
The mechanism is simple. If rates rise above a certain level, pension funds holding fixed-for-floating swaps have to cover the margin by posting collateral. That is why entering into a swap requires pension funds to set aside collateral.
Liability-driven investment (LDI) managers and consultants maintain that they have built dedicated collateral strategies that can meet the demands of swap counterparties if rates were to rise. Patrick O'Sullivan, head of investment consulting at Redington, says: "Our clients have very significant provisions for immediate needs in terms of liquidity, not just collateral, but also transfers, benefit payments and currency hedging. Besides that, they have policies around and provisions for how much liquid assets they potentially need to balance their collateral strategies, as and when collateral calls are made and these pools need to be topped up. This is something we spend a huge amount of work on."
However, O'Sullivan concedes that, so far, collateral strategies have not been tested. Interest rates have been falling more-or-less uninterrupted since pension funds have adopted LDI strategies. The future looks less certain than ever.
O'Sullivan says: "It's probably fair to say that pension schemes haven't really had to experience much of a rising-rates environment and large calls for collateral over the last number of years, so if they haven't worked through those policies and made those provisions, that could lead to some difficult times for some."
The key risk is that interest rates will rise above the level that it is implied by the markets. Robert Gall, head of market strategy within Insight Investment's financial solutions group, argues: "It is relatively straightforward to calculate how much collateral you need to set aside, based on the levels of interest rate risk and rise in yields you want to be protected against. The difficulty is no one knows exactly how much yields will rise.
"It is plausible to think that schemes that have done some hedging but kept a lot of money in equities could burn through their collateral and be forced to liquidate assets in a falling market, which is never good. The challenge is greater for cash-flow-negative schemes, because in a rising-rate environment they could face cash demand as well as collateral calls," says Gall.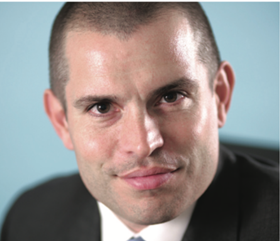 The solution that is generally employed is to build a 'waterfall' collateral structure. Gall says: "This consists of having different kinds of assets to liquidate, as yields rise, in order to meet collateral requirements, starting from the most liquid like cash and bonds. We've done a lot of work with clients to identify assets that clients can divest from comfortably. Examples can be secured finance, which has a shorter maturity. Pension schemes need to be prudent and build a sufficient collateral buffer, as well as a road map of how this collateral will be used to meet the various demands."
Generally, LDI managers insist that the risk that holders of fixed-for-floating interest rate swaps will become forced sellers of assets is low. O'Sullivan says: "If there is rise in rates equal to the one that is implied in the interest rate curve, there will be no calls on collateral. It's only when the shock is over and above what is currently priced in that there will be a call for collateral.
"Pension funds already build provisions for surprise events. We are very highly prudent and stress-test portfolios to withstand those events. We do a combination of stochastic-based tests and scenario tests. Once we have done all that, we can build a buffer against a potential rise in rates that our clients should be able to comfortably meet, without becoming a forced seller of assets elsewhere."
Stress-testing is particularly powerful as a way to analyse how a portfolio would behave in extreme market conditions. A plausible scenario for this year is that equities will fall while interest rates will rise, as correlations between the asset classes exhibit a highly unusual behaviour. "That's exactly one of the types of test we do. We try to model scenarios that could catch out investors – for instance, one where diversification has no benefit," says O'Sullivan.
Simon Bentley, head of LDI client portfolio management at BMO Global Asset Management, says even in such a scenario, pension funds with robust LDI strategies will be protected. "A situation where equities and bonds fall at the same time is possible," he says. "Many pension funds still hold a lot of equities, but on balance we have seen quite a significant de-risking from equity assets. Schemes have been planning for leverage rebalancing events. They understand that while equity is probably the most liquid asset in the market, it's not the asset you want to be selling to fund a rebalancing call, because you've got that risk around timing. So the majority of schemes we have spoken to have discounted equities from the first steps of their liquidity ladders."
Jignesh Sheth, head of strategy at JLT Employee Benefits, points out that while rates could rise above the levels that are priced in the market, this could be self-defeating. He says: "Rather than trying to second guess where rates will end up, schemes are generally taking advantage of current volatility in Gilt markets to increase hedging as and when that hedging is becoming cheaper. So rates are likely to rise and, given current pricing, could very well rise more than priced in, but the extent of these increases will be dampened by ongoing demand from liability hedging."
It is crucial, however, to set out that waterfall that will help meet collateral requirements as and when they materialise. Sheth says: "The most highly leveraged hedging solutions could face challenges if they have not set out in advance the liquidity waterfall of which assets will be realised to reduce leverage.
"In particular, if a scheme's other assets are not readily realisable then hedging may have to be cut, just as it has become cheaper and the hedging solution has fallen in value. The other concern is the volatility of other assets held. If they are also volatile, such as equities, they may need to be sold at a loss," he says.
Briefing: Collateral challenges
1

Currently reading

Briefing: Collateral challenges

2

3