---
Key points
• Commodity prices have fallen since reaching their peak in 2011
• Opinions are divided on the likely trajectory of commodity prices
• Looming trade wars could hit any commodity rally
• Demand from India and Africa could fuel the next super cycle
The internet can in some ways be said to define globalisation.
There are no boundaries and we cannot conceive of a world without it. The largest companies globally are increasingly associated with technology, and big data is the mountain they all mine today for their global profits.
It is the best time in decades for commodities, according to Goldman Sach's global head of the asset class, Jeffrey Currie. You may or may not want to bet the farm – heavy overweight agriculture – on this, but the call has certainly resonated with some. Is this a return to the commodity 'super cycle'?
The super cycle that characterised the first years of the millennium was a sustained period of rising commodity prices, supported by population growth and infrastructure expansion in emerging markets, in turn powering demand for industrial and agricultural commodities.
The secular bull market in commodities reached a peak in 2011, from where it has all been downhill. Global growth failed to bounce back to pre-crisis levels, despite the strong rebounds in equity markets. The vital engine of Chinese growth dropped a gear or two. The dollar rallied from 2014, creating further headwinds, as most commodities are priced in the greenback.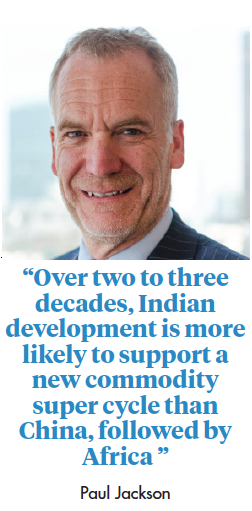 Koen Straetmans, senior strategist, macro and strategy at NN Investment Partners, observes: "There has been a disconnection with the equity market since 2011. One reason is the relative slowdown in emerging markets; the growth differential between emerging and developed markets has gone from over 6% at the peak in 2009 to about 3% currently."
Are we on the cusp of a new one? Certainly, there are positive signs.
At the start of the year the International Monetary Fund pointed to "the broadest synchronised global growth upsurge since 2010". Copper is at its highest since 2013; crude is trading at about $65 a barrel, up about 20% over last year. There are lots of speculative long positions on crude oil and copper, which should push prices higher still. For those with an eye on mean reversion, the valuation ratio between equities and commodities is at lowest since the 1970s.
The World Bank Commodity Market Outlook, however, takes a more sober view than Goldman, predicting that metal prices will ease slightly in 2018: "A 10% fall in iron ore prices is anticipated to be offset by increases in all base metals prices, particularly due to mine-supply tightness in lead (China), nickel (Australia), and zinc (Australia and the US).
"Upside risks to price forecasts include stronger-than-projected global demand and production shortages. Downside risks include slower-than-anticipated demand from China and greater-than-expected production." Agriculture is expected to stabilise, with a mixed prognosis for energy, with lots of geo-political risks, from Iran through Nigeria to Venezuela. The World Bank forecasts that oil will average $56 per barrel in 2018, way behind Goldman's prediction.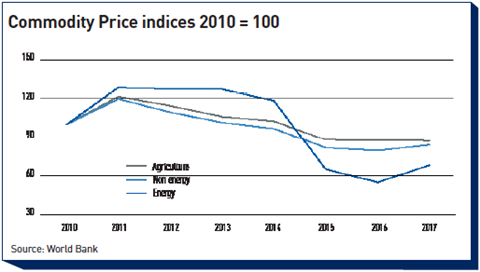 Straetmans is cautiously optimistic: "We have seen a peaking in momentum, but that doesn't mean growth will fall. From the demand side, things still look strong. On the supply side, we're seeing some rebalancing – for instance, in industrial metals, the closing of excess capacity in China in particular, and this is leading to a more balanced market than two to three years back. In the short term, this may lead to some pulling back of the market, but in the medium term, it's a positive factor."
Looming trade wars could also hit any commodity rally. Straetmans argues: "We expect [tariffs] to be relatively contained through negotiations. However, it does represent certain short-term risks, such as with soybeans in agricultural commodities."
Tariffs could have a devastating impact on US soybean farmers. With regard to industrial metals, however, prices bounced back after the proposed list of US tariffs was disclosed in early April. The US is predominantly targeting intermediate goods and finished industrial goods, so these will only indirectly affect demand for aluminium and other industrial metals, limiting negative effects.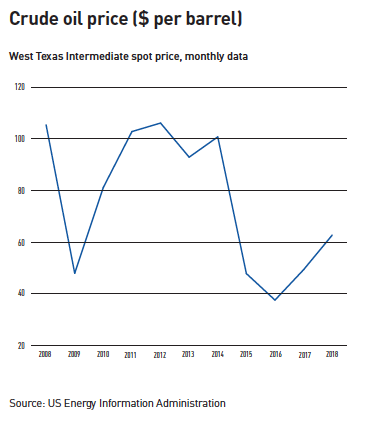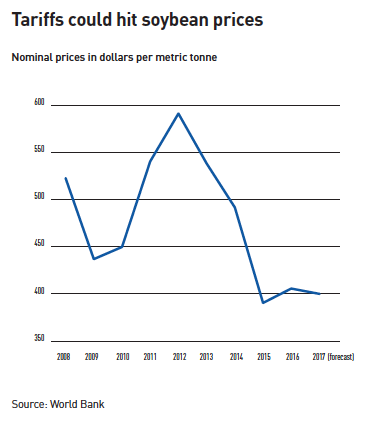 There are other factors that militate against the rebirth of a full-blown super cycle, such as the inverse relationship between rates and commodity prices. Rising rates increases costs of holding inventory, as it is cheaper to store the materials needed for a business when the cost of capital is low. With the US now in a definite tightening phase, this could act as a brake.
Even so, other elements of the end of quantitative easing (QE) may favour commodities. According to Straetmans, "post-crisis monetary policy has produced the search for yield, something that is not to be found in the commodity space.
The levelling off of QE in combination with less fiscal consolidation may prove to be a positive for the asset class. After the financial crisis, alongside QE we saw a fiscal tightening, which was again negative for commodities." The shift away from these policy measures should therefore be a positive.
The macro terrain offers a mixed picture. Paul Jackson, head of multi-asset research at PowerShares, says he's "certainly not on the bullish side" regarding a near-term revival of the super cycle.
"The last one was an extraordinary event," he argues: "Oil prices, for example, were in line with the 1970s, when rises were driven by Opec supply control. Other than that, you have to go back to the 1870s to 80s to see a comparable phenomenon. Once oil has gone through a bubble, you tend to see it trade within a range of $20-60 per barrel in today's terms."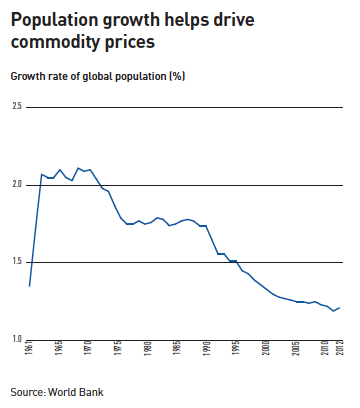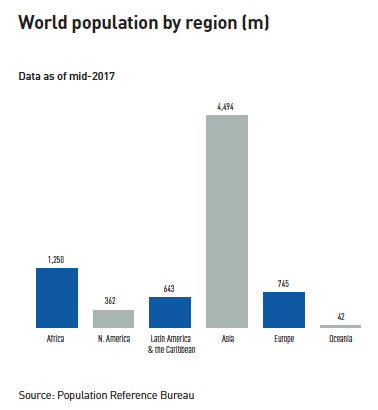 There are more fundamental factors that may mean a repeat of the early years of the millennium are unlikely. Before the start of the last century, the 50-year rolling population growth never went above 0.5% or 1% before the Second World War. It then shot to as much as 1.8% after the war, says Jackson: "This created the demographic conditions for commodity super cycles and tighter commodity markets in general. We are now on the other side of this population explosion, so the impetus is dissipating."
Straetmans says: "Structurally, I agree that we are unlikely to see a return to the super cycle of 2003-11."
Global growth may provide renewed boosts for the asset class, but this will likely be further down the line, says Jackson: "Over two to three decades, Indian development is more likely to support a new commodity super cycle than China, followed by Africa. Africa now has 13% of the world's working population. It's expected to be 41% by 2100. Africa has the potential to be, first, the bread basket of the world, then its workshop."
Between then and now there will be a great many road bumps to negotiate – not least, for most of us, our own funerals.