Active management versus passive index tracking remains one of the most hotly contested questions in the world of investment management.
On one side is the view that the fees of many active managers are not justified by the value they add. On the other is that active managers can add uncorrelated alpha and reduce risk, compared with tracking the market index.
While these fundamental positions have remained unchanged for decades, an assessment of the main shifts in stock market performance and the economy might suggest that it is time for pension schemes to rebalance their exposure towards genuinely active managers. With the 10-year bull market showing increasing signs of its age and vulnerability, and factoring in the high valuations and lower prospective returns in the market, alpha from active managers can offer one way for pension schemes to reduce their downside risk and achieve the return required above government bonds.
There are some strong indicators that suggest the fortunes of active managers may be set to change, at the expense of index trackers. This article will also look at what kinds of active managers provide investors value and what to look for in the structuring of their portfolio.
The decade long bull market has helped passive index trackers, such as the Russell 1000, perform well. Our research (see figure) shows that, after adjusting for fees, over the 10-year period 2008-18 only 41% of active managers beat the fee-adjusted benchmark index (in this study, the Russell 1000) compared with 48% in the 20-year period from 1998 to 2018.
What are the causes of the relatively weak performance of many active managers and are those drivers set to go into reverse?
Conversely, while the strong performance of index trackers has been a regular feature of recent times, it has not shown consistency during increased volatility and poor stock market performance. From 2000-09, active fund managers performed particularly well versus index trackers. For example, in 2000, 71% of active managers outperformed the index and in 2008 it was 51% (see figure).
One of the other big features of the bull market over the past decade has been the phenomenal performance of a small number of mega-cap tech stocks. The outperformance of these stocks, which now make up such a large part of the index, has favoured index trackers over active fund managers as active managers have tended to underrepresent the real heavyweights in their portfolios. If the biggest tech stocks perform less strongly, that should favour active fund managers over passive fund managers. Those technology stocks that have been leading the market are coming under pressure from issues such as slowing Chinese growth, trade tariffs, potential regulatory constraints and data privacy concerns.
The share price decline of companies, including the five best performing tech stocks, known as FAANG stocks, on top of Asian tech leaders (that corrected earlier last year), has raised the prospect that a larger share of companies will show relative strength. On average, this would tend to favour active managers over following the index.
Quantitative easing (QE), which has driven down the yields on almost all the main asset classes since the global financial crisis has arguably suppressed the dispersion of asset returns. This means that the sensible investment decision making of an active fund manager receives lower rewards in terms of performance of one asset versus another. Increased market volatility and asset price dispersion that are expected to accompany the slow pull back on QE should play out in favour of skilled active managers.
Active managers who are willing to look different from their benchmarks, or show conviction in their ideas, have shown an increasing ability to deliver attractive long-term returns that exceed their benchmarks and their additional fees. The big question is: how do you define differentiation and conviction?
In our view, a truly active manager is one with a high active share – that is where 80% or more of the portfolio looks different from its benchmark. Portfolios with less than 60% active share are unlikely to perform as well. Even those in the 60-80% band are to be considered with caution.
Academic studies have also found active managers who exhibit more concentrated portfolios of 30-40 stocks or fewer, have more compelling outcomes than those with more diversified portfolios. After all, just how good is a manager's 41st best stock-picking idea likely to be?
An entire pension scheme may need 100 stocks to limit relative risk (as defined by tracking error) but pensions with a multi-manager portfolio can do this by carefully selecting five concentrated managers with 20 stocks each.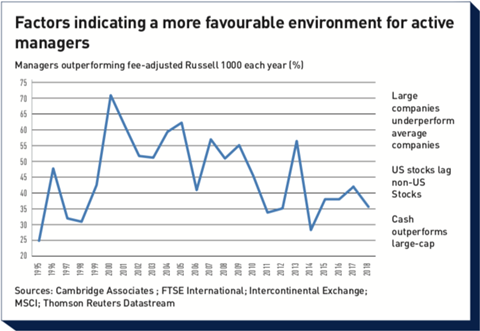 When picking an active manager, it is necessary to consider their long-term performance and consider carefully before switching from an active manager on the basis of a short-term period of underperformance. Our research shows that long-term success in fund management is not characterised by consistent short-term success. In fact, most US equity managers that have outperformed their relevant style indexes over the past 20 years have underperformed considerably over shorter periods. These dips in performance often stem from taking contrarian positions in the market.
As this economic cycle appears to begin to draw to a close, pension schemes need to accelerate their preparation for the inevitable bear market. As ever, that means pensions will need to focus on forward-looking horizons, rather than getting bogged down in the performance of the past. It includes looking closely at whether that allocation to index trackers, that has worked well in the bull market, is going to work in the radically different environment which can be expected of a bear market.
The 'taper tantrum' of 2013 and the sharp falls of the final quarter of 2018 put us on warning of the volatility that will accompany the end of QE. Pension schemes, with their need to achieve a required rate of return, cannot avoid that risk by exiting the market. Instead, they will need to use that small cadre of carefully selected active managers who are going to be best placed to navigate the next stages of the market.
Alex Koriath is head of the European Pension Practice at Cambridge Associates
Briefing: Emerging markets fail to catch up
1

2

Currently reading

Briefing: Looking to active managers