Share buybacks have become so popular that they added about 3% to overall corporate profits in the last quarter. The amount of capital allocated to buybacks surpassed even the dollar volume of announced M&A transactions. This led some researchers to warn that the tide of buybacks signals a lack of investment opportunities and underlying economic malaise that strong stock performance is masking. Companies are reducing their number of outstanding shares rather than striving to expand.
There are certainly cases where management sees a dearth of new uses for its ample cash. Recent US data confirms that capital investment is weak, but buybacks are not the culprit. The investment community consensus is that the increase in buybacks reflects the extensive rebuilding of corporate balance sheets. It also suggests a more disciplined assessment of the opportunities that warrant an investment.
In large part, investors and analysts say, activist investors who have accumulated their own cash hoard are using those funds effectively to press management teams into improving returns. That sometimes means returning cash to shareholders through dividends and buybacks before embarking on acquisitions or product development. Also, M&A deals are taking place at a rapid pace, indicating that strategically sound ideas are still being approved and funded. Concerns remain that there could be a dark lining to the record levels of buybacks. But any serious problems do not seem imminent. For the time being, investment managers are capitalising on buybacks and are expected to continue doing so.
Reducing share count remains a popular corporate finance strategy, says S&P Dow Jones Indices. S&P 500 companies increased their buyback expenditures by 16.3% to $553.3bn (€490bn) in 2014, from $475.6bn in 2013. The number of companies reducing their share count by at least 4% year-on-year continues to hover at about 20%, which S&P Dow Jones Indices calls "a significant level". Corporate focus on returning value to shareholders "has been strong and appears to be increasing", S&P says.
But the high level of payouts to shareholders may have a dark side, according to a recent study by Patrik Schöwitz and Michael Albrecht of JP Morgan Asset Management's GIM solutions-global multi-asset group. They contend high payouts to shareholders could indicate companies see few investment opportunities in the economy and prefer to pay out their cash reserves. "Some investors might be disappointed if buybacks were to fall from here," they say, "but if this were driven by a higher rate of investment, it would also contain the silver lining of stronger earnings growth rates ahead."
As investment managers see it, however, investment is happening – in the businesses that companies already run – and returning cash to investors through buybacks and dividends will become an even bigger component of equity performance this year. Goldman Sachs expects buybacks to increase by 18% to $604bn and for dividends to grow by 7% this year. Companies with major programmes will have an edge.
According to Amanda Sneider, a vice-president for US portfolio strategy at Goldman Sachs: "We believe stocks with high total cash returns will outperform as S&P 500 firms grow buybacks and dividends." The stocks in Goldman Sachs' total cash return basket offer double the cash yield of the median S&P equity, and were an average of 13% cheaper as of the end of the first quarter.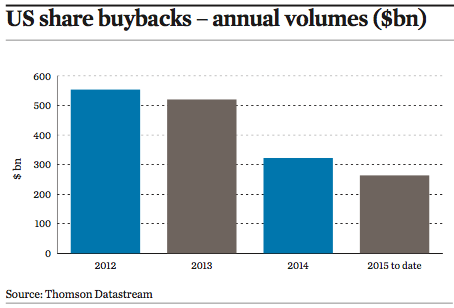 Sneider suggests buyback blackouts can be a buying opportunity for investors in companies that have significant buyback programmes. US companies are required to cease discretionary buybacks during a period from about five weeks before their respective earnings reports to about 48 hours after earnings are reported. "Buyback window closure is a window of opportunity for investors," says Sneider. While buybacks are widespread, the technology, consumer discretionary and financials sectors account for more than 50% of buyback activity. "Investors should view any market pressure as a buying opportunity."
But concerns remain. According to Schöwitz and Albrecht, the key question "is whether the current high level of payouts to shareholders is sustainable, or whether the pendulum will swing backwards and the level of buybacks will fall."
Ultimately the answer rides on economic growth. As 2015 began, some economists were projecting stagnant growth, pointing to sluggish business investment in equipment and facilities. "The underlying landscape for the investment outlook is simply not that great," says Stephen Stanley, chief economist at Amherst Pierpont Securities.
"Stocks with high total cash returns will outperform as S&P 500 firms grow buybacks and dividends"
Amanda Sneider
The last earnings season started on a weak note that buybacks offset. Between 31 December 2014 and April 2015, downward revisions in FactSet's estimates resulted in expectations of a year-over-year earnings decline of 4.6% for the first quarter of 2015, compared with expectations of a 4.2% increase at year end. The 8.2% drop was the largest quarterly decline in FactSet's bottom-up estimate since the first quarter of 2009.
While US earnings face headwinds from slow global growth, weak energy sector capital investment and the strong dollar, share buybacks will "continue to add meaningful support" to equity returns, says Lisa Shalett, head of investment and portfolio strategies at Morgan Stanley Wealth Management. Buybacks by US corporations will add about 3.5% to year-over-year results in the first quarter of 2015, she says. Many buybacks will be spurred by the increased vigour of activist shareholders sitting on ample capital.
"People don't appreciate how much buybacks continue to add to the bottom line now," she adds. "Companies are going to be pretty aggressive users of buybacks. Corporate balance sheets are rich in cash, and net leverage is still well below levels reached in prior cycle peaks."
One factor playing out in today's market – which did not occur in other cycles – is the growth of activist investors. "Activist investors have gone from controlling $32bn in assets in 2008 to now controlling about $120bn," says Shalett.
A Morgan Stanley note adds: "Using sophisticated derivative strategies to accumulate control positions and unleashing web-based media campaigns, activists have delivered more than 12% annual returns for their clients during the past three years."
That is bound to attract more capital to activist funds that will fuel the buyback trend. As they have grown in relative size and influence, concludes Shalett, "activists are applying a lot more pressure on corporate managements to continue to buy back shares where it's appropriate."