Carlo Cottarelli, Italy's caretaker prime minister during the recent political crisis, tells IPE the new Italian government should avoid overspending on pensions and other key budget items
Carlo Cottarelli's stint as Italy's prime minister-in-waiting lasted just four days but it was enough for him to show his grace and statesmanship at a time of deep political crisis for the country.
The academic and former International Monetary Fund (IMF) director was asked to form a caretaker government by Italy's president Sergio Mattarella on 28 May. Mattarella had just halted the formation of a government under the political leadership of the centrist Five-Star Movement and the right-wing League.
The two parties, led by Luigi di Maio and Matteo Salvini, respectively, had chosen Paolo Savona, an 81-year-old economist and an advocate of Italy's exit from the euro-zone, as finance minister. Mattarella vetoed the appointment essentially saying it would destabilise financial markets and put the country's debt position at risk. His decision caused a level of tension not seen in the country for decades.
Cottarelli agreed to lead the country towards the next general election, which would have taken place either later this year or in early 2019, depending on whether his technocratic government got backing from parliament.
While he was working around the clock to compile a list of would-be ministers, it became clear that the leading parties were open to return to discussions on the choice of finance minister with the head of state. Cottarelli knew his tenure had run its course. During the press conference announcing the end of his mandate, he thanked journalists and apologised "for being too quiet" over the previous days. He had offered scarce details on the likely structure of his government.
At the same time, Cottarelli said that the formation of a political government would be, by far, the best solution for Italy, as it reduced the uncertainty that would result from new elections. In an unusual gesture for that setting, journalists in the room applauded him. They appeared to be relieved that the country, for a few days, had been run by a man whose manners are in stark contrast to the bombastic demeanour of the new leaders.
After his brief stint as prime minister, Cottarelli spent a fortnight attending nearly every political talk show in the country. He told his story and warned audiences about the dangers of growing Italy's deficit with the aim of raising public expenditure on pensions and cutting taxes.
He is no stranger to the media. Between 2013 and 2014, Cottarelli was under the spotlight while working as spending review commissioner for the government of Enrico Letta. He was appointed to the role because of his expertise on fiscal matters. The job earned him the unfortunate nickname of 'Mr Scissors', as he attempted to delve into Italy's large and complex government budget looking for ways to cut costs. He left the job when prime minister Matteo Renzi controversially appointed him executive director at the IMF. It is understood that Renzi's government held back his efforts to reduce misspending.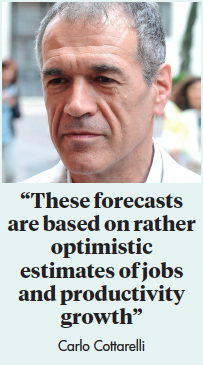 Cottarelli is now back at his academic work. Apart from watching episodes of the popular television series Breaking Bad, which is what he was doing when he received a phone call from the president asking him to form a government, as he famously said, he is also director of the Osservatorio sui Conti Pubblici Italiani (CPI). This is a team of economists from the Università Cattolica del Sacro Cuore in Milan tasked with studying the fine details of the country's government budget.
Cottarelli rounded off two weeks of intense media presence with an interview with IPE on a Sunday morning in June. He commented on the new government's plan, which includes raising the retirement age, cutting taxes, establishing a 'citizen's income' for the poor of €780 per month, boosting spending on health and infrastructure, as well as other items that would increase Italy's budget deficit.
Osservatorio CPI estimated that the government programme would cost €120bn. Italy has run a primary surplus since 1992, but with a debt-to-GDP ratio of 131.8% at the end of last year, the government cannot afford to raise spending, let alone to such a level, says Cottarelli.
The current government seems to think otherwise, despite recent efforts from finance minister Giovanni Tria to reassure markets. Tria recently suggested more prudent spending plans in interviews with Italian media, in contrast with the government's plan.
When it comes to public pensions, Italy spends more as a proportion of GDP than any other country in Europe apart from Greece, and pension expenditure is well over 16%, according to the OECD. After the Fornero pension reform in 2011, implemented by Mario Monti's technocratic government amid the threat of a default, Italy's pension system is believed to be safe.
However, Cottarelli says: "The current level of pension expenditure is sustainable, but with extremely thin margins. Based on current demographic trends, which admittedly are difficult to estimate, pension expenditure remains stable in relation to GDP for the next few decades. But these forecasts are based on rather optimistic estimates of jobs and productivity growth."
Those arguing that pension expenditure can be reduced by growing employment should know that baseline expenditure forecasts already imply significant employment growth, says Cottarelli. This includes the number of foreign workers joining the Italian workforce, while the government is trying to curb immigration.
As part of his spending review exercise, he had proposed reducing pension expenditure by other, more straightforward means. His original idea was to cut pensions for higher earners at a higher rate, with minimal reductions for lower earners. Then it was proposed to cut first-pillar defined benefit (DB) pensions by half, which sounds demanding. Italy's pay-as-you-go system officially switched from DB to notional defined contribution in 1992, but implementation was phased in and most workers have kept their DB pension. But in the end, Cottarelli's proposal would have cut yearly benefits above €50,000 by a maximum of 10%, he says. The measure would have saved the country several billion euros – a large amount in the context of a budget with limited leeway.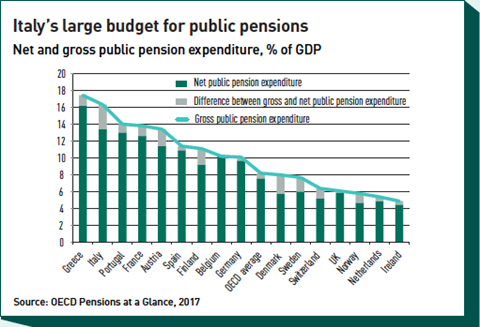 In the end, neither proposal was implemented. Now the government wants to lower the retirement age, which will lead to higher spending. "I would say that, as things stand, new reforms changing the rules on those who are yet to retire should be avoided," Cottarelli adds. If the country does not have an immediate need to cut pension expenditure, at least it should not raise it.
The government's plan is based on questionable reasoning, according to Cottarelli. Proponents of a lower retirement age argue that by allowing people to retire earlier, the supply of jobs would grow as more people leave the workforce. This would have beneficial effects on GDP growth that would make up for higher spending on pensions.
The evidence suggests otherwise, says Cottarelli. "The idea that a higher public deficit, achieved for instance by cutting taxes, will lead to higher GDP growth, and therefore reduce the debt-to-GDP ratio is wrong," he says.
"I do not know of any country in the world that has managed to reduce the debt-to-GDP ratio on a long-term basis by growing the deficit. I have asked the proponents of this thesis to come up with examples for months, and they have not provided any.
"Our finances are not strong enough to sustain even a 1% fall in output"

Carlo Cottarelli
"The problem is that by growing public deficit, output might grow but the GDP growth rate will not accelerate, while the growth rate of public debt will accelerate instead. In the first years, the debt-to-GDP ratio may fall as a result, but this will be a temporary outcome, and the ratio will continue to grow thereafter as deficit levels have grown. It's simple arithmetics."
The counter-argument is that a higher deficit may affect aggregate supply, but this is difficult to calculate and, again, there are no real-life examples. Cottarelli says: "In the 80s, [US president Ronald] Reagan cut taxes based on the same argument. As a result, the debt-to-GDP ratio grew by 20 percentage points in the following years, starting from a low base. I don't think Italy can afford raising the ratio from the current level of 132%."
The real danger
Naturally, all these scenarios assume that interest rates remain low. If they were to rise, what would be the impact on Italy's precarious debt position? "In our analysis, rates rising by around 2 percentage points would have tolerable consequences for Italy's public debt, if they do so in the context of rising inflation and growth in Europe. This is even with a slightly lower primary surplus than present," says Cottarelli.
The real danger for Italy is a recession – even a mild one, according to Cottarelli. "Our finances are not strong enough to sustain even a 1% fall in output. This would grow the debt-to-GDP ratio, most likely leading to speculative attacks on the country's debt."
The hope is, therefore, that the government does not purposely raise the deficit in order to raise spending. The anti-establishment executive has also made clear that it will seek to gain more independence on fiscal matters within the European Union. But Cottarelli says: "EU fiscal rules aren't the problem. In recent years, the EU has allowed fiscal flexibility on several fronts, taking into account the economic cycle, public investment, structural reform, immigration and natural disasters. Italy has already used this added flexibility. EU rules are more flexible than we are made to think. In fact, no country has really been penalised for falling short since these rules have been in existence.
"The real problem, in my opinion, is the reaction of markets to announcements of higher deficits," Cottarelli concludes.
Italy's public pensions: Unfinished business?
1

2

3

Currently reading

Carlo Cottarelli: "There's no spending your way out of debt"

4

5

6