As budgetary and demographic pressures start to bite, what is the future for CEE pension systems?
Key points
• Central & Eastern European countries continue to scale back second-pillar systems
• Governments blame the financial crisis, budget deficits and debt
• Critics blame initial design flaws and policy short-termism
• The success of Croatia's second-pillar highlights need for cross-party support elsewhere
Since its adoption in Central & Eastern Europe (CEE) in the late 1990s, the World Bank's three-pillar pension model has had a chequered history. Enthusiastic adoption of the funded second pillar was followed, after the financial crisis, by policy retreat to various degrees of severity. Does the funded second pillar still have a future in the region and what are the lessons for countries addressing the financing of sustainable pensions and adequate replacement rates?
Although the principles were broadly similar, CEE countries took differing approaches towards designing their systems.
The second pillar was voluntary in Lithuania and the Czech Republic, while in Estonia and Hungary it was mandatory only for new labour market entrants at the time of implementation in 2002 and 1998 respectively.
Other countries introduced a minimum age for mandatory membership, along with a maximum age after which workers could remain by choice. Slovakia's system has oscillated between mandatory and voluntary status, depending on the party in power.
Initial contribution rates ranged from 2% in Latvia, Bulgaria and Romania, to as much as 7.3% in Poland and 9% in Slovakia.
With the exception of Estonia, which added an extra contribution from employees to the second pillar, all the CEE countries financed the second pillar at the expense of the first, which was treated by the EU as additional public debt.
When the global financial crisis struck, the second pillar became an easy target for government's looking to put finances back on course.
In 2010, Hungary took the most draconian action by effectively nationalising the second pillar. Other countries, including the Baltic States and Poland, slashed contribution rates. Romania reduced the contribution growth rate, while Slovakia initiated what was to become a series of opt-outs.
In 2014 Poland went further. Arguing that the assets were public funds, it made the system voluntary and nationalised more than half of second-pillar assets by appropriating all sovereign bond holdings. The subsequent government has proposed moving a further 25% of remaining assets into the first pillar and converting the rest into a new third pillar consisting of private assets (see article in this report). The most recent policy retreat has occurred in Romania, with a cut in the 2018 contribution rate from 5.1% to 3.75%.
Mindful of public opinion, some countries, notably Hungary and Poland, accused second-pillar industry providers of generating low growth rates compared to the unfunded first pillar, charging excessive fees and failing to provide adequate pensions on retirement.
Twenty years of the second pillar
Pension taxonomy is notoriously complex, so while the second-pillar in western Europe and elsewhere usually refers to supplementary occupational pensions, in Central & Eastern Europe (CEE) it refers to a system whereby part of the first pillar contribution is channelled into a privately managed, defined-contribution investment account.
The approach was widely adopted in the region from 1998 when Hungary introduced a mandatory second-pillar system.
In the transition period from socialist command economies, kick-starting individual saving was seen as a sensible policy to share the intergenerational impact of unfunded pensions, improve financial literacy and boost local capital markets.
Yet second-pillar systems have been a hostage to political inconsistency in most CEE countries and there have been numerous policy revisions and reversals.
In particular, EU rules treat first-pillar liabilities as additional public debt but do not allow privately-held second-pillar assets to appear on the national balance sheet to offset this as would be the case with a public sovereign reserve fund.
Following the financial crisis, particularly given the need to reduce budget deficits quickly, many governments redirected second-pillar contributions to the unfunded first pillar or reduced participation in some way. Poland and Hungary nationalised second-pillar assets.
Some countries, such as Poland and Russia are now looking at a form of auto-enrolment or auto-registration pension systems.
Good policy, poor follow through
Matti Leppälä, CEO and secretary general of PensionsEurope, the umbrella organisation for European occupational pensions, argues that the second pillar "effectively 'worked' throughout the spectrum of CEE countries. Unfortunately, the decisions to unwind these pension saving systems have for the most part been taken on other grounds rather than their efficiency."
For Agnieszka Chłoń-Domińczak, assistant professor at the Warsaw School of Economics' Institute of Statistics and Demography, a combination of contribution levels, transition and other costs eventually led to the demise of the Hungarian second pillar and the dramatic scaling back in Poland.
"The main problem with Hungary's and Poland's pension funds was that they required outlays to finance the growing deficits in social insurance systems, along with the lack of, or delays in, policies to decrease those deficits – for example, removing early retirement, raising retirement ages and promoting longer employment," Chłoń-Domińczak explains.
"In Hungary the level of fees and costs – one of the arguments that supported the government's decision – were very high, while the system was largely intransparent with regards to those costs," she adds. "But these were all design elements that were easy to correct."
Using the second pillar to stabilise public finances has, in any case, proved to be a short-term solution. In Poland, according to Eurostat, general government debt fell from 55.7% of GDP in 2013 to 50.2% the following year after the sovereign bond removal. Two years later it had crept up to 54.1%.
Capital markets
One of the side-effects of introducing privately run pension funds was to strengthen local capital markets by the creation of a new class of domestic institutional investor.
In Croatia, for instance, pension funds are now the second-biggest institutional investors after banks. In Poland, says Chłoń-Domińczak, "the second pillar supported the development of the financial market and created strong national institutional investors – that was a value-added that was all too easily ignored by the government when it decided to scale it down. Making the Polish system voluntary and introducing the slider mechanism means that there are de facto no new inflows into the Warsaw Stock Exchange."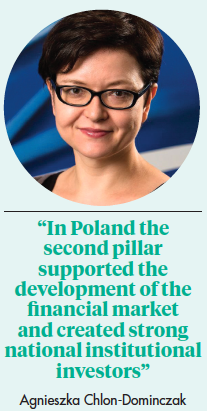 For Chłoń-Domińczak, the most important lesson learned from CEE pensions experiences is the need for investment in financial education. "Frankly speaking, given the demographics, public pension systems will be less and less generous. There is no other option to keep them sustainable, which means that individual strategies for retirement will become more and more important.
"The design of the system should be very careful from the perspective of building trust in pension management institutions. All solutions should be transparent and reduce cost levels."
She points to the costs incurred by pension management companies keeping individual records, and the associated issue of trust in those companies if they then share that data with other parts of their financial group. In her opinion, Sweden's approach of using the Premium Pension Authority (PPM) to keep individual accounts, and private fund managers to invest the assets, has resulted in a transparent, less costly and more efficient system.
The range of CEE experiences holds other lessons for countries seeking to introduce funded pillars. "Creating a mandatory second pillar to substitute a part of the solidarity pillar requires fiscal space and spending discipline," says Zoran Anušić, World Bank senior economist and one of the architects of the Croatian pension system. "Unless there is an explicit public choice for the second pillar, supported with pension system parameters immune to political cycles, the risk of a second-pillar reversal will remain high. In that case, a country may be on a safer side by building up voluntary individual savings through add-on auto-enrolment, voluntary opt-out and contribution matching models."
Reflections of a World Bank staffer on CEE pensions
"Pension reforms in the CEE region in the past 20 years have been commonly labelled as the 'World Bank model'. I was in the Croatian government 25 years ago and contributed to the pension reform before the World Bank engaged in the region.
"The expression 'World Bank approach' is in many cases inaccurate. In pension reform one size did not fit all, and in my opinion this is how the bank behaved.
"In Hungary and Slovakia the expected outcomes were perhaps too optimistic and most of the 40-50 cohort switched based on expectations that were too optimistic. In Croatia the approach was more moderate towards the benefits for this age group, motivating less than 30% of them to switch.

"In fact, the intergenerational deal of the mandatory second pillar got me hooked on pension reforms.
"What does the mandatory second pillar do? If there is a 20% contribution and 10% is saved and invested, this is a better and more responsible intergenerational approach; I will be responsible for half my income and not charging it on my children.
"There were objective factors, such as the financial crisis, and in many countries the failure of the second pillar was the incapacity to finance the transition deficit other than by public debt.
"In essence the model remains one of the options that some countries are still considering, believe it or not."
Zoran Anušic is a World Bank senior economist and was an architect of the Croatian pension system in the late 1990s. This is an edited version of remarks he made at the annual conference of the Zagreb Stock Exchange in October 2017
Auto-enrolment
Poland is looking to use auto-enrolment when it launches its Employee Capital Plans (see article in this report). After the previous government used opt-in as the default for workers who wanted to remain in the second pillar in 2014, thereby achieving its goal of minimal take-up, the incumbent administration will use an opt-out model to maximise the participation rate.
In Russia, contributions to the compulsory system, which come exclusively from employers, have been frozen since 2014, with the moratorium set to continue until 2020. In the meantime, the Central Bank and the Finance Ministry have been working on a replacement system, Individual Pension Capital (IPC), based on voluntary contributions through auto-enrolment.
Initially, the IPC's architects wanted an employee opt-out (auto-subscription) system, but opposition from within the government has replaced this with an employee opt-in (auto-registration) enrolment. The Russian credit-rating agency ACRA estimated that auto-subscription would draw RUB30bn-50bn (€430m-718m) in its first year of operations, but the alternative model would bring in substantially less.
Even opt-out auto-enrolment is no guarantee of a system's high retention. Anušić says: "The auto-enrolment approach is still to be confirmed and factors affecting it identified. In the UK, the opt-out rates are low, in Turkey they are above 50%, so experiences so far are very different."
He continues: "Meanwhile, the existing voluntary opt-in schemes have attracted less interest than expected in new EU member states and in the SEE region, regardless of country experiences with mandatory second pillars. For example, in Serbia total voluntary pension savings cover 10% of the employed and reach close to 1% of GDP, while in Croatia, after 15 years of the second pillar experience, savings are at 1.2% of GDP with 20% coverage. The savings preferences in the region still place voluntary pension funds at the bottom of the list."
The proposed Pan-European Personal Pensions product (PEPP) could add to the suite of retirement vehicles. At PensionsEurope, which as of late November was still finalising its position on the PEPP, Matti Leppälä told IPE that the product could be useful for workers who do not have access to workplace pensions. This includes "the self-employed and workers in new forms of employment, or where personal pensions offered at the national level are not reliable or attractive, which is the case in many CEE countries. The PEPP could be especially useful for young European citizens who more and more often have a career in multiple EU member states."
However, he does not see the PEPP as a panacea. "It would be better to further promote and strengthen occupational pensions in those countries instead of focusing on a voluntary private pension product," he explains. "There can also be a risk that the PEPP will move contributions from the second to the third pillar, especially if member states decide to grant a favourable tax treatment. This, of course, should not be the outcome of the PEPP as it aims to generate additional pension savings."
Croatia: an example of second-pillar success
Croatia's mandatory second pillar, introduced in 2002, has remained stable and has so far escaped the policy retreat experienced by other countries, including the asset appropriations that took place in Hungary and Poland.
"In Croatia, the second-pillar individual accounts have been strongly perceived as individual property and one attempt to nationalise them received strong public opposition and failed," says Zoran Anušic, World Bank senior economist and one of the architects of the Croatian pension system.
Conservative assumptions and realistic expectations have also played a role in the system's continuation. "The launch of the second pillar in 2002 was promoted as a prevention of a decline in replacement rates rather than a significant growth in future pensions," says Anušic.
The expected rates of return were advised to be set below 3%. In reality, as of 2017, they have averaged 3.7%. Furthermore, while the system was mandatory for workers below the age of 40 and voluntary for those above, older workers were advised to weigh up the financial pros and cons of joining. As a result only 30% of 40-50-year-olds signed up.
For Anušic the decisive factor in the uninterrupted functioning of Croatia's multi-pillar system was the continuous support of the two strongest political partners. "The Croatian centre-right legislated for the second pillar in 1998, while the centre-left launched it in 2002, and both have been nurturing it since," he notes.
But challenges still remain, Anušic adds: "The second-pillar contribution rate, initially programmed to increase to 10%, has remained at the current 5%. Furthermore, since 2008 the new single-pillar, pay-as you-go (PAYG) pensioners have received a supplement of 27%, which has not been equally applied to the PAYG benefit part of the multi-pillar pensioners. This bias towards the PAYG benefit is scheduled for review and resolution by the Croatian government in early 2018."
CEE: A system in flux
1

Currently reading

CEE: A system in flux

2

3

4

5

6