A recent panel with members of PensionsEurope's CEEC Forum discussed regional pensions issues
Key points
• Shadow economies and labour migration are the key issues in Central & Eastern Europe
• The Pan-European Personal Pension (PEPP) is cautiously seen as a possible pan-European solution
• Lack of financial education and awareness are major concerns
Although many Central & Eastern Europe (CEE) countries introduced a funded second-pillar to their pension system based on the World Bank model in the 1990s and 2000s, this is where the similarity ends. Since then, each country has reacted differently to demographic and fiscal challenges – especially since the financial crisis.
"The problem in many countries was that it was just a mandatory transfer of social contributions to a funded pillar but not a private pension with property rights, so governments could nationalise it," said Matti Leppälä, secretary general of PensionsEurope, on a panel at IPE's conference in Prague in November. "The nationalisation of pension assets in some countries was also caused by European economic restrictions."
Leppälä added: "European-level legislation and economic governance has had an impact on national decisions to alter parameters in the first pillar. Across almost all of Europe retirement ages have been adjusted. If this works with the first pillar, European legislation should also be able to promote supplementary pension systems. But it is difficult and will take time."
The Pan-European Personal Pension (PEPP) product might be a way to harmonise pension offerings – including in the CEE region, Leppälä believes, even though he points out shortcomings in the first draft.
Csaba Nagy, CEO at the OTP Mandatory Private Pension Fund in Hungary and chair of the Pensions-Europe's CEEC Forum, was less convinced: "With PEPP issues like taxation, the payout phase or the investment choices are still completely unresolved," he said at the meeting.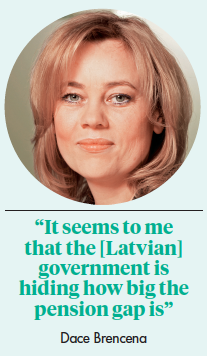 But he saw the benefits of some standardisation: "It is very difficult to compare returns of pension funds from various countries in the region as all have different investment restrictions. More unified investment legislation would help make pensions more transparent."
Dace Brencēna, CEO of SEB Pension Fund in Latvia, added: "For providers it is not attractive to sell the PEPP because it has guarantees that cost money for the company and lower the return. Why should they sell it?"
She also pointed out one of the major problems many audience members at the panel also noted for their countries – financial education and awareness. "In Latvia only a small minority has bought private pension products, even after 20 years. I do not believe that this new PEPP will stimulate private savings. The PEPP would only be useful combined with auto-enrolment or maybe special payments to a PEPP from employers," Brencēna says.
Nagy added: "We have to increase financial awareness and tell people sooner or later they have to save."
For Brencēna the fault also lies with the government. "In Latvia we begged the government to release data on the first pillar pension level but it seems to me that the government is hiding how big the pension gap is. Finding it out yourself is possible but takes a lot of time and effort. Politicians are afraid to be honest about pensions because they fear to lose their mandate and votes."
This observation was supported by most of the delegates in the room.
Leppälä confirmed that many individuals are misinformed: "Many people, and even some pension industries, are not aware of the cuts their country has made to the state pension. We need to enable the people to save and to enable the countries to get to the right solution."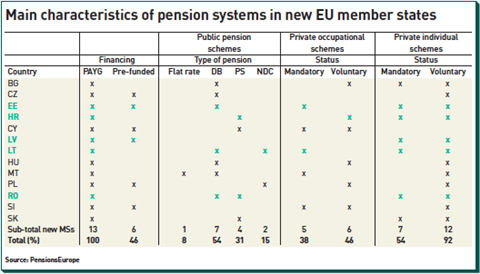 Labour issues
Other common issues are the shadow economy and outward labour movement. Brencēna warned: "The real political risk is in the high share of the shadow economy in the region. The people get a minimal salary and they are only paying from this into pension funds. This means upon retirement they will only get half of that minimum as a pension. So in the future this will be a real problem."
Nagy agreed, citing an example from his home country. "Many Hungarian workers are in the UK, so who will pay the state pension from the pay-as-you-go-system in Hungary in the future. All of the eastern European countries have this problem of labour movement."
Here, Leppälä feels that a standardised European product could also help. "When it comes to PEPP people are arguing only the 1% of mobile workers would need it. But what about the millions of CEE people actually living and working abroad – it would be good for them too."
Nevertheless, Brencēna pointed out, companies like SEB are already serving expatriates by selling pension products to Latvian workers abroad.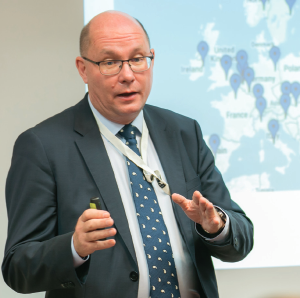 Speakers agreed that dialogue between different countries was necessary given the heterogeneity of the pension systems and problems. Most even agreed a global perspective was necessary to learn from other governments' experiences.
Leppälä noted some of the problems faced by CEE countries were also a major concern in Latin America: "There, pension funds
also had to deal with shadow economy and tax issues. So there are examples of solutions that are not perfect, but from which other countries can learn. It is good to share information: many countries are dealing with exactly the same problems."
Leppälä added a note of caution voiced by many in the room. "Not all systems work in every country. For example, the Danish or Dutch model to integrate pensions in collective bargaining agreements does not make sense in most of the CEE region, as there are no such agreements in many countries."
Once example that could serve as a blueprint is the UK's auto-enrolment system. "Some kind of auto enrolment is the only solution that will help the region with the demographic problem," Brencēna said.
Brencēna added that she had requested the OECD should include a recommendation for auto-enrolment in their mission report on Latvia, as it did for Germany, but it would not.
A crucial obstacle for mandatory or quasi-mandatory saving schemes is income levels, said Leppälä. "Wages have fallen since the 1970s and this makes it difficult for people to save for their retirement to begin with."
CEE: A system in flux
1

2

3

Currently reading

CEEC forum: Unique and varied problems

4

5

6