Sunday 23 June marked three years since the UK voted to leave the European Union.
While the method of exit is still uncertain, the impact on the UK's currency is clear. In the space of those three years, sterling has fallen 14% against the dollar and 13% against the euro, according to Schroders.
As of this morning, £1 is worth €1.12 and $1.27. On 24 June 2016, the day the referendum's result was confirmed, these values stood at €1.23 and $1.37, according to Bloomberg data.
This is marginally higher than the pound's post-Brexit low point of €1.08 on 25 August 2017, shortly before the third round of negotiations between the UK and the EU began.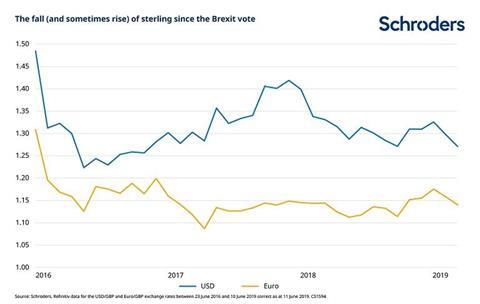 However, while the currency's weakness may have made travelling overseas more expensive for UK holidaymakers, it has provided a boost to many UK companies. More than two thirds of the revenues generated by FTSE All Share companies are generated overseas, according to Schroders.
The UK-listed asset manager said the FTSE All Share index rose by 28.1% between 23 June 2016 and 15 June 2019.
UK equity returns outstripped those of Japan, Europe and emerging markets indices in that period, Schroders' data showed, but lagged behind the US and China.
"The relatively stable global economic backdrop has been helpful," Schroders stated in a commentary published earlier this week. "Global investors have bought into the so-called Goldilocks scenario: a 'not too hot, not too cold' combination of stable growth, benign inflation and low interest rates.
"Support for the UK market and the economy came from the Bank of England, which has kept monetary policy loose, ensuring businesses and markets have access to funding."
However, with Brexit itself still unresolved, Schroders' senior European economist Azad Zangana warned of "real risks" to the UK economy ahead.
Economic growth "remains sluggish", he said, and could be hampered further when companies seek to reduce the inventories they have built up in preparation for a 'no-deal' Brexit.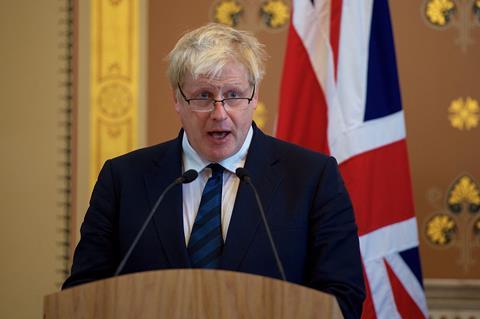 "The resignation of prime minister Theresa May has raised the risk of a no-deal Brexit," Zangana added. "If the bookmakers' favourite… Boris Johnson becomes the new prime minister, then the hard-line Brexiteer could take the UK out of the EU without a deal.
"If this were to happen, we would anticipate the economy to slow and fall into recession around the turn of the year. While the Bank of England would probably cut interest rates eventually, the expected depreciation in the pound would cause inflation to spike.
"The household sector has already run down its safety buffer in the form of its savings rate, therefore a contraction in demand is very likely."