The addition of China A-shares to the MSCI Emerging Market index is symbolically important for China and could lead to improvements in regulation and corporate governance
Key points
• China A-shares are finally to be added to the MSCI Emerging Markets index starting in 2018.
• Analysts in Hong Kong say the europhia is misplaced.
• To secure full inclusion in global indices, the country will have to open its capital account.
After four years of consultations, China stocks known as A-shares are finally to be added to the MSCI Emerging Market index in a two-step process starting in 2018. The symbolic importance cannot be overlooked. It signals inclusion of the world's second-largest equity market, with total market capitalisation of $7.5trn (€6.3trn) – at the time of writing – into the global equities investment universe.
For a long time, even today, some global fund managers have continued to shun A-shares for many reasons, not least sometimes questionable financial transparency, corporate governance and official interference. Such managers have used China-related stocks – H-Shares listed in Hong Kong, and Chinese companies, such as Alibaba and Tencent, listed in New York – as proxies to invest directly into China.
MSCI already has a 27% weighting of Chinese stocks, listed outside China, included in its emerging markets index. With the inclusion of A-shares in the MSCI EM index next year, the global investment community, which is responsible for an estimated $1.6trn in funds under management, and which tracks MSCI indices, will be obliged to buy A-shares.
Globally, MSCI indices are one of the most popular benchmarks for investment in global equity markets. Alicia Garcia Herrero, Natixis chief economist, Asia Pacific, says: "It opens a new door for asset choice. "The trend has, so far, been a treasure hunt for specific stocks, and these have observed a big increase in foreign ownership."
From the perspective of asset managers and pension funds, she adds, the fact that MSCI agrees with the positive improvement in accessibility and capital movement may ease part of the concerns held by investors. "Although there are corporates with huge potential in A-shares, concerns on corporate governance and the suspension system remain a key concern to some investors, especially passive funds. Large corporates are generally perceived as safer in this regard," she explains. Garcia-Herrero warns that risks remain in areas such as suspensions and daily limits.
Xian Quangqiang, Hong Kong-based fund manager for First State Stewart Asia, says: "The MSCI inclusion will be on a small scale at the outset, but it will help improve global interest in China's A-share markets.
"Furthermore, China A-share companies and regulations will be subject to an increasing level of scrutiny post-inclusion, which should be beneficial from the longer-term development perspective."
But, he adds: "It will make little difference to how we invest in China A-share markets. We continue to follow a bottom-up, long-term and absolute-return approach. Our focus remains on quality companies with long-term sustainability in the markets." On behalf of its clients, the First State Stewart Asia team has aggregate exposure of more than $1bn to China A-share markets. Besides Qualified Foreign Institutional Investor (QFII) mandates, Xian says First State invests through the HKEX Stock Connect programmes for Shanghai and Shenzhen-listed stocks.
The MSCI decision in June prompted Chinese stocks to hit an 18-month high. But analysts based in Hong Kong say such euphoria is misplaced.
Chi Lo, BNP Paribas Asset Management's Hong Kong-based senior economist, describes MSCI inclusion as having "a symbolic significance" to China because it is a signpost for international recognition of China's market liberalisation.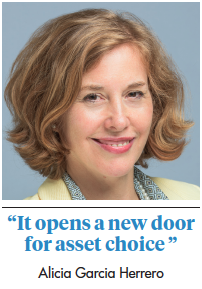 Asked if the initial lift in Chinese equities following the MSCI announcement can be sustained, Garcia-Herrero says: "Whether the overall price soaring can continue depends on two factors: rebuilding the confidence of domestic investors, with a very big portion as retail investors; and attracting foreign capital."
Meanwhile, Lo says any upward price movement is likely to be based on domestic reasons rather than due to the MSCI move.
"The MSCI inclusion will have little impact on the Chinese onshore market because the amount of passive buying, even assuming international fund managers all mark their portfolio weighting on Chinese shares to the MSCI benchmark, is small," he says.
Initially, MSCI will add 222 large-cap domestic Chinese stocks to its emerging market index. This represents just 5% of the Chinese stock markets and will raise China's weight in the MSCI EM index by only 0.73%.
Lo expects the inclusion to attract $15bn of foreign inflow in the first year. If MSCI eventually decides on full inclusion of A-shares, he says it will bring in $40bn a year.
But Lo says full inclusion in global indices could take up to 10 years. By then, according to market estimates, there could be a total inflow of $360bn-$400bn to China's stock market.
To secure full inclusion, he adds, China will need to open up its capital account and increase foreign ownership of stocks more significantly than is the case today. "A lot more needs to be done in coming years to gain more and full inclusion in MSCI," he says.
Lo notes that it took South Korea six years and Taiwan nine years to win full inclusion in the MSCI indices. Both Korea and Taiwan started with much more open capital account positions than China has today.
Overall, says the Morgan Stanley research team in Hong Kong, the MSCI inclusion is an important milestone in the integration of China's equity markets with the rest of the world.
But being on the MSCI index is expected to have "only a modest positive impact on the Shanghai Composite, says Morgan Stanley, "of the order of 50 to 100 basis points" in the short term.
According to Geoff Dennis, UBS emerging markets strategist, financial stocks will dominate MSCI inclusion selection, followed by industrial stocks and consumer discretionary.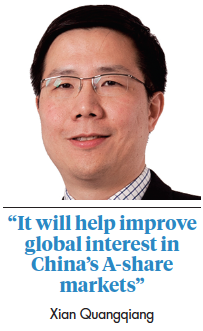 In a client note, Natixis says: "We find that access through the MSCI index does not ensure the best underlying (assets), at least in terms of corporates' financial health.
"Shenzhen Stock Connect is far better. The key reason is that financials have the largest weight in MSCI's new inclusions, and these have been clear underperformers.
The Natixis house view is that Shenzhen Stock Connect offers accessibility to Chinese stocks that have the best average repayment ability and profitability.
"This basically means that China A-share entry into the MSCI index might still not offer the best option for investors compared to existing ones, in particular Shenzhen Stock Connect," Natixis says.
Asked about the likely ramifications of MSCI's decision on H-shares listed on the Hong Kong Exchange, First State's Xian says: "It is unlikely to have an impact, as investors invest in both or either of these markets, depending on client mandates.
"H-shares and A-shares are also subject to different regulatory regimes. For certain investors, the inclusion would enlarge their investment universe, since most companies in the two markets do not overlap," he adds.
Garcia-Herrero says: "Although the HSI [Hang Seng index] is increasingly correlated to Chinese corporates, we believe H-shares are still different from A-shares in many ways, such as the openness of capital flows and regulations.
"Therefore, we do not anticipate any adjustment to the HSI due to MSCI's inclusion of A-shares.
"The key implication is to increase the credibility of the Stock Connect Scheme, rebuild investor confidence through the MSCI accession, and hence attract foreign capital," she says.
"Ideally, inclusion in MSCI could encourage reform and improvement in corporate governance. With better transparency and improved confidence by foreign investors, this should have a positive impact on capital inflows into China."
Chi Lo, though, is doubtful. "I don't think MSCI listing will make too much difference to China's corporate governance, because the amount of foreign participation is very small, so the amount of international market discipline going into the Chinese market is also very small."