Dutch pension funds with assets below €5bn most often incorporate the "climate action", "clean energy", and "decent work" Sustainable Development Goals (SDGs) in their environmental, social and governance (ESG) policies, according to a new study.
The study was carried out by custodian bank Caceis and the Dutch association for sustainable investment VBDO and covered 32 medium-sized and small pension funds in the Netherlands. Some 58% of these invest at least part of their assets according to one or more of the SDGs.
Climate Action (SDG 13) is the most popular SDG, with half of the surveyed pension funds including it in their ESG policy. Clean & Affordable Energy (SDG 7) and Decent Work & Economic Growth (SDG 8) jointly come second with 32%.
Maurits Daarnhouwer, product development manager at Caceis, said pension funds tended to choose these three goals because they were easy to measure.
"For example in the form of [avoidance of] carbon emissions, a certain amount of renewable energy that is generated, or certification of suppliers to check whether they meet certain labour standards," he said.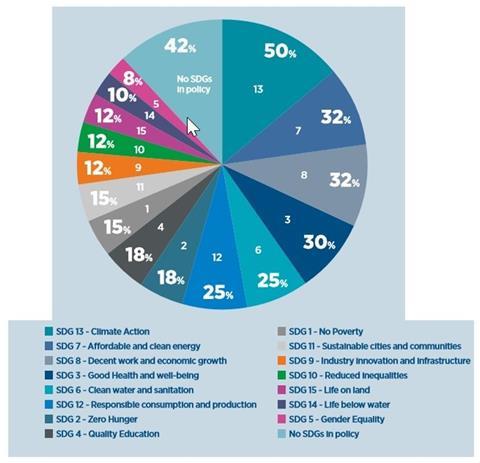 SDGs 3 (Good Health & Well-Being) and 6 (Clean Water) are also popular with pension funds (see chart), while Life on Land (SDG 15), Life below Water (SDG 14) and Gender Equality (SDG 5) are only chosen by an handful of the Dutch funds.
The SDGs 16 (Peace, Justice & Strong Institutions) and 17 (Partnership for the Goals) were not chosen by any of the funds included in the study.
Pension funds often select SDGs following member surveys in which they ask which SDGs they want to be reflected in the fund's investment portfolio.
Pensioenfonds Detailhandel, the fund for retail workers, has modelled its entire equity portfolio according to the SDGs. Funds that don't apply SDGs say they find it difficult to translate them into concrete investments, according to Daarnhouwer.
To read the digital edition of IPE's latest magazine click here.