Empty streets and squares are not a usual sight in Italy, a country whose people love to socialise. The deadly COVID-19 pandemic has even taught Italians to make orderly queues outside supermarkets. The reality is that while Italians are not good at prevention, they are outstanding at reacting to emergency situations, thanks to their experience dealing with earthquakes and other natural disasters.
The nature of this unprecedented crisis makes it particularly difficult to provide a comprehensive account of what is happening. Most people are living in isolation, confined within their homes and neighbourhoods.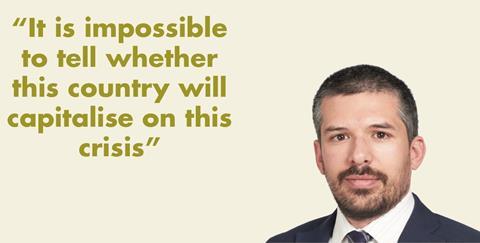 Sadly, although everyone is exposed to the virus, each person is experiencing its impact differently. Someone fortunate to have family and decent accommodation, as well as a secure job, can use the time spent in isolation to reflect on what might come next. Others are experiencing untold stress, especially if the crisis has forced them to stop working.
The international media have portrayed a positive fighting spirit on part of the Italian people. Flags are, indeed, flying from countless balconies and songs are being sung across buildings.
Yet, it is impossible to tell whether this country will capitalise on this crisis, by sorting out its finances, cutting red tape and kick-starting investment. It will partly depend on whether the European Union will stick together and realise that our country may need help more than others.
The early signs are promising.
From what can be seen, Italian institutional investors are behaving no differently from their peers abroad. There is an urge to keep calm and focus on the long term but also a need to react to the extreme market moves.
At the time of writing on 23 March, Italy does not yet seem to have reached the peak of virus spread. Meanwhile our doctors, nurses, health workers, police forces and other key workers are behaving just as we know them to do in such situations. They are showing incredible professionalism and strength of character to go beyond what is required of them. If that is a sign of what Italians are capable of, this country will at least pick up where it left off before the crisis – far from perfect, but much more dignified than some claim it to be.
Let us hope that Italy serves as an example to Europe as a whole. If so, the continent will do what it has done several times over in the last century, which is to rise from the ashes and try, if not always successfully, to reinvent itself.
Carlo Svaluto Moreolo, Senior Staff Writer
+carlo.svaluto@ipe.com
To read the latest IPE Digital Edition click here