There seems to be a consensus that COVID-19 will bring momentous change to the global economic order. Commentators point to several developments to support this idea.
One claim relates to government intervention in the economy. Many economists contend that government intervention, particularly in developed economies, will increase in response to the recession caused by the COVID-19 shutdowns. Such intervention could come in the form of infrastructure expenditure or direct investment in companies.
While the state's economic role may increase, this would not represent a radical change. Government intervention was already huge. Protectionist measures might escalate but that would represent continuity rather than change.
There is a sense the labour market will change with remote working becoming commonplace. This may have some bearing on certain sectors of the economy but it relates to a small portion of the workforce.
Consumer preferences might change slightly, with the travel and entertainment sectors most affected. But this could be temporary, particularly if effective ways to control the pandemic are developed, or if it retreats altogether.
The COVID-19 crisis does seem to be accelerating existing trends. One of these is the growth of global debt. This warrants reflection as it begs the question of what the effects of this unstoppable rise will be and how the world will eventually deleverage.
The main effect of such high levels of debt is likely to be stagnating growth, particularly in developed economies, continuing the recent trend. The traditional options of inflating the debt away or restructuring do not seem to be currently available. In addition, there are questions relating to the geopolitics of global debt. China has become one of the largest creditors to the US and to emerging economies.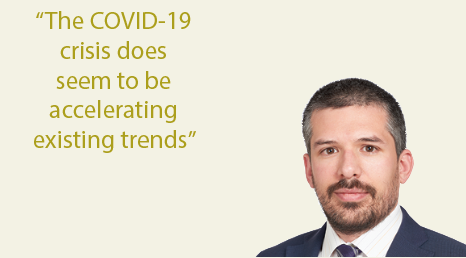 Generally speaking, COVID-19 has not changed the conditions in which institutional investors are struggling. Low rates, low growth, high volatility and central bank intervention on a massive scale keep making asset allocation a huge challenge. An overarching response by investors has been to load up on risky credits, which exacerbates the rise of global debt, in a potentially vicious circle.
The post-COVID-19 economy may not be all that different from its previous forms. However, the material questions are the same as before. Perhaps the most crucial are what it will take for productivity to start growing again and whether the ambitious green investment plans touted by some governments will accelerate growth.
Carlo Svaluto Moreolo, Senior Staff Writer
carlo.svaluto@ipe.com