Gail Moss outlines what the UK can learn from Scandinavia as it seeks to implement a pensions dashboard by 2019
At a glance
• The UK plans to develop a single pensions dashboard by 2019.
• There are key lessons from Sweden, where 50% of the working population now uses its pensions dashboard.
• User-friendly design is key, simple text and visuals are essential.
UK pensions provision has just suffered another blow.
The introduction of the new state pension on 6 April 2016 was touted by the government as a big increase on the previous arrangements. But the new system introduces a minimum of 10 years' National Insurance contributions before a person can claim any state pension, whereas under the old system there was no minimum qualifying period.
According to the charity Age UK, this means that 70,000 people in their fifties and sixties are set to miss out entirely on the new state pension, by 2030. Furthermore, recent figures from the Pensions Policy Institute show that only 39% of men in the UK are currently accruing a private pension, and just 36% of women.
In order to tackle this shortfall, the UK's 2016 Budget included plans for the pensions industry to fund, design and launch a pensions dashboard by 2019. This is intended to address the problem of pension saving by aggregating data from different sources in one place, providing a one-stop-shop for savers anxious to know what their pension entitlements will be at retirement.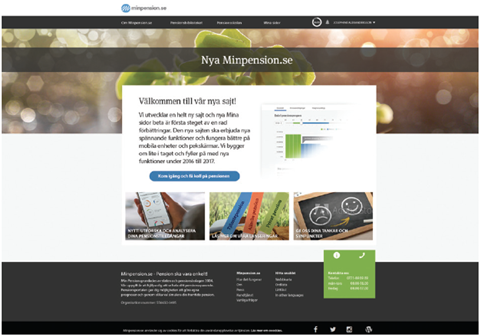 In launching this tool, the UK will be following in the footsteps of Sweden, whose own model has been successful, with 50% of the working population registered to use it. Sweden's journey has not been entirely smooth, however.
The minpension.se dashboard is run by Minpension, a not-for-profit organisation funded by Swedish pension providers and the government. It was established to encourage pension product co-ordination.
Minpension takes a data feed from every Swedish commercial pensions provider, as well as the state. This allows individuals, once logged in, to see their pension rights from all sources and their combined expected income once they retire.
Even so, once the dashboard was set up a decade ago, the first few years were disappointing. Registrations were lower than expected and many users never returned once registered.
In 2013, Sigma AB, the Swedish IT consultancy which had set up the dashboard, commissioned its subsidiary Sigma UK – a user experience company – to analyse the problems and resolve them.
"As a company, we design websites and other digital services to make them simple and intuitive to use," says Shaun Gomm, commercial director, Sigma UK. "We considered that the dashboard wasn't presenting information in the most usable way, and therefore wasn't giving people the information they really needed, or encouraging them to stick around."
To find out what users liked and disliked about the website, and how they would like to interact with it, Sigma UK researched a wide variety of people, both users and non-users.
This was achieved by Sigma's social psychologists and user research specialists using structured conversations to find the best ways to elicit information from an individual – for example, avoiding leading questions.
Once the results were analysed, the interface was redesigned to make it more usable. The next step was task-based observational 'road testing'. Participants included individuals who were registered with a pension provider and others who were not, and across a wide range of ages.
Those taking part were asked to accomplish certain tasks – for example, registering with the dashboard, then finding out how much pension they would get if they retired at a specific age. Participants were asked to give a running commentary on what they did and did not like.
"One of the challenges is that the people a dashboard needs to engage with most are the ones who don't readily engage," says Gomm. "That includes the young, people from ethnic minorities and those from less affluent socio-economic backgrounds. The most engaged are more likely to be white, male and in their late 50s or early 60s who already have a fairly good appreciation of their pension status."
A common complaint from participants was that not enough data was provided visually – instead, there was a lot of text and numbers – so it was difficult for them to extract key information.
Sigma completely changed the website so that when someone logs in now, the first thing they see is a chart showing them their expected pension when they retire. The data can then be manipulated to show how their level of pension income is affected by different projected scenarios – for instance, if the individual moves job and earns a different salary, or changes their retirement age.
While many of these lessons can no doubt be used to help the UK set up its own dashboard, there are differences between the two countries' pension sectors that will need special attention.
"It is encouraging that the UK is going to do something by 2019," says Gomm. "However, in Sweden, there are only between 30 and 40 pension providers, whereas in the UK there are literally hundreds, and they are more diverse. So logistically, it would be more difficult to achieve the necessary IT and other infrastructure for the UK than it was for Sweden."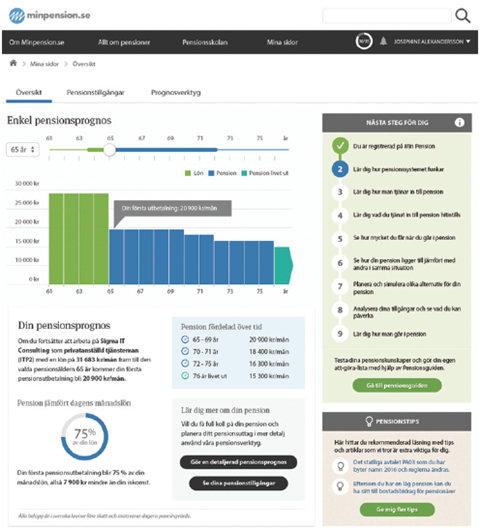 Furthermore, Sweden already had a precursor for the dashboard in place – the orange envelope. This was developed in the 1990s with the agreement of all pension providers.
The envelope is effectively an offline version of a dashboard and is sent out annually by the Swedish government to all citizens. It gives a snapshot of all the individual's pension provision, using information from all relevant pension providers.
"The orange envelope established the concept that all information could be pooled together," says Gomm. "But the dashboard still needed the government to encourage pensions providers to recognise that there was an issue. They used a carrot-and-stick approach – they told the industry it was going to happen, so they could either join in and influence what happened, or stay out and get left behind."
He adds: "It may be that the UK government has to adopt a similar approach, especially as there are a number of potentially competing interests in the UK industry."
Gomm is also sceptical about the trend for some UK providers to set up their own versions of a dashboard for customers. "It may be that they need to run their own portals to promote their own products and services," he says. "And it will be several years before the UK gets a standardised dashboard with the features of the Swedish system."
He concludes: "What is needed is a system which aggregates the data, leading to a snapshot of someone's situation which is easily understood. If the UK gets that right in the first few years, it will be doing well. The next steps after that would be providing a prognosis, then encouraging people to take action."
Meanwhile, Sigma is continuing to work on the Minpension website, including developing a pension library – to provide reference materials – and also a pension school, so members can learn about pensions.
"We are trying to get people to understand that they can influence their pension by taking action," says Gomm. "The user engagement work we did showed that there are life triggers which affect pensions – moving house, getting married, buying a house and having children – which should be always be a prompt for returning to the pensions dashboard to see how your pension is affected and what action to take."
PKA's dashboard tones down the technical data
Most Danes review their pensions online, and the Pensionsinfo website (www.pensionsinfo.dk) – effectively a dashboard – is key.
All pillars – state, occupational and commercial – supply information on the pension rights held by members, so an individual can log on to estimate their combined future income.
More information and interactive tools are available from individual pension fund websites. PKA's application – PKAtjek (www.pka.dk/pkatjek/) offers its members extra insight by integrating data from Pensionsinfo.
Good interface design is vital, but Britt Brandum, head of member services at, PKA, warns that one pitfall is to provide too much technical information.
"We want to get our members engaged, so we don't talk about 'educating' them," she says. "We don't want them to think they should be pension experts – we should be the experts."
She likens PKA's relationship with its members to getting a car mended: "You tell the mechanic what's wrong, but you don't have to know how to fix it yourself. That's the mechanic's job."
Brandum says it is crucial for the website not only to explain the numbers, but also to show how these affect the member's hopes for their future – for example, if they wish to stop work gradually, or when they want to stop altogether.
"You have to show people what pensions mean in terms of living their life," she says. "So the text is important, and it's good to use pictures as well."
PKA's research shows that members need a retirement income of about 70% of their final working salary. So if a member finds out from Pensionsinfo that their income is only 55% of final salary, they can take steps to raise it – for instance, working longer or making extra contributions.
Brandum says the facility has also become a tool for female emancipation; women make up 90% of PKA's membership. "They want to be independent," says Brandum. "They say, for example, 'I don't want to be forced to live with the man I am with now, I want to be in charge myself'."
However, advice is not given on the website, but by telephone or e-mail. Brandum says: "Most decisions involving pensions depend on how your life develops, and when your life changes, you have to change the advice. That's difficult to do online."
So PKA also runs roadshows across Denmark where advice is given via seminars, while members can also have a five-minute face-to-face chat with an adviser.
Brandum's advice for other countries planning a dashboard is: make things simple.
"As professionals, we have to go into a lot of detail," she says. "But, if you want to involve members, keep it at the right level, and take responsibility for whatever you omit, if necessary making the appropriate disclaimers."