Compenswiss, the manager of Switzerland's social security funds, has turned to IPE Quest to search for a core European real estate fund.
According to search QN-2555, Compenswiss is looking to award a €50m-100m mandate as part of a bid to diversify its global real estate portfolio.
It wants to invest in in high-grade real estate across Europe via an open-ended pooled fund with a multi-sector/country strategy.
The fund should have maximum leverage of 50%. Compenswiss said it was not interested in listed REITs.
Interested parties should apply by 22 July at 5pm UK time.
Large Swiss scheme targets global real estate
A "large" but otherwise unidentified Swiss pension fund is looking to allocate CHF200m (€89m), with potential for further growth, to global real estate equity via unlisted funds.
Search QN-2554 stated that the style should be core or core-plus. The pension fund wants a veto right on individual investments.
Applicants should have at least $7bn (€6bn) in assets under management as a firm, and $3bn in the asset class. The deadline is 7 August at 5pm UK time.
€1.3bn FX-hedging contract up for grabs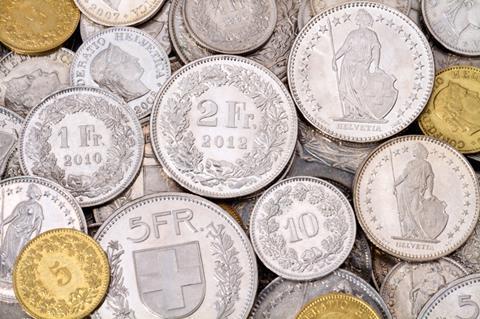 A third IPE Quest from a Swiss pension investor is for an FX hedging mandate of around CHF1.5bn (€1.33bn).
According to QN-2556, the successful applicant would be responsible for implementing a passive foreign exchange overlay on exposure to currencies other than the US dollar, euro and sterling. The list currently comprises the Australian, Canadian, Danish, Hong Kong, Israeli, Japanese, Norwegian, New Zealand, Swedish and Singapore currencies, and should be hedged to Swiss francs.
The unnamed pension fund hedged the main currencies in-house, it said, and the winner of the mandate was expected to use the same infrastructure.
The deadline for applications is 9 August at 5pm UK time.
Nordic insurer seeks China A-shares
Finally, according to QN-2557, an unnamed Nordic insurer wants to allocate to China A-shares via a UCITS-compliant pooled vehicle domiciled in Luxembourg or Ireland. It specified that a segregated mandate was not of interest.
The mandate is for a unit-linked platform, so there is no size for the initial investment.
The benchmark will be MSCI China A index. A tracking error of at least 3% is expected, but no more than 10%.
Applicants should have at least $3bn in assets under management as a firm and $20m for the asset class. The deadline to apply is 1 August at 5pm UK time.
The IPE news team is unable to answer any further questions about IPE Quest, Discovery, or Innovation tender notices to protect the interests of clients conducting the search. To obtain information directly from IPE Quest, please contact Jayna Vishram on +44 (0) 20 3465 9330 or email jayna.vishram@ipe-quest.com.