Italy's second-pillar pension system is growing and strengthening, but several areas of concerns remain
KEY POINTS
Second-pillar pension scheme members and assets are growing.
Schemes are implementing sector automatic enrolment.
Coverage is low among young workers.
Investment in Italian assets remains relatively low.
The second-pillar pension system in Italy turns 25 this year, and it is growing at a healthy pace, according to COVIP, the pension regulator. The system was launched in 1992, in the first of a series of sweeping reforms of pension provision in Italy. Since then, second-pillar funds have had highs and lows.
But the data from the pension regulator's 2016 annual report, released in June, is encouraging. Covip, the regulator, estimates that last year membership grew 7.6% to 7.8m workers. This means more than a quarter of the country's total labour force is covered by a second-pillar pension. This is an important milestone, given that state pensions look set to decline dramatically.
Membership grew at a higher rate on few other occasions (2005, 2007 and 2015). A reform in 2005 boosted second-pillar take up thanks to a 'soft' auto-enrolment measure. Since then, growth has been mostly organic.
Covip provides membership data for each of the four types of voluntary second-pillar schemes – fondi negoziali (industry-wide schemes), open pension funds (collective defined contribution (DC) plans sponsored by banks and asset managers), 'pre-existing' funds (funds pre-dating the various reforms) and PIPs (piani individuali pensionistici, or individual DC plans).
Fondi negoziali grew membership by 7.4%, reaching 2.6m workers, and registered the largest absolute number of new members at 251,000. This is the result of several funds implementing 'contractual enrolment', a form of automatic enrolment established by collective labour contracts. It is a relatively new phenomenon in Italy, whereby trade unions and employers' association agree that workers automatically join industry-wide pension funds. Workers receive contributions by employers, but have no obligation to contribute themselves.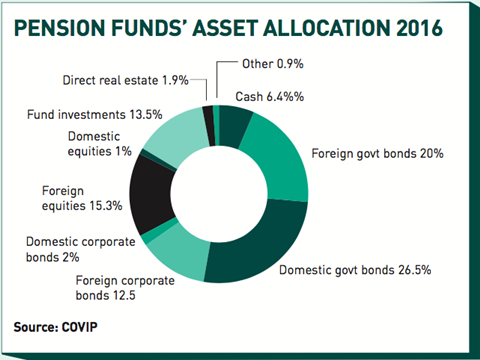 Several pension schemes have benefited from this form of auto-enrolment since 2015, after Prevedi, the scheme for the construction company, was the first to implement it. Fondapi, a pension fund for employees of small and medium enterprises, and Cooperlavoro, a pension fund for the cooperative sector, followed suit. This trend is widely seen as positive, as it responds effectively to the longstanding low coverage problem of the second-pillar system. Last year, several pension schemes took the trend further. These are:
• Astri – road transport industry;
• Byblos – paper and publishing industry;
• Eurofer – railway industry;
• Solidarieta Veneto – regional funds for the northeastern Veneto region.
Thanks to these initiatives, these funds have seen significant increases in membership, although assets have grown to a lesser extent owing to the lack of employer contributions. Yet, this soft form of automatic enrolment means these schemes can reach out to workers and persuade them to contribute more easily, through specific educational programmes.
Despite the relatively upbeat reading of the data, Covip's annual report highlighted a number of concerns for the industry. One major worry is that second-pillar coverage is low among young people.
The coverage rate is highest among older workers (55 and older) at about 34% of the corresponding section of the labour force. The rate declines progressively with age, reaching 19% for workers younger than 34. Pension fund membership is also skewed towards northern Italian regions.
That is why Covip reiterated its commitment to foster financial education in the country. The authority recently presented a comprehensive survey of financial education initiatives in Italy, to help understand where the gaps in the system may be. Covip has also lobbied the government to legislate on financial education, following international best practice.
The authority's lobbying has been successful. This year the government passed a bill that established a national strategy for financial education, to be implemented jointly by the finance and education ministries. The strategy consists of a complex of set of actions, but in practical terms it will involve education at school level and within the workplace, among other initiatives.
Another area of concern highlighted by the regulator is the limited amount of pension fund capital invested in Italian assets. Italian pension schemes invest less than 1%, or €1.1bn, in Italian equities.
Covip attributes this lack of exposure to a strong tendency of Italian pension schemes to invest passively, or close to international benchmarks at most. This seems plausible because Italian markets are underrepresented in global and European benchmarks.
Italy: Offering an alternative
1

2

3

4

Currently reading

COVIP: Plenty more work to do

5

6

7