From 1929 when Robert Bosch himself introduced the first pension promise, the Bosch Group has committed itself to being at the forefront of occupational pension provision in Germany and to playing a pioneering role in modernising occupational pension systems. Bosch Group Austria's recent need to adapt its pension framework triggered a strategic consideration of cross-border pension solutions – which was an ideal opportunity to thoroughly investigate a solution incorporating the Bosch Pensionsfonds AG in Germany into the future structure.
At a glance

The Bosch Group carried out a feasibility study last year to incorporate Austrian employees within the Bosch Pensionsfonds in Germany
However, significant issues concerning benefit design were identified and so the group instead appointed a local provider for Austria
The author recommends a regulatory approach to cross-border pensions that meets the needs of sponsors and stakeholders
Bosch Group Austria intended to consolidate its existing pension plans by transferring them into a new, pure defined contribution (DC) pension plan. Among other considerations, the objective was to provide to employees a new pension entitlement in line with market practice and more easily adaptable to changing local and legal framework conditions. The new pension plan was intended to replace existing plans for all new employees.
An obvious solution from the outset would have been to select one of the established and well-known multi-employer pension funds in Austria. These providers offer attractive pure DC solutions, remarkable investment returns and a full service with competitive cost structure.
However, Bosch Group Austria works council representatives favoured the Bosch Pensionsfonds in Germany owing to the reputation the fund, the solid investment returns over a long period and also the many IPE Awards it has received over the years.
Furthermore, from an HR perspective, managing the pension promise through a Bosch-owned vehicle would have had a significant impact on the appreciation of the benefit by employees and enhanced employer branding.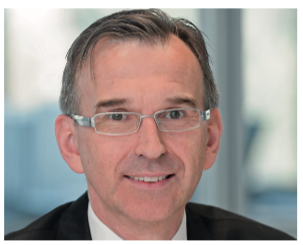 In addition, significant potential was also recognised by the Bosch corporate headquarters and the management of the Bosch Pensionsfonds. Company-specific governance principles can be executed easier through a cross-border institution and design principles more effectively implemented. Equally importantly, an attractive solution could be offered to Austrian employees in the same way as to those in Germany.
All in all, and taking into account the lack of a language barrier, these were highly favourable preconditions to investigate a cross-border solution.
Bosch Pensionsfonds was established as one of the first industry pension funds in Germany and represents the core component of the Bosch Vorsorge Plan workplace pension solution, which allows employer and employee contribution to be combined in one structure. It is a company-owned funding vehicle and only companies from the Bosch Group can become a plan sponsor, pay pension contributions or make payments related to their associates.
A reasonable level of security is offered to the beneficiaries, optimising the level of risk to provide the best long-term returns even in turbulent market conditions. The fund engages highly professional outsourcing partners for fiduciary, administration, communication and internal audit services, as well as fund management and investment advisory. In addition, all returns are due to the beneficiaries as the vehicle operates on a not-for-profit basis.
A feasibility study for the cross-border project was carried out in April 2018. The study had two main objectives: first, to verify whether the Bosch Pensionsfonds could be applied for the Austrian associates in principle and with what effect.
Second, to clarify the general requirements for cross-border solutions: the process to put the cross-border activity into place; essential existing plan design features including the potential future need to accommodate changes; and the concrete process, timeline and a cost estimate for project realisation as well as the on-going running costs.
This study confirmed in principle the potential to apply the Bosch Pensionsfonds to a cross-border solution with Austria.
The business could easily absorb the Austrian contributions and payouts and no changes would be required for the investment strategy, given that Austrian regulations regarding the quantitative asset class restrictions have been removed.
Some minor changes to the statute of the Bosch Pensionsfonds were found to be necessary, mainly concerning pension provision contracts, pension plan and technical specifications. The bodies and committees the fund has established so far could also incorporate Austrian requirements as they stand. Some functional areas such as administration, data protection law and accounting would involve additional work.
Additional intensive preparation work would, of course, have been necessary to ensure all regulatory requirements were met, to conduct the so-called notification process and to adapt administration systems and processes.
As a workplace pension promise, the Bosch Vorsorge Plan would also have fulfilled Austrian requirements. Since the Austrian law contains no limits for external funding, it would have been possible to fund pensions in full through the Bosch Pensionsfonds.
However, some necessary changes proved to be highly critical. We were advised that the fund would have needed to reintroduce an insurance-type annuity in the decumulation phase – even though Austrian laws and regulations do not define any such requirements. This was a real setback, given the successful implementation of a flexible pension payout approach within the Bosch Pensionsfonds.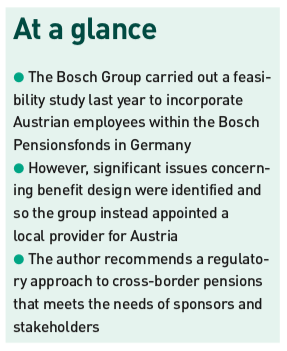 We were also advised of the need to segregate assets for the relatively small Austrian population, adding unnecessary risks and operational inefficiencies. As a result, Austrian and German employees would have to be treated differently – from our point of view, a conceptional contradiction to cross-border pension funding.
Another huge barrier arose from the implementation time lag. Stakeholders would simply not accept the lengthy time needed to put a cross-border solution in place, in particular if there is a need to act and if a timely alternative is available.
Finally, to initiate a cross-border solution under these conditions would create severe implications on the strategic flexibility of the Bosch Pensionsfonds with regard to its core business. As a result, Bosch selected the domestic provider VBV Pensionskasse for its Austrian pension provision, representing a missed opportunity for a cross-border solution.
We can only reaffirm what has already been raised in political discussions: legislation should be designed to facilitate cross-border funding and not to set up unreasonable barriers. Policymakers should first consult with interested players and parties to create an ideal scenario for a cross-border institution. An appropriate legislative framework should only then be determined. Despite these experiences, Bosch remains supportive and continues to believe in the benefits of cross-border pension solutions.
Dirk Jargstorff is senior vice-president, pension and related benefits at Robert Bosch GmbH