Typical private credit portfolios are concentrated
They show vulnerabilities to a range of stress scenarios as credit fundamentals weaken
Robust credit monitoring, early detection of risks and customised scorecards are essential
For US and European private credit firms, storm clouds are gathering.The recent rate hikes by the Federal Reserve, European Central Bank (ECB) and the Bank of England (BoE)have numbed activity in the leveraged loan and high-yield spaces.
The Morningstar European Leveraged Loan TR LCL index shed 3.5% in September, putting its total year-to-date return at -6.6%. The Morningstar LSTA US Leveraged 100 Loan index lost 2.8% in September, down 2.9% in the year to 10 October 2022, ranking it as the worst performance since the global financial crisis.
The BoE's intervention in the bond market at the end of September to prevent unwarranted tightening and reduction in credit flow to the UK economy underscored lingering stability risks.
Add lax industry standards, competitive pressures, tighter financial conditions, and inflationary pressures and you get a material increase in the pressure on middle-market borrowers to absorb rising costs and cough up higher interest rates.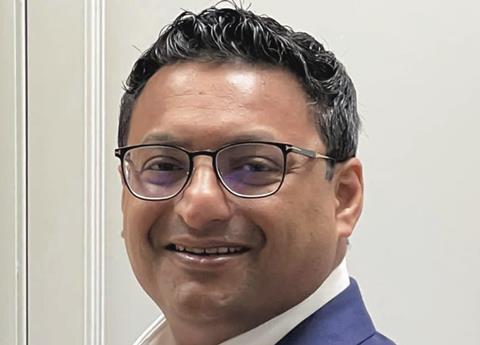 Moreover, weaker credit fundamentals – as evidenced by rising leveraged loan default rates – and mass exposure to covenant-light loans reveal greater risks on the horizon.
Default rates for US leveraged loans have risen from record-low rates to 0.9% in August 2022, according to S&P Leveraged Commentary & Data. We foresee a similar trajectory in the European markets.
It is against this backdrop that a recent white paper by CRISIL Global Research and Risk Solutions (GR&RS) calls for bolstering ringfences against these risks as lenders head for the next leg of growth.
From a standalone viewpoint, the risks seem innocuous, but in concert they could easily upend markets.
The paper, which analysed 30 private credit portfolios in the US and European markets with a total assets under management (AUM) of around $1trn (€1.03trn) revealed the need for better sectoral diversification. The selected portfolios were chosen on the basis of AUM size, data disclosure, and pure-play focus in the US and European markets.
Among these, high and medium-risk sectors accounted for about half of a typical private-credit portfolio. Looking at the allocations by sector, the concentration of loans in a single sector averaged 37%; when the top rating agencies consider a 20-25% exposure to a single sector unsafe, this level of concentration is deemed highly risky.
In addition, the top sector exposures have witnessed a significant rise in distressed credits of late. S&P Global's latest distressed debt analysis highlights an accelerated increase in the distressed ratios of healthcare equipment and services, and capital goods – and these are therefore deemed high-risk.
Both of these sectors feature prominently in private credit portfolios, forming 17.3% of the total portfolio. Technology hardware and equipment, and software and services – which constitute 22.2% of the total portfolio analysed – have also seen an increase in distressed credits and are classified as medium risk.
Early in the COVID-19 pandemic, most governments announced debt moratoria to help businesses overcome the economic shock stemming from lockdowns. Although this provided temporary relief, it also made the early detection of defaults difficult, particularly among small and mid-size firms.
Stress tests bare portfolio vulnerabilities
The portfolio analysis reveals the vulnerability to high and peak-stress scenarios (see figure). Our analysis found the default rates for high-risk sectors could jump as high as 400bps from current rates (0.7% in 2021) in a high-stress scenario and climb past 730bps in a peak-stress scenario.
Medium-risk sectors, on the other hand, can anticipate an increase of 380bps from the current 0.5% in a high-stress environment, and around 550bps in peak stress.
In a downturn scenario, the quantum of defaults could worsen when borrower concentration risk is factored in.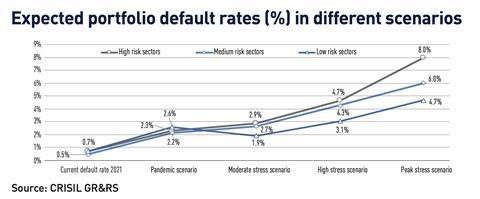 The way forward
With rising AUM and offerings across strategies, it is important for credit firms to have a focused approach to creating safeguards against potential defaults.
So what can investors do, especially as the asset class continues to grow and is here to stay?
The first requirement is robust credit monitoring through the augmentation of resources and data. Private credit firms need a targeted pruning strategy. Portfolio monitoring is crucial to building resilience, be it through early-warning systems or customised scorecards.
Periodic reviews, specialist insights, and consistent covenant and compliance tracking of underlying holdings from origination through to divestment are crucial as the pool of debt offerings grows across multiple strategies.
There are also human capital and operational issues that need to be addressed. For example, looking ahead, private credit managers could increasingly face challenges in finding the right talent – experts who understand product complexity and bring relevant experience. Also, streamlining the administration and reporting process of investments that are non-traditional and non-standardised is a tricky task.
The surge of covenant-light loans and borrower-friendly structures further warrants tracking mechanisms that are closer to home and customised to suit the needs of end-borrowers. These loans, which have fewer restrictions and lender protections, make the deployment of early-warning systems critical.
In-house models that auto-generate red flags or dashboards that create alerts to track specific companies to help catch any credit deterioration early on have a key role to play in risk management.
A third requirement is the deployment of customised or bespoke scorecards that capture borrowers' creditworthiness. As private credit is characterised by non-standard specialised loan structures that are customised to suit the needs of end-borrowers, they cannot be evaluated using the same tools and methods as for traditional debt or standard loans.
Capturing these unique aspects is crucial. These scorecards capture not only the creditworthiness of the underlying borrower, but also the solidity of the facility structure and credit enhancements.
Significant challenges lie ahead for private credit investors, but firms with a targeted strategy based on careful monitoring and a robust early-warning system, will be well placed to navigate this phase.
Abhik Pal is senior director and global practice head, fundamental research at CRISIL