The Gate to China: A New History of the People's Republic & Hong Kong by Michael Sheridan, HarperCollins, 2021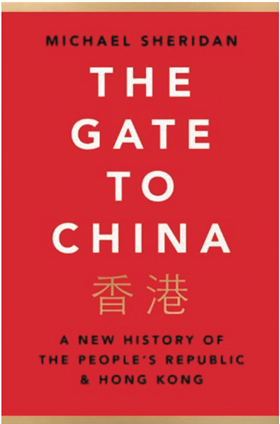 Former Sunday Times foreign correspondent Michael Sheridan shines a new light on the events that led to the return of Hong Kong to China, and the impact it had on the Chinese Communist Party's relationship with the West. Joseph Mariathasan caught up with the author (an old school friend) after a gap of more than 40 years to discuss his book
What to do about China is likely to remain a central issue for both investors and politicians for decades.
In The Gate to China, Michael Sheridan focuses on the transfer of Hong Kong to China to explain the forces that are driving China not only to greatness but also to potential conflict with the West.
He shines a spotlight on the themes driving the behaviour of the Chinese leadership. The Chinese Communist Party (CCP) under its general secretary Xi Jinping seems to have no qualms in playing the nationalist card when it suits. In a speech marking the 100th anniversary of the founding of the party, Xi emphasised the humiliation of the 19th century opium wars that led to Great Britain's ownership of Hong Kong: "Since that time, national rejuvenation has been the greatest dream of the Chinese people and the Chinese nation." Of course, points out Sheridan, the CCP, like many dictatorships, recognises that creating and attacking supposed foreign enemies also serves a useful purpose in generating domestic support.
Following the communist revolution in the mid-20th century, China was prepared to tolerate a UK-run Hong Kong under certain restrictions. By the late 1970s, China was focusing on economic development, not world revolution, with the creation of special economic zones, including Shenzhen on the mainland close to Hong Kong. Britain was, of course, keen to do business with China, selling arms and technology.
Hong Kong Island and Kowloon Peninsula had been ceded to Britain in perpetuity in the 1842 Treaty of Nanking. The rest of Kowloon was relinquished in the 1860 Convention of Peking and in 1898 a 99-year lease was granted on further Chinese territory.
British Prime Minister Margaret Thatcher, fresh from her victory over Argentina in 1982, would rather have followed the axiom underlying international law – pacta sunt servanda (treaties should be obeyed) – to hold on to Hong Kong Island but the then Chinese leader, Deng Xiaoping, had made it clear when they met, that "if China does not take back Hong Kong, its leaders would have to account to Chinese people". Thatcher, facing no support from the US, had no choice but to ask Britain's ambassador to China, Percy Cradock, to start negotiations on a transfer of sovereignty.
There was an expectation at that time, explains Sheridan, that China, like the crumbling Soviet Union, would become more liberal and democratic. Finding a temporary settlement was therefore seen as acceptable, not least because financial confidence in Hong Kong was collapsing, principally because the UK government's main source of income was the granting of property leases, which could not be extended beyond the expiry of Britain's own lease on 1 July 1997.
On China's side, the ability to access international trade through Hong Kong fitted in well with Deng's new focus on growing the economy. "Hong Kong needs China and China needs Hong Kong," one of the Chinese negotiators admitted at a time when almost half of all foreign investment in China was routed through Hong Kong. But as Premier Zhao Ziyang had made clear to Thatcher at their meeting, China would put sovereignty above prosperity when it came to Hong Kong.
Deng's team dusted off an old plan of one country, two systems – created to persuade Taiwan to return to the motherland – and offered it to Britain for an additional 50 years after the lease on Hong Kong territory ended in 1997. Deng had imposed a 1 October 1984 deadline for agreement. In 1983, UK foreign minister Geoffrey Howe met with Deng in Beijing and agreed the People's Liberation Army would move into Hong Kong on the night of the official handover.
After the meeting, Howe flew to Hong Kong to announce that the British administration would cease after 1997, while the two sides had agreed that a new 'Basic Law' would be introduced in 1989.
On 4 June 1989, tanks rolled into Tiananmen Square in Beijing, crushing the student protests for more freedoms. Sheridan, who was in Hong Kong at the time, witnessed the huge shock to the residents, many of whom were from Shanghai business families who had fled communism. The impact was seen in a stock market crash and higher property prices in Vancouver, Sydney and London as the rich found foreign boltholes. "Tiananmen Square was a bigger blow to the Chinese psyche than 1842 and the opium wars," argues Sheridan. The impact can still be felt in the attitudes of Hong Kong residents towards China.
By 1992, former ambassador Cradock had become adviser to Prime Minister John Major in London and had argued that introducing democracy in Hong Kong would be pointless, because the Chinese would abolish it and become more repressive. Instead, he advocated an alternative strategy of sticking to a slowly graduating progression towards the kind of East Asian semi-authoritarian managed democracy seen elsewhere.
Earlier proposals to introduce graduated democracy in the late 1950s had also been vetoed as against the interests of Hong Kong business. "By the late 1970s the colonial establishment was adamant the Chinese people didn't really want the vote, didn't care about politics and just wanted to make money, which is condescending and offensive and disproved by subsequent events," Sheridan says.
Things changed when UK MP Chris Patten, after losing his seat in the 1992 general election, was given the role of governor of Hong Kong for the transition period to handover. Patten took the opposing view to Cradock and instituted reforms widening suffrage, reducing the voting age to 18 and extending elections to lower tiers of government. He was attacked from both sides: too little too late, according to Martin Lee, founder of Hong Kong's leading democracy party; while HSBC head Sir William Purves had advised against confronting China: "If things were going to change, they should have happened 20 years ago."
Patten gave Hong Kong residents the chance to witness representative government in action, with the ability to hold lawmakers to account. Those lessons remained.
Patten's legacy may be seen in the frustrations felt in Hong Kong, particularly by the youth, at what they perceive as an increasingly dominant China willing to override the one-country, two-systems model that was supposed to persist for 50 years. COVID may have put a temporary stop to increasingly violent demonstrations in 2019 and 2020 which have alienated even moderate supporters of Hong Kong democracy, but the spectre of a return to violence remains.
Where does this leave investors? Despite his critical analysis of Chinese policy, Sheridan believes there remain strong investment opportunities in Hong Kong and China in the near to medium term. China intends to integrate Hong Kong into its Greater Bay Area with the other cities in the region such as Zhuhai, Macau and Shenzhen. "With complementary assets and skills and tasks, Hong Kong will still be the gateway for international funds, and finance," says Sheridan, adding that under President Xi, China will onshore many of the companies and listings which had automatically been assumed would be listed in the US. "They wish to bring back under their jurisdiction listings and fundraising. They don't want to be exposed to the American capital markets and regulation, if they can avoid it. And the Chinese economy is very, very big." For investors, China certainly cannot be ignored, but neither can the far-reaching impact of the Chinese Communist Party.
Joseph Mariathasan is a contributing editor to IPE and a director of GIST Advisory