Treasuries, the yen, and gold all traditionally serve to harbour investors in times of stress. A closer look at the current demand for Treasuries, however, paints a complex world view with implications for financial markets. Yields suggest it might remain ugly for another decade.

Treasury prices suggest a recession
Lowering rates will not resolve broken global supply chains
Pension funds are focused on matching liabilities
"It comes down to how long conditions remain dire," says Dec Mullarkey, managing director at SLC Management. Significantly, the corporate bond market did not appear to price in recession until the pandemic hit. For instance, in late February, investment-grade bond spreads only moved out 25bps.
That said, the bond market can be an unreliable barometer for recession, so investors must also factor in jobless claims, mortgages and housing activity. At the moment, fundamentals are getting scant attention, says Kevin Giddis, executive vice-president, head of fixed income at Raymond James: "We hardly talk about trade deals these days. Does anyone care about the recent rise in new home sales? The hyper focus on COVID-19 may start to lose steam."
While current markets appear more driven by health fears than politics, Treasuries also reflect political outlooks. The US presidential elections will weigh increasingly, although against the backdrop of the huge dislocation wrought by COVID-19. Giddis points out that one "could make the case that Bernie Sanders' ascent had been making equities investors nervous, and they were exiting positions to preserve capital". Markets are biased towards US President Donald Trump's re-election. However, weaker growth, supply-chain interruptions, and lower equity prices might damage his re-election prospects. "Second-quarter growth is very important for any incumbent president," says Jack McIntyre, portfolio manager at Brandywine Global.
Compounding the challenge is the paucity of comparable past events. Remember plunging yields in late 2019, precipitated by trade-war rumbles. "That was a man-made situation with a binary outcome of a trade deal or not," says McIntyre. Indeed, local natural disasters like earthquakes do have extensive supply chain ramifications. One difference between those and COVID-19 is that those catastrophes are delineated at some stage. The resolution of the COVID-19 is more unpredictable.
Central banks play their aces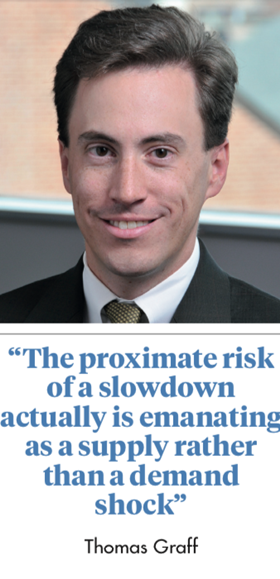 The US Federal Reserve and other central banks have already lowered rates substantially in response to the pandemic. However, it is worth remembering that rates trended down earlier this year before the virus took centre stage. The realisation was already dawning that the Fed might need to cut to near zero; so investors were buying ahead.
An irony is that, at least until the middle of March, "the proximate risk of a slowdown actually was emanating as a supply rather than a demand shock," says Thomas Graff, head of fixed income at Brown Advisory. "The Fed can't get Chinese factories to reopen by lowering interest rates," he says. With Chinese manufacturing stymied, the country cannot produce the goods the world has come to rely on.
So a supply issue can become a demand problem. Suppose a manufacturer does not know when it will ramp up production. It will likely lay off workers, and delay investing in new equipment, resulting in slowdowns across many supplier industries in a generalised recession. Companies are already dependent on lean inventories and just-in-time manufacturing.
It is noteworthy that regional Fed bank presidents enjoy a little more leeway than the central bank for expressing their own opinions. Lael Brainard, a member of the Federal Reserve's Board of Governors, has indicated that one tool in the kit is yield curve control, whereby the central bank might cap rates longer than overnight, say, 25bps for the two-year note. On 21 February she said: "Today's new normal calls not only for a broader set of tools, but also a different strategy. Forward guidance could be reinforced by interest rate caps on short-term Treasury securities over the same horizon." Why do so, unless you were willing to cut to zero?
On 18 July 2019, John Williams, president of the Federal Reserve Bank of New York, advised: "Don't keep your powder dry – that is, move more quickly to add monetary stimulus than you otherwise might.… When you only have so much stimulus at your disposal, it pays to act quickly to lower rates at the first sign of economic distress."
"The US government will do everything possible to avoid a recession"
Dec Mullarkey
It surprises Matt Toms, fixed income CIO at Voya Investment Management, that the dollar is not spiking as another safe haven. Currency volatility has been subdued, benefiting interest rates as the currency relationship changes.
A weaker dollar has constructive effects on global growth. It attracts money into emerging markets, and contributes a bit towards inflation – which is not unwelcome. Moreover, a weaker greenback keeps commodity prices down, which feeds into growth.
Some cause for optimism
It is probable that COVID-19 will create substantial pain and uncertainty. The hope is that the disruption will be limited to the relatively short-term disruption, perhaps lingering on the edge of recession for a couple of quarters. "That should create a spring-loaded effect, so any abatement in the summer months or a bounce in medical advances could be quite strong," says Toms.
While COVID-19 remains incurable until a cure is found, global fiscal stimulus should be taking hold. Hopefully, COVID-19 will peak soon. "Meanwhile the stimulus in the system may establish a positive backdrop for the second half of this year," McIntyre says. He notes that there might be unintended social and commercial consequences.
Buyers of financial assets should also act sooner rather than later. Pension fund and insurance company managers must focus on matching liabilities, even at the risk of interim price losses. A drop in income generation is detrimental to them, and a reason to remain invested.
Sentiment can turn fast. When consumers pull pack, they still spend on staples. Mullarkey predicts that "the US government will do everything possible to avoid a recession". Democrats will wince to hand Trump a victory, but if critical conditions warrant, they can implement emergency measures like the stimulus provided during the financial crisis.
While Treasuries provide a haven, other investments might offer better returns. Cash might be a better option. "It's not heroic, but at least you pick up some spread over Treasuries and avoid repricing risk," Mullarkey says. Likewise, three-month Treasury bills are another safe spot, generating some income with reduced market risk.
Lastly, investors, including pension managers, should consider high-dividend stocks, like utilities or real estate. They can thus focus on companies with less exposure to global supply chains. Mullarkey ends on a positive note: "If you can hold through the volatility, you may even sell for profit."
To read the latest IPE Digital Edition click here